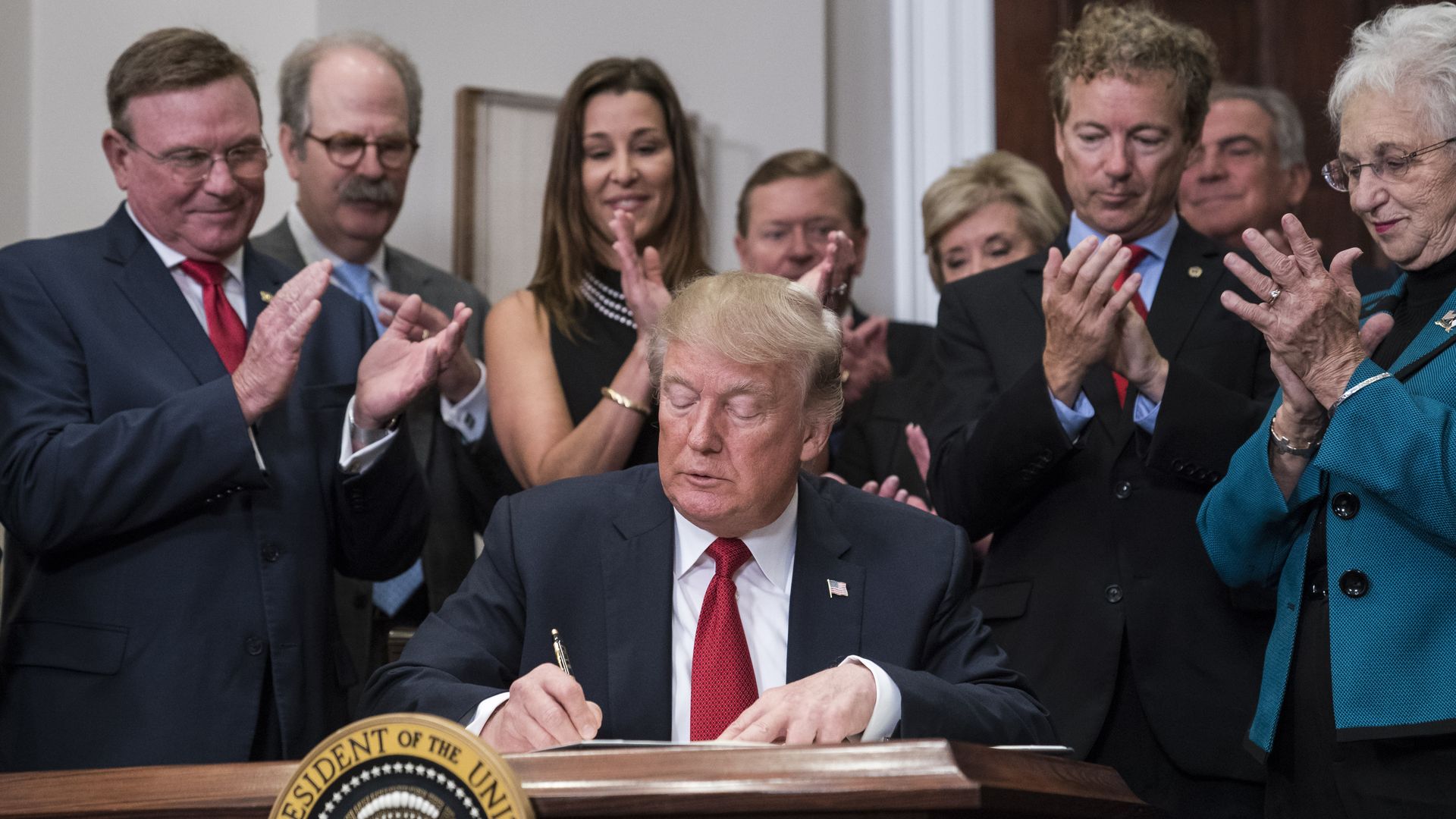 The Centers for Medicare & Medicaid Services released its final report yesterday on the Affordable Care Act's most recent enrollment period, and at first blush, it might look like the Trump administration has barely changed anything. After all, about the same number of people signed up this year (11.8 million) as last year (12.2 million).
Yes, but: Look a little closer, and it's clear that the ACA is working a lot differently.
The government is paying a lot more.
The vast majority of ACA enrollees get a federal subsidy to help pay their premiums. Last year, the average value of that subsidy was $383. This year, it leapt to $550.
Consumers receiving those subsidies paid less out of their own pockets, too. Last year, they paid an average $106 per month after subsidies. This year, their share fell to $89.
All of this is a result of President Trump's decision to cut off the ACA's cost-sharing payments. That move prompted insurers to raise their premiums in a way that triggered big spikes in the premium subsidies.
People chose different plans (sometimes).
All those complicated interactions between cost-sharing payments and premium subsidies created a situation in which middle-of-the-road "silver" plans weren't always as good a deal as they used to be.
Inflated subsidies would often cover the whole premium for a cheaper "bronze" plan, and in some cases, more generous "gold" plans actually became a better deal than silver.
Consumers only sort of took advantage of those changes — bronze and gold plans both got more popular, but only by a few percentage points.
The bottom line: Expect this trend to continue.
This report doesn't reflect some of the administration's more recent policy changes. But they're all steering the law in basically the same direction — one that doesn't do much to bring in healthy people, and instead replaces their premium dollars with tax dollars.
Go deeper