Democrats don't want Tom Steyer's impeachment guide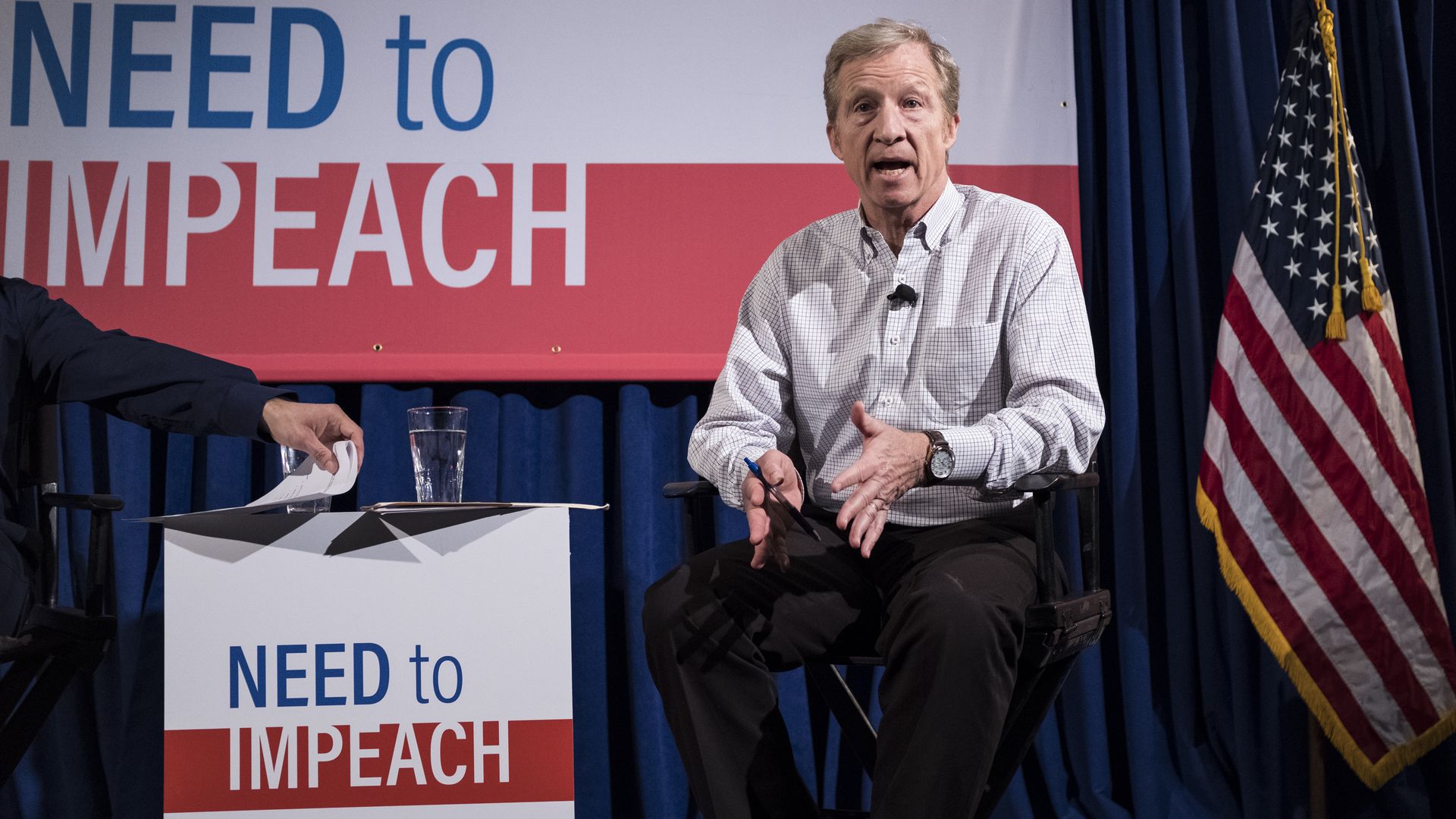 The Democratic Party's civil war between its far-left progressives and moderates is about to get more intense. Tom Steyer's Need To Impeach organization just mailed 5,171 candidates a guide to impeachment to reference while campaigning.
"Neither the establishment nor Democratic leadership is going to be providing this type of information to federal candidates," said Kevin Mack, lead strategist at Need To Impeach. But that's the issue: Democrats increasingly believe moderate platforms and candidates — not progressives calling to remove the president — will help them take back the House of Representatives in November.
Big picture: That thinking is reflected in everything from the DCCC helping candidates fight for more than 100 GOP-held seats this cycle to the topics candidates are advised to talk about, like the economy and health care. Impeachment is not on the list of talking points, yet all Democratic, Independent, and third-party candidates running for office in 2018 will receive an impeachment guide.
"We think avoiding impeachment is a strategic mistake. It's what fires up the Democratic base."
— Kevin Mack, lead strategist at Need To Impeach
But D.C. Democrats have privately complained about what they think is an unhelpful, out-of-touch strategy from Steyer. To add to it, Democratic leaders like Nancy Pelosi have publicly called it a distraction (though Steyer, like his team, thinks they're "dead wrong.")
What they're saying: "One of the worst things we can do for the cause of getting rid of Donald Trump is tell the American public that we've already concluded he should be impeached before the Mueller investigation shows us its findings," said a Democratic strategist.
Moderate Democratic candidates aren't even bringing up President Trump when talking about their campaign platform, said Kristen Hawn, who works with the Blue Dog Democrats as a political strategist.
"Trump is motivating people to get out and use these midterms as a proxy vote against him," she said, but that doesn't mean candidates should stray from the issues voters care about. "The national rhetoric around Trump really hasn't become a factor in our races."
The impeachment guide is at least self-aware. "Shouldn't we want Democrats talking about their policy priorities and how they will actually help people if we want to take back one or both houses of Congress?" it says in the FAQ section.
Steyer's group argues impeachment is one of the issues, like health care and the economy, that voters do care about, and they point to this Quinnipiac survey in which 76% of Democratic voters support impeachment.
Bottom line: It's hard to deny the significance of Steyer's impeachment campaign, which now has more than 5 million supporters. But many Democratic candidates, especially those running in Republican districts, will more than likely ignore the impeachment guide they'll find in their mailboxes in the coming weeks.
Go deeper