After Peru's president, regional anti-corruption wave finds next targets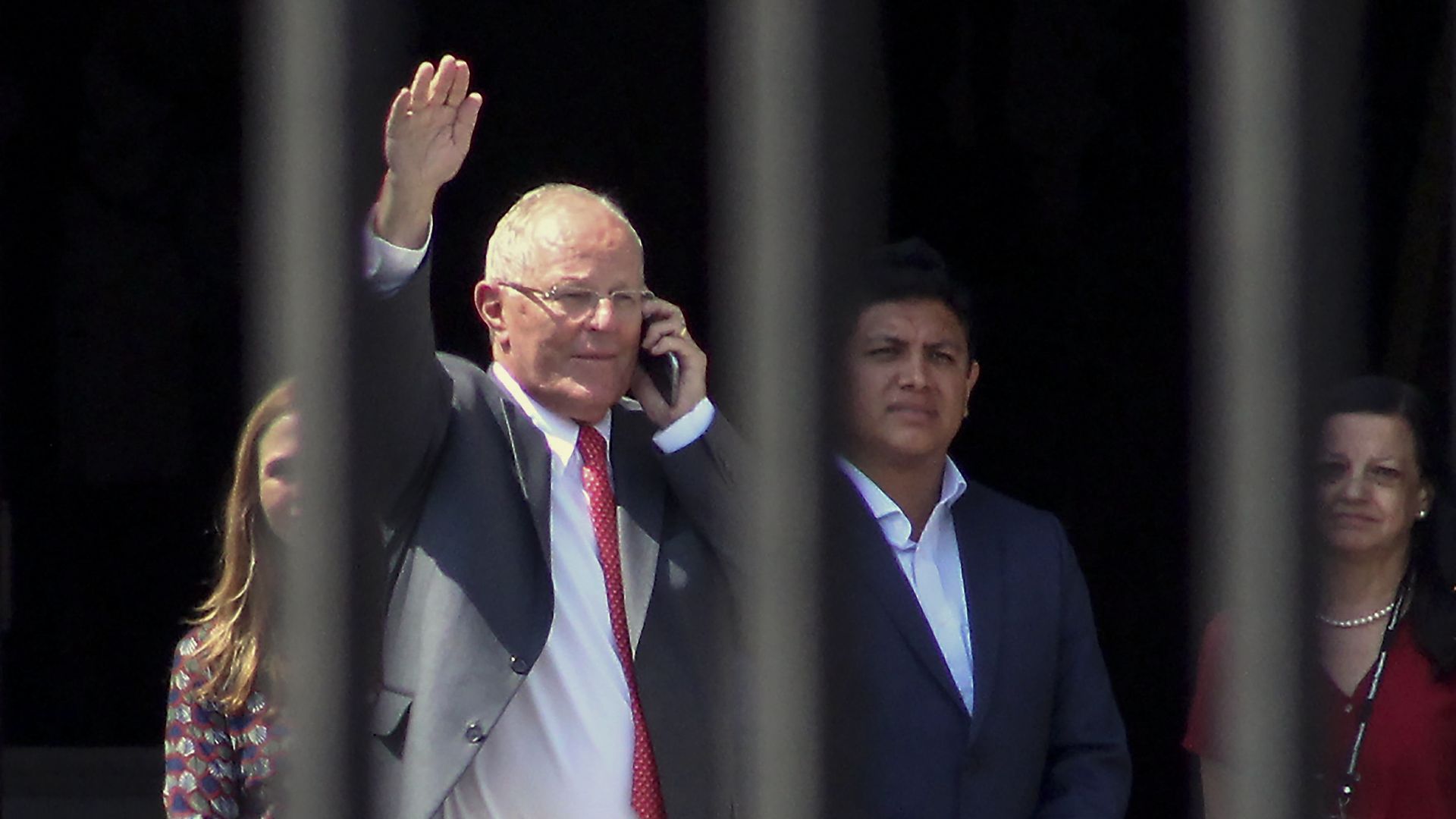 Pedro Pablo Kuczynski resigned as president of Peru on March 23, after videos revealed his attempts to bribe political opposition members ahead of a vote on his impeachment. The former investment banker was involved with two financial firms that had alleged contacts with Odebrecht, the infamously corrupt Brazilian construction company.
Why it matters: Kuczysnki is the latest casualty of a growing anti-corruption wave sweeping Latin America and the Caribbean, and he's unlikely to be the last. While the backlash might finally herald the end of the era of political impunity in the region, it could also have uncertain and harmful consequences for democratic stability and due process.
The background: Since strongman Alberto Fujimori's election in 1990, Peru's political parties have served primarily as vessels for individual leaders to get elected. Kuczysnki's eponymously initialed Peruanos por el Kambio (PPK) party was formed in the lead-up to the 2016 elections and won only 18 of 130 congressional seats.
Kuczysnki narrowly defeated Keiko Fujimori (Alberto's daughter), whose Fuerza Popular party won a majority in the legislature with 73 seats, made life difficult for him. Despite Fujimori's own corruption charges — and her father's imprisonment for bribery and crimes against humanity — she became the opposition leader and architect of Kuczynski's downfall, blocking proposals, removing ministers and finally, on a second attempt, pushing him out of office.
The political ground is ripe for similar upheaval elsewhere in the region: As of a 2016–2017 survey, only 57.8% of Latin American citizens support democracy — a decline of more than 10% from 2010 — and only 17.5% support existing political parties. It's no surprise, then, that politicians like Jair Bolsonaro in Brazil and Andrés Manuel López Obrador in Mexico — populists from both extremes of the ideological spectrum — have powered their leads in the polls with vague, messianic anti-corruption messages.
The bottom line: Peru's tumultuous political system seems to have reached a momentary calm with the swearing-in of Martín Vizcarra, the former vice president. But the larger structural issues of perpetual electoral flux and political soap operas in the region have not been resolved: Parties remain weak, personalistic vehicles, and popular trust in politicians is at an all-time low.
Christopher Sabatini is a lecturer at Columbia University's School of International and Public Affairs and executive director of Global Americans.
Go deeper