Updated Apr 1, 2018 -

World
Behind Kim Jong-un's slew of meetings with world leaders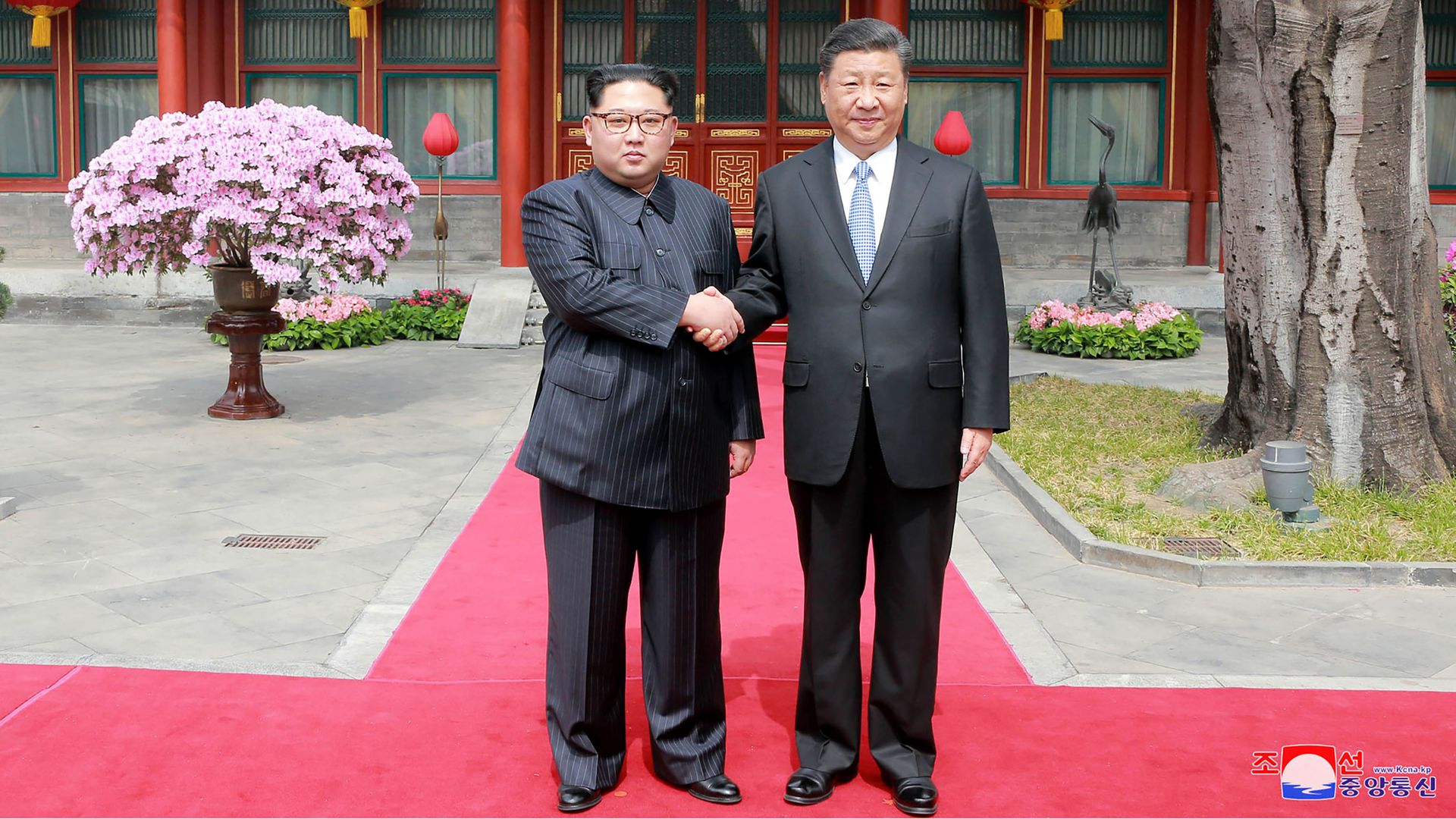 Since taking power in 2011, Kim Jong-un hadn't met with a single foreign leader — until last week. In a matter of a few short weeks Kim Jong-un has held a meeting with China's Xi Jinping, his first with a foreign leader, secured a commitment to meet with the President of the United States, and has a face-to-face meeting set up with South Korea's Moon Jae-in for the end of April. Meetings with Moscow and Tokyo are also potentially in the works, per the AP.
This is quite the departure from the hermit kingdom modus operandi. So why the flurry of meetings? It could be that Kim Jong-un is seeking a release from the pressure of sanctions. But there's more at stake, including Kim Jong-un's ego, the rush that comes from negotiating, and the country's reputation on the international stage.
The sanctions argument: Kim Jong-un wants release from economic sanctions. Whether that's to enhance North Korea's economy in good faith or to gain enough funds to funnel into launching nuclear and missile tests is up for debate.
The acceptance argument: North Korea has long-wanted to be seen and accepted as an international player on the world stage, and part of the responsibility that comes with that is talking with other world leaders.
The leverage factor: North Korea has said it won't engage in diplomacy until it has an ICBM that can hit the U.S., and now that North Korea has that option in theory, it may be a reason the country feels it can come to the negotiating table.
The Olympics and South Korean inspiration factor: Sending a delegation as well as his sister to South Korea for the Olympics likely sparked conversations about becoming a normally functioning civilization on the world stage.
The ego factor: It's possible that Kim Jong-un — after securing potentially just one meeting with a world leader, Trump — is riding out the high of potentially negotiating with world leaders and seeking out more. "North Korea obviously does feel more confident and ready to have these discussions," Jenny Town, the managing editor of 38 North, tells Axios.
The U.S. factor: Other world leaders may be seeing Trump clinching a meeting with Kim Jong-un and want in on the deal themselves.
Kim Jong-un's practical side: Town thinks Kim Jong-un is trying not to put all his eggs in one basket by talking with more than one world leader all of a sudden. In doing so, "they have a little bit more assurances now that in case things don't go well with the U.S.," there are still other players at the table.
Go deeper