Kim's surprise visit may be due to China pressure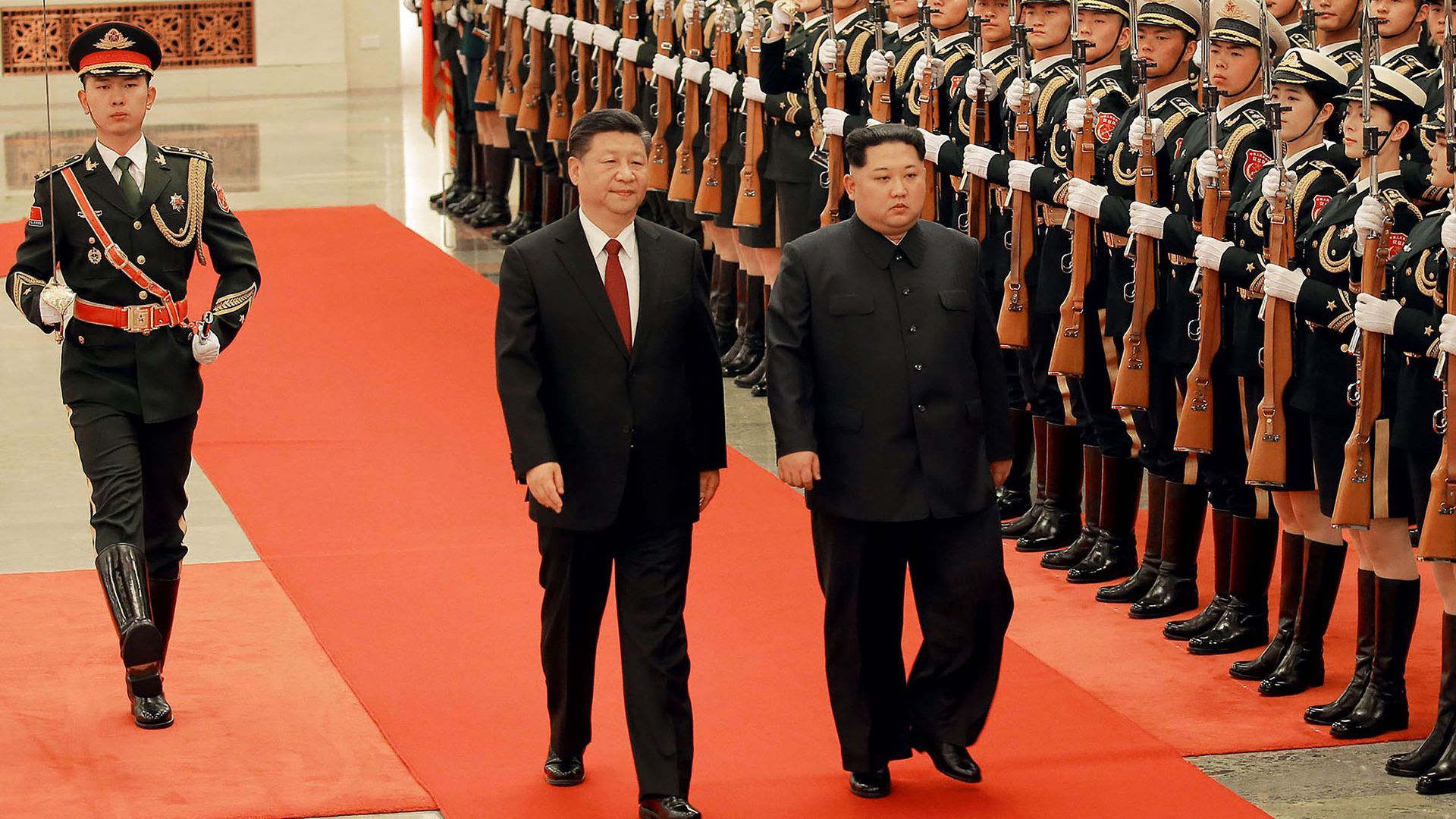 North Korea leader Kim Jong-un's journey to Beijing this week appears to have come as a surprise to the Trump administration but the White House seems to be spinning it as a positive development.
What's happening: Per the Washington Post, administration officials, who were thrown off balance when China announced it had held its own summit with Kim, debated the implications of the meeting but ultimately decided to declare it a positive result of its "maximum pressure" campaign against North Korea.
Big questions: Why Kim made the trip now — and what will he get from China in return — are among the key questions surrounding the visit. According to data released Friday, China may have been squeezing North Korea even harder than required under the current UN sanctions regime. The Financial Times reports that several Chinese exports to North Korea showed recent significant drops:
The monthly average of refined petroleum exports in January and February was 175.2 tons — 1.3% of the monthly average of 13,552.6 tons shipped in the first half of 2017.
Coal exports were cut to zero in the 3 months ending Feb. 28 — after running a monthly average of 8,627 tons the first half of 2017.
Steel exports ran at an monthly average of 257 tons in the first 2 months of this year — down from a monthly average of 15,110 tons in the first half of 2017.
Why it matters: China has reminded everyone that it still has significant influence over North Korea, and that all roads to a solution will have to run through Beijing. Now that Kim has paid proper tribute to China President Xi Jinping, will China back off on some of the pressure?
Go deeper: Former State official P.J. Crowley writes for Axios' Expert Voices that Kim's diplomatic offensive upends U.S. policy. The Korean Central TV has a documentary with English voiceover on the visit, now on YouTube, and it's a fascinating look at an alternate, fraternal Socialist universe.
Be smart: Some skepticism may be needed about the upcoming U.S.-North Korea meetings. North Korea has talked about denuclearizing before, but always with conditions that effectively include removal of U.S. troops from South Korea and the destruction of the U.S. alliance system in Asia.
And, don't forget — in 2009, NYT reported that Secretary of Defense Robert Gates said he was "tired of buying the same horse twice" in reference to another deal with the DPRK.
Separately, Russia's RIA news agency reports via Reuters that Chinese Foreign Minister Wang Yi is to visit Russia on April 4 and 5 — and I am now hearing a rumor that Kim will visit Russia soon after.
Go deeper