Trump hates Amazon, not Facebook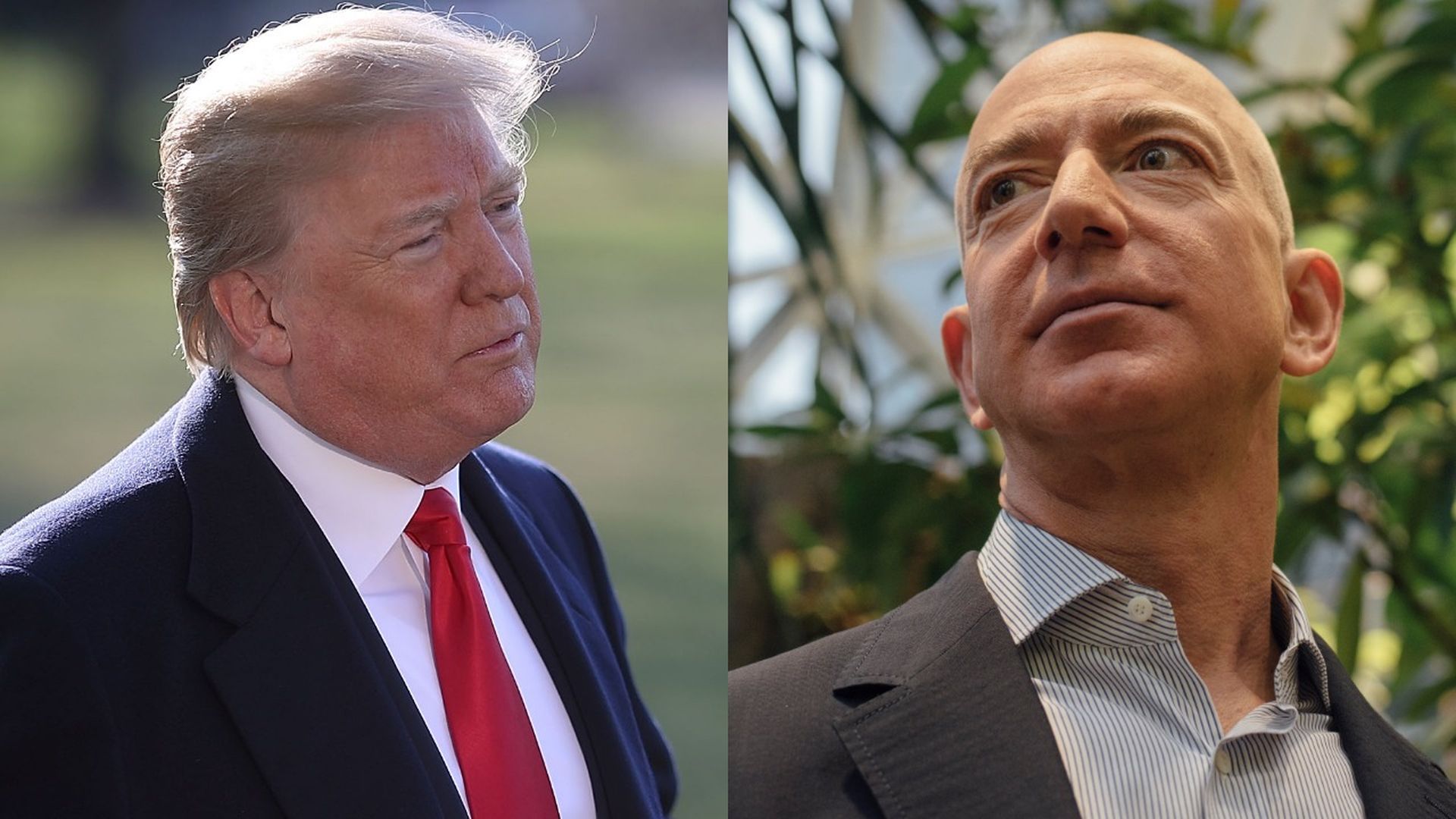 Capitol Hill wants Facebook's blood, but President Trump isn't interested. Instead, the tech behemoth Trump wants to go after is Amazon, according to five sources who've discussed it with him. "He's obsessed with Amazon," a source said. "Obsessed."
What we're hearing: Trump has talked about changing Amazon's tax treatment because he's worried about mom-and-pop retailers being put out of business.
A source who's spoken to POTUS: "He's wondered aloud if there may be any way to go after Amazon with antitrust or competition law."
Trump's deep-seated antipathy toward Amazon surfaces when discussing tax policy and antitrust cases. The president would love to clip CEO Jeff Bezos' wings. But he doesn't have a plan to make that happen.
Behind the president's thinking: Trump's wealthy friends tell him Amazon is destroying their businesses. His real estate buddies tell him — and he agrees — that Amazon is killing shopping malls and brick-and-mortar retailers.
Trump tells people Amazon has gotten a free ride from taxpayers and cushy treatment from the U.S. Postal Service.
"The whole post office thing, that's very much a perception he has," another source said. "It's been explained to him in multiple meetings that his perception is inaccurate and that the post office actually makes a ton of money from Amazon."
Axios' Ina Fried notes: The Postal Service actually added delivery on Sunday in some cities because Amazon made it worthwhile.
Trump also pays close attention to the Amazon founder's ownership of The Washington Post, which the president views as Bezos' political weapon.
Trump never talks about Mark Zuckerberg or Facebook: He isn't tuned in to the debate over how they handle people's data, and thinks the Russia story is a hoax, sources say.
Axios' Kim Hart points out: "Trump told Axios last year he doesn't mind Facebook because it helps him reach his audience. He's an old-school businessman who sees the world in terms of tangible assets: real estate, physical mail delivery, Main Street, grocery stores. It reminds me of the story Jim wrote a while back about Trump's fixation with 1950s life. Amazon takes direct aim at some of the core components of mid-century business."
One warning sign for Facebook: Vice President Mike Pence is concerned about Facebook and Google, according to a source with direct knowledge.
Though Pence isn't yet pushing internally for any specific regulations, he argues these companies are dangerously powerful.
The source said the V.P. worries about their influence on media coverage, as well as their control of the advertising industry and users' personal info.
When private discussions have turned to the idea of busting Facebook and Google, Pence has listened with keen interest and is open to the suggestion that these two companies need shaking up.
Get more stories like this by signing up for Jonathan Swan's weekly political lookahead newsletter, Axios Sneak Peek. 
Go deeper