U.K.'s Labour Party mired in anti-Semitism scandal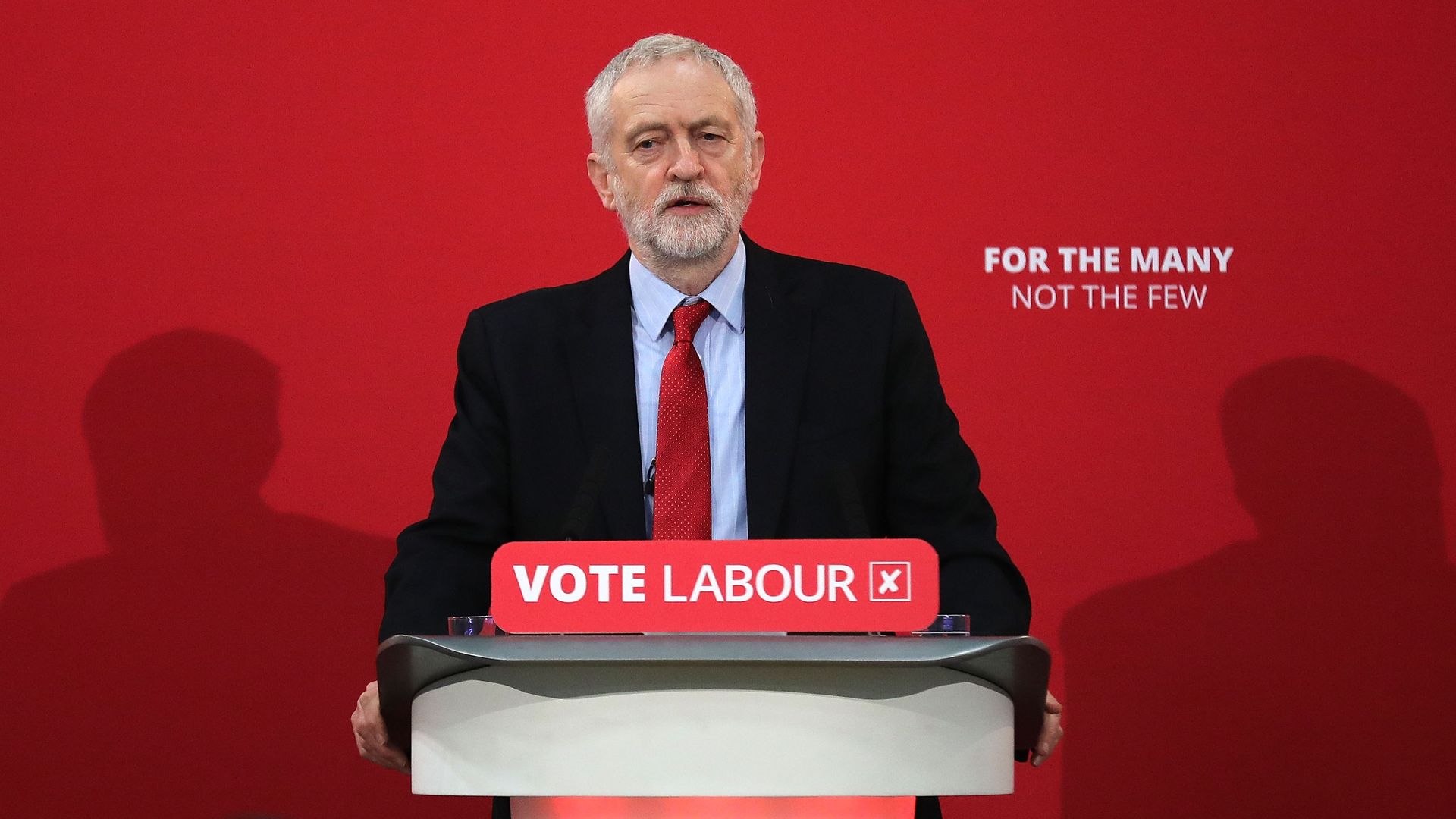 Jeremy Corbyn, the leader of the U.K.'s Labour Party, has been mired in an ever-expanding scandal regarding the rise of anti-Semitism in his party — and his own ties to anti-Semitic rhetoric. The controversy kicked off last week after it emerged that he expressed support for a London mural that featured a host of anti-Semitic tropes in a 2012 Facebook comment, before expanding to Corbyn's membership in multiple Facebook groups that feature virulently anti-Semitic posts.
Why it matters: As the U.K.'s Leader of the Opposition, Corbyn wields a significant voice in British politics, and his involvement and response to this affair has led to open rebellion within the Labour ranks. For example, Luciana Berger, the Jewish MP who first brought Corbyn's Facebook comment to light last week, called the anti-Semitism issue a "stain on the conscience of the party."
Corbyn's 2012 comment that kicked things off, in response to a Facebook post by artist Mear One that his mural was being removed: "You are in good company. Rockerfeller [sic] destroyed Diego Viera's [sic] mural because it includes a picture of Lenin."
The Labour Party's response: "In 2012, Jeremy was responding to concerns about the removal of public art on the grounds of freedom of speech. However, the mural was offensive, used antisemitic imagery which has no place in our society, and it is right it was removed."
The controversy deepened when the political blog Guido Fawkes discovered that Corbyn is a member of at least five left-wing Facebook groups that feature anti-Semitic posts and memes, including at least one group that he personally joined.
The groups in question have relatively innocuous names, such as "The Labour Party Supporter," "Jeremy Corbyn Leads Us to VICTORY," and "Labour for Democratic Socialism."
But they feature posts that include anti-Semitic conspiracy theories pertaining to the Holocaust, Zionism, and Israel's involvement in the use of a nerve agent on British soil.
To make matters worse, Corbyn took three days after Berger's tweet to apologize for his Facebook comment as well as the larger issue of anti-Semitism in the Labour Party. That inaction prompted a public outpouring of anger from some Labour members as well as members of the British Jewish community.
From Corbyn's apology: "The idea of Jewish bankers and capitalists exploiting the workers of the world is an old antisemitic conspiracy theory. ... I am sorry for not having studied the content of the mural more closely before wrongly questioning its removal in 2012."
As Corbyn's apology was released, hundreds gathered across the street from the Houses of Parliament to protest Corbyn's response to the scandal. Addressing the crowd, Labour MP Wes Streeting directly attacked his leader: "We know what needs to be done. We don't need any more mealy-mouthed statements from the leader of the Labour Party, we need actions."
Flashback: Labour faced similar controversy last year when former London mayor Ken Livingstone was suspended from the party for suggesting that Adolf Hitler was a Zionist.
The big picture: This controversy comes as Corbyn faces down a larger political challenge to his position as Labour's leader.
Just last week, he fired Owen Smith, his Northern Ireland secretary, after Smith broke with Labour's official position and called for a second Brexit referendum.
And Corbyn's weak response to the use of a Russian nerve agent on British soil caused one of his own MPs, John Woodcock, to publicly call him out on the floor of the House of Commons this week:
Go deeper