This time, SCOTUS gerrymandering case focuses on Democrats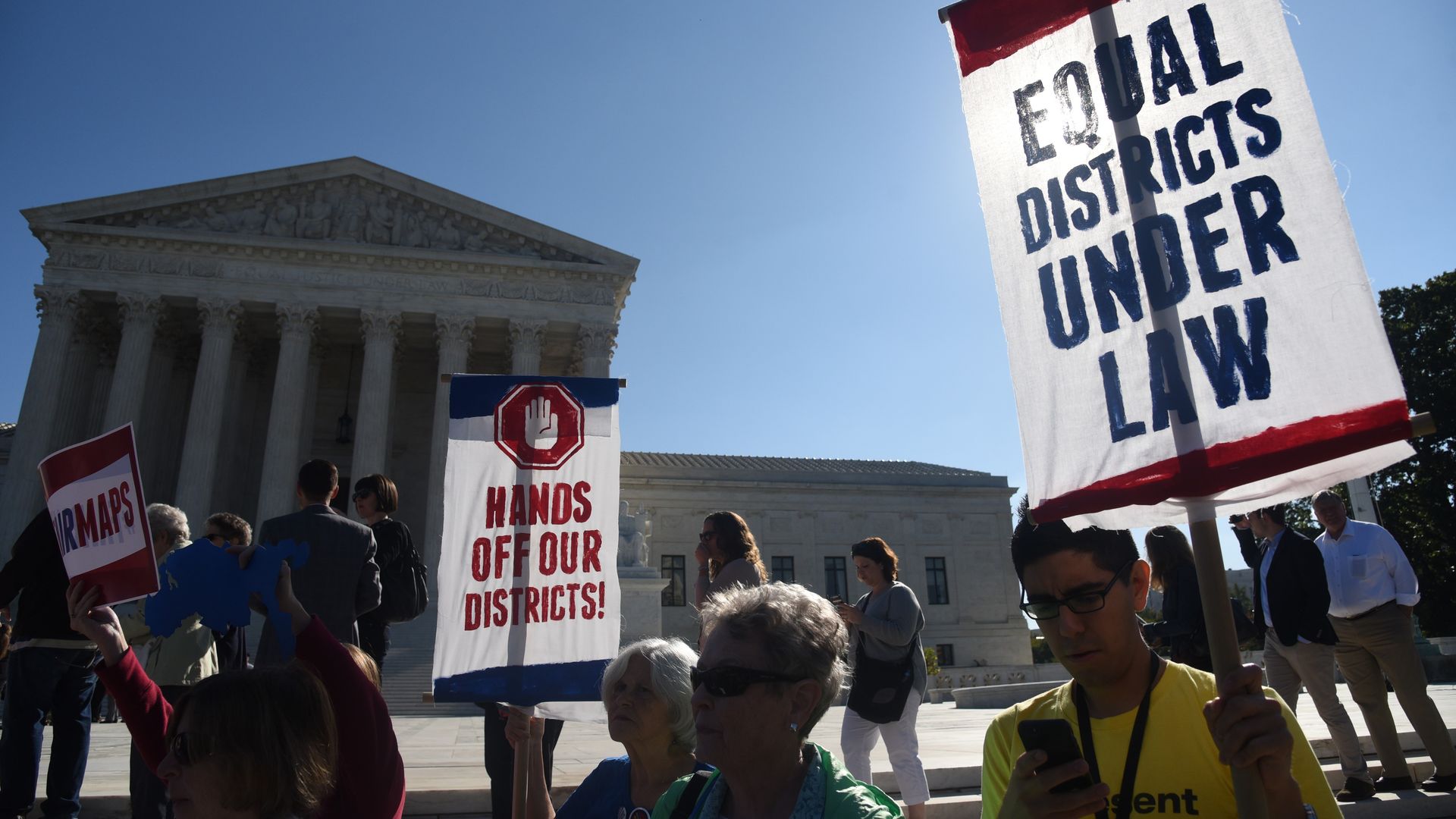 The U.S. Supreme Court on Wednesday will hear arguments from Maryland Republicans that the state's 6th Congressional District was intentionally drawn by the Democratic-controlled state legislature to cost a GOP incumbent his seat. This comes after it heard a similar case from Democrats in Wisconsin who say the GOP-controlled legislature gerrymandered the entire state map to maximize their majority.
Why it matters: The court's decisions, expected by June, could impose constitutional limits on partisan gerrymandering or allow it to happen with virtually no limits.
The back story:
In many states, legislators have the power to draw new legislative and congressional districts every 10 years following the census count. Therefore, it's no surprise the majority party would craft lines to boost their advantage — a practice known as gerrymandering.

In this case, then-Maryland Gov. Martin O'Malley, a Democrat, acknowledged in a deposition that "it was also my intent" to create a district "where the people would be more likely to elect a Democrat than a Republican."

Democrats used the 2011 redistricting to flip the 6th Congressional District — a Republican stronghold — by including parts of heavily Democratic Montgomery County. It increased their advantage in the state's congressional delegation from 6-2 to 7-1.
The lawsuit was filed in 2013, and last August a three-judge federal panel declined to throw out the voting map, which prompted Republicans to appeal to the Supreme Court.
What to watch: Most of the attention throughout the hearing will be on Justice Anthony Kennedy. When the nine justices heard the Wisconsin case last October, the court apparently split along ideological lines, leaving Kennedy seemingly with the decisive vote.
The big picture: The justices' involvement comes at a time when partisan redistricting is drawing increasingly close scrutiny in the political debate and in the courts.
Just last week, the high court declined a GOP request to intervene in a Pennsylvania case where the state Supreme Court invalidated the state's pro-Republican gerrymandered congressional map and replaced it with a court-drawn plan.
Go deeper: Here's where the big redistricting court fights stand
Get more stories like this by signing up for our daily morning newsletter, Axios AM. 
Go deeper