John Bolton's plan to be Trump's "enforcer"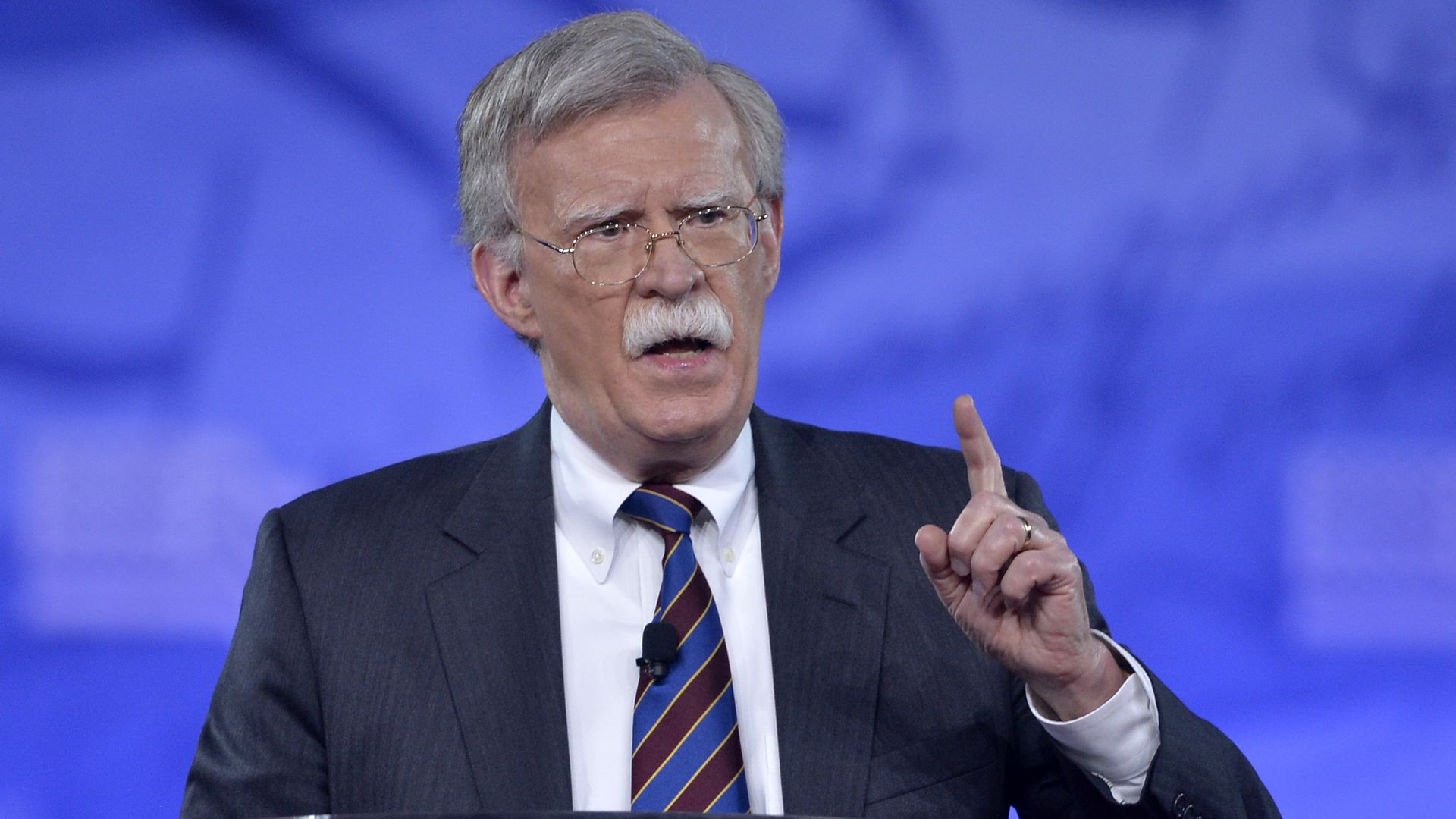 John Bolton knows he's being portrayed as a warmonger as he becomes national security adviser, but he's trying to build internal credibility with a more studied, lower-decibel approach, according to people familiar with his thinking. Bolton's forest of op-eds trumpet his hawkish views. But my sources say that at least at the outset, Bolton plans to rein those in — aiming to be seen more as an honest broker for the war cabinet, and less as blatant advocate.
His plan: "When the president makes a decision, obviously the principals on the National Security Council are supposed to carry it out," one source familiar with Bolton's thinking told me. "But it's the job of the national security adviser to be the enforcer and to make sure that it happens."
By working in the West Wing, the national security adviser spends more time with the president than the secretaries of State or Defense, and so can always get the last word. But Bolton is signaling restraint until Trump makes a decision.
Bolton, a former litigator, sees Trump as his client, according to one source: "For a corporate client or even an individual, you have to be absolutely objective about what the strengths and weaknesses of your case are."
The source continued: "You've got to be able to lay out for the client where the pitfalls are, what the possible returns are, what the possible risks are in the litigation, so that the client can make a decision."
Bolton sees the job as "making sure the president knows what the cost-benefit analysis of the various options is going on — and then, coming out, making sure that the decision is enforced," the source said.
Look for: Bolton to be aggressive about the traffic-cop role of the NSC adviser.
Bolton plans to insist that the State Department and Pentagon do a better job of participating with the White House in the "interagency process" of hashing out decisions.
Those channels are currently a mess because of the mutual contempt between the West Wing and outgoing Secretary of State Rex Tillerson. Allies of outgoing national security adviser H.R. McMaster tell me that Tillerson and James Mattis treated him with contempt and overwhelmed his role in the decision-making process.
Bolton has always admired the way Brent Scowcroft handled the inter-agency process during the Bush 41 Administration, according to people familiar with his thinking.
Some prominent Republicans and Democrats have raised concerns about Bolton's belligerent rhetoric in recent days, with some predicting he'll drag America into new wars. Here's a good example of a vigorous conservative defense of his appointment.
Bolton's self-classification: Bolton says he's no neocon — he doesn't support humanitarian interventions and the forced exporting of American democratic values — and is very aware of criticism from self-described neocons like Max Boot. Instead Bolton is fond of saying that his foreign policy philosophy is "pro-American" (though we'd be hard-pressed to find any foreign policy hand in Washington who wouldn't use the same descriptor to describe themselves.)
Bolton also likes to quote a clash of world-views from the early 20th century. When Woodrow Wilson said the U.S. was entering World War I because "the world must be made safe for democracy," Teddy Roosevelt's "realist" riposte — of which Bolton approves — was that "first and foremost we are to make the world safe for ourselves."
Go deeper