What to watch for in Egypt's sham election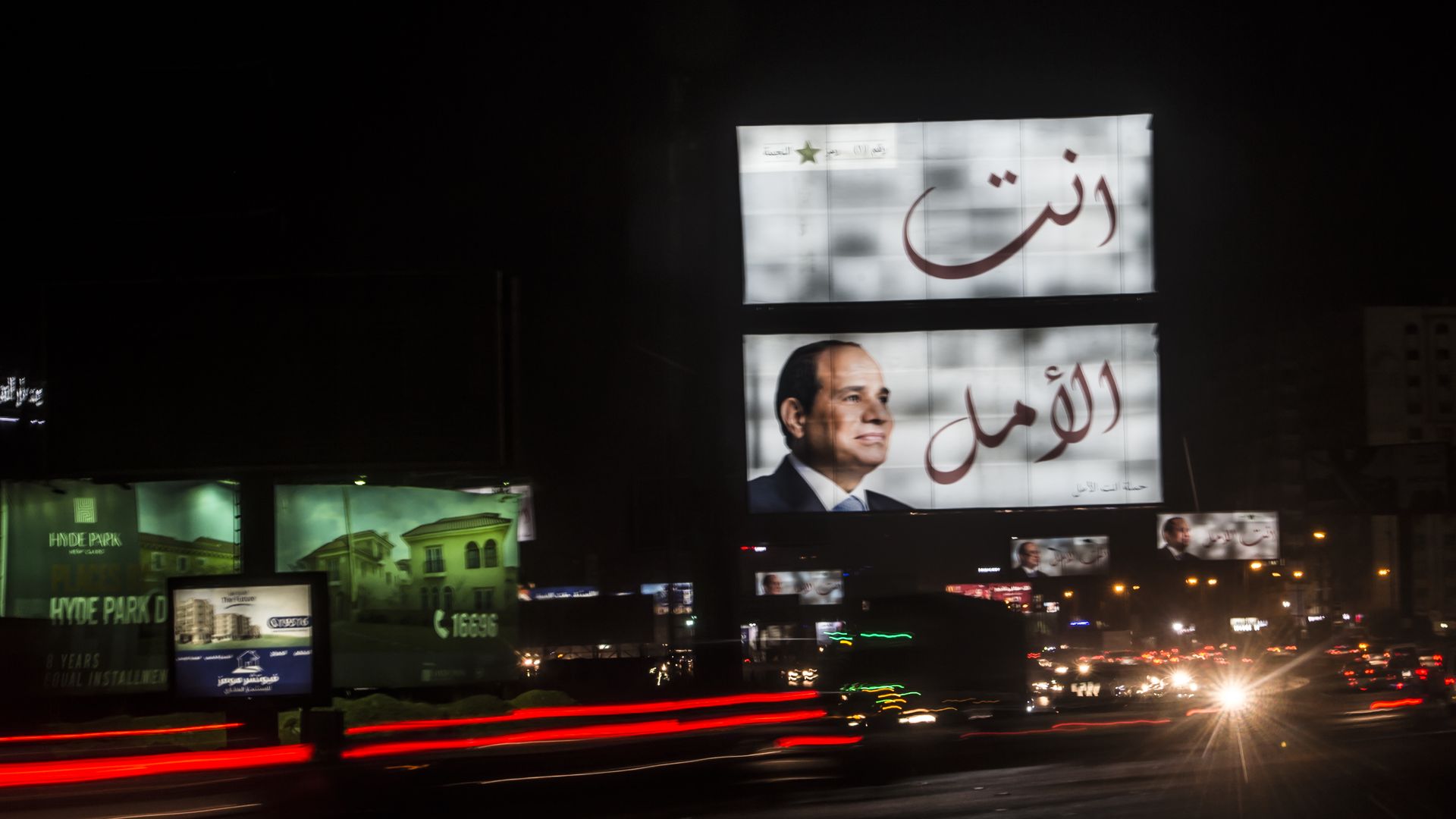 Egyptians will vote March 26-28 in a presidential election that is sure to see incumbent strongman Abdel Fattah el-Sisi handily defeat Mousa Mostafa Mousa — the sole challenger who hasn't been jailed or intimidated into dropping out.
The backdrop: Sisi, the former minister of defense and commander-in-chief of the Egyptian Armed Forces, led a military coup to topple President Mohamed Morsi in 2013. He formally came to power in 2014 after winning 96% of the vote in the presidential election, but has since seen his popularity wane under deteriorating economic conditions and an oppressive human rights record.
Setting the scene: Egypt's election "will effectively be a theatrical performance, staged by the regime to contrive a popular mandate for strongman [Sisi's] second term," Andrew Miller and Amy Hawthorne write in Foreign Affairs.
Sisi's struggles
Facing one of the region's highest budget deficits, Sisi agreed to economic reforms in November 2016 under a $12 billion IMF loan, causing inflation to hit a high of 30% last summer. The economy has slowly recovered since then, but the middle class — which fueled Morsi's ouster with protests — has struggled.
In April 2017, twin church bombings prompted Sisi to declare a state of emergency, which he has since extended three times. The measure has given authorities broad power to detain civilians without reason, monitor and censor all forms of communications, seize property and restrict public gatherings under the pretense of counterterrorism.
Under Sisi's direction, security forces have routinely imprisoned and tortured not only criminal suspects, but perceived political enemies as well.
The opposition
A coalition of opposition groups that called on voters to boycott the election is now being investigated by Egypt's prosecutor general. Five potential challengers were unable to get on the ballot:
Ahmed Shafiq, the former prime minister who fled Egypt after losing the 2012 election to Morsi, was arrested and deported by the Sisi-allied UAE. He subsequently dropped out of the race.
Retired general Sami Anan was arrested for running for office without prior approval from the military, while Col. Ahmed Konsowa was jailed for a video in which he announced his candidacy while wearing his uniform, an apparent violation of military code.
Lawyer and activist Khaled Ali and Anwar Sadat, nephew of the assassinated Egyptian president, both withdrew from the race due to intimidation.
That leaves Mousa Mostafa Mousa, a politician who had publicly endorsed Sisi just 10 days prior to entering the race.
Per The Guardian, Mousa's pro-government background and "bland" policy platform, which avoids anything that could be construed as a criticism of Sisi, has critics wondering if he's a puppet candidate propped up by the regime to provide "a veneer of democracy."
The bottom line: As in Russia last Sunday, there's no suspense here. Sisi has clamped down on democracy at every turn, and it won't be on display even as Egyptians go through the motions of casting ballots. Sisi remains popular with many Egyptians, but this election won't be a true test of that popularity.
Go deeper