Bolton bombshell: the clashes to come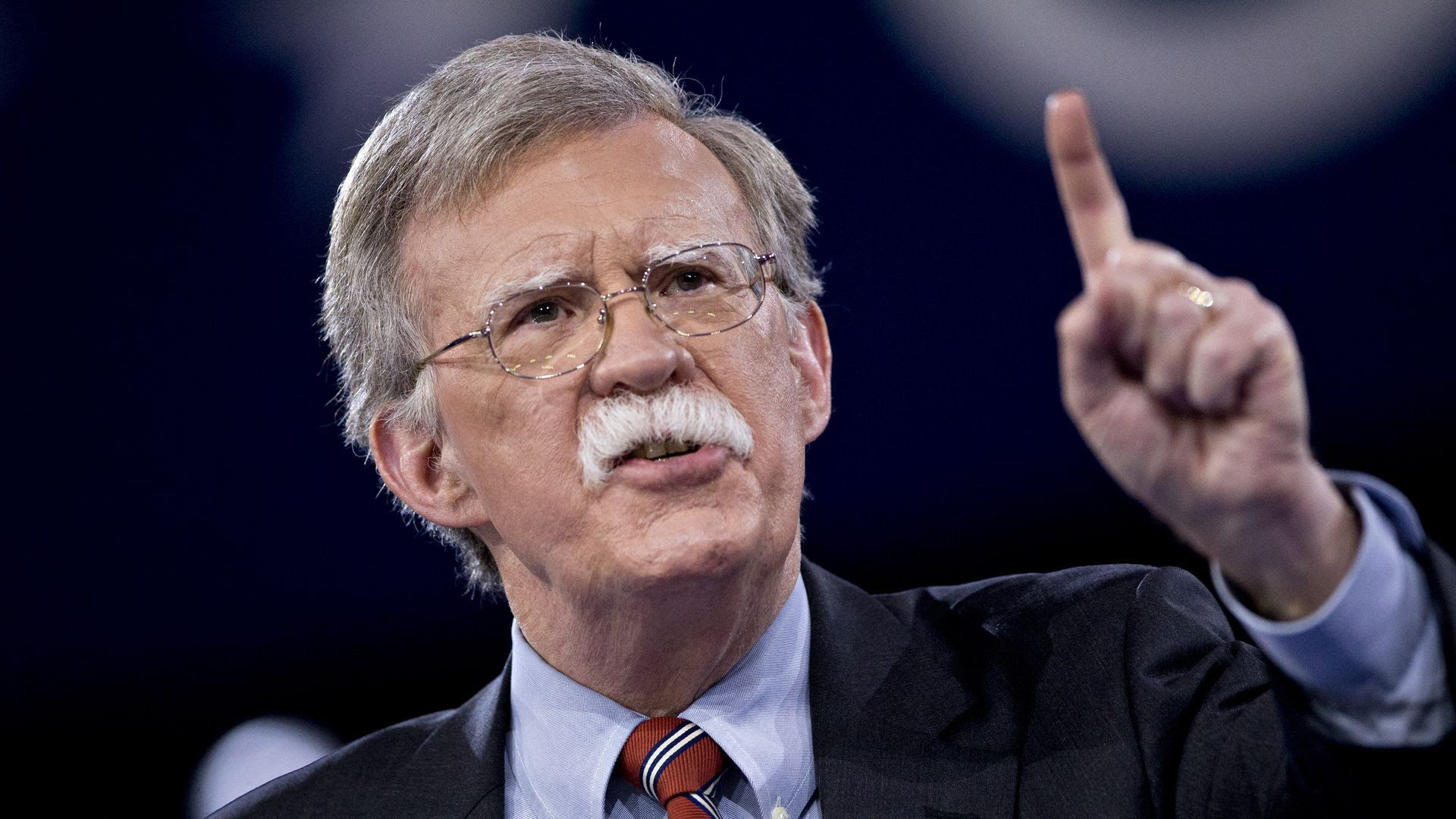 Sources close to President Trump say he feels John Bolton, hurriedly named last night to replace H.R. McMaster as national security adviser, will finally deliver the foreign policy the president wants — particularly on Iran and North Korea.
Why it matters: We can't overstate how dramatic a change it is for Trump to replace H.R. McMaster with Bolton, who was U.S. ambassador to the U.N. under President George W. Bush.
What we're hearing:
Bolton was not White House chief of staff John Kelly's candidate for the job. Kelly had nothing to do with his appointment, according to a source close to Bolton. Nor was he Defense Secretary James Mattis' choice. 
A source close to Bolton: "He only owes his job to one man and one man only ... And that man is Donald J. Trump." 
It's not just that Bolton is more hawkish on Iran and North Korea — though of course he is. It's that Bolton knows his way around the bureaucracy and won't take anybody's crap. He won't show deference to Mattis or the generals, say sources who know him well.
Allies of McMaster have long complained that John Kelly, Mattis and outgoing Secretary of State Rex Tillerson considered him a junior partner and treated him like garbage.
A source close to McMaster told me: "One of the downsides of what happened is I only wish Tillerson was around to experience this. The two of them that wanted him out most —Mattis and Tillerson — I only wish they were both around to endure the pain of National Security Adviser Bolton. They hated him [McMaster] but they're going to like this a lot less." 
Until now, Mattis and Tillerson have been trying to restrain what they consider some of the president's more dangerous instincts, and have been on the opposite side of major issues, including moving the U.S embassy to Jerusalem and trying to persuade Trump not to tear up the Iran nuclear deal.
Sources who know Bolton expect he will stare down Mattis, tell him when he's wrong, and will be a Henry Kissinger-type presence in the room. Now that Tillerson is gone, he could fundamentally tip the balance of power on Trump's national security team, senior officials expect. 
Our expectations:
In May — the next deadline for action —  Trump will likely follow through on his instincts and effectively terminate the Iran deal, bringing back heavy sanctions on Tehran.
The proposed summit with Kim Jong-Un — already an uncertain proposition — appears even more shaky. Bolton has an uncompromising attitude towards North Korea, and believes the only language Kim understands is the threat of military force. 
A source who has spoken to Bolton said he told Trump he was only interested in two jobs: Secretary of State or national security adviser.
"He said, 'Mr. President you ran on this agenda. You ran against Iran. And if you want to hire me, that's what I'm going to produce for you.'"
"This is a guy that you cannot control — that's the most important thing to know."
"The short term is maybe they [Kelly and Mattis] think they got rid of H.R. McMaster. The long term is you have a person beyond respected by the [conservative House] Freedom Caucus, beyond respected by every foreign policy hawk that supports the president. He rightly views himself as a principal."
Between the lines: Bolton's ideological foes fear him not only because of his hawkish ideas, but because he knows how to accomplish them.
In Bolton's book, "Surrender Is Not an Option," he proudly recalls what Joe Biden told him in his 2001 Senate confirmation hearing for the role of undersecretary of State for arms control and international security affairs in the George W. Bush administration. 
Here's what Biden said to Bolton: "My problem with you, over the years, has been, you're too competent. I mean, I would rather you be stupid and not very effective."
That's why doves and moderates are scared this morning.
Go deeper