Updated Mar 21, 2018 -

World
Crown prince faces headwinds on nuclear deal, Yemen during U.S. visit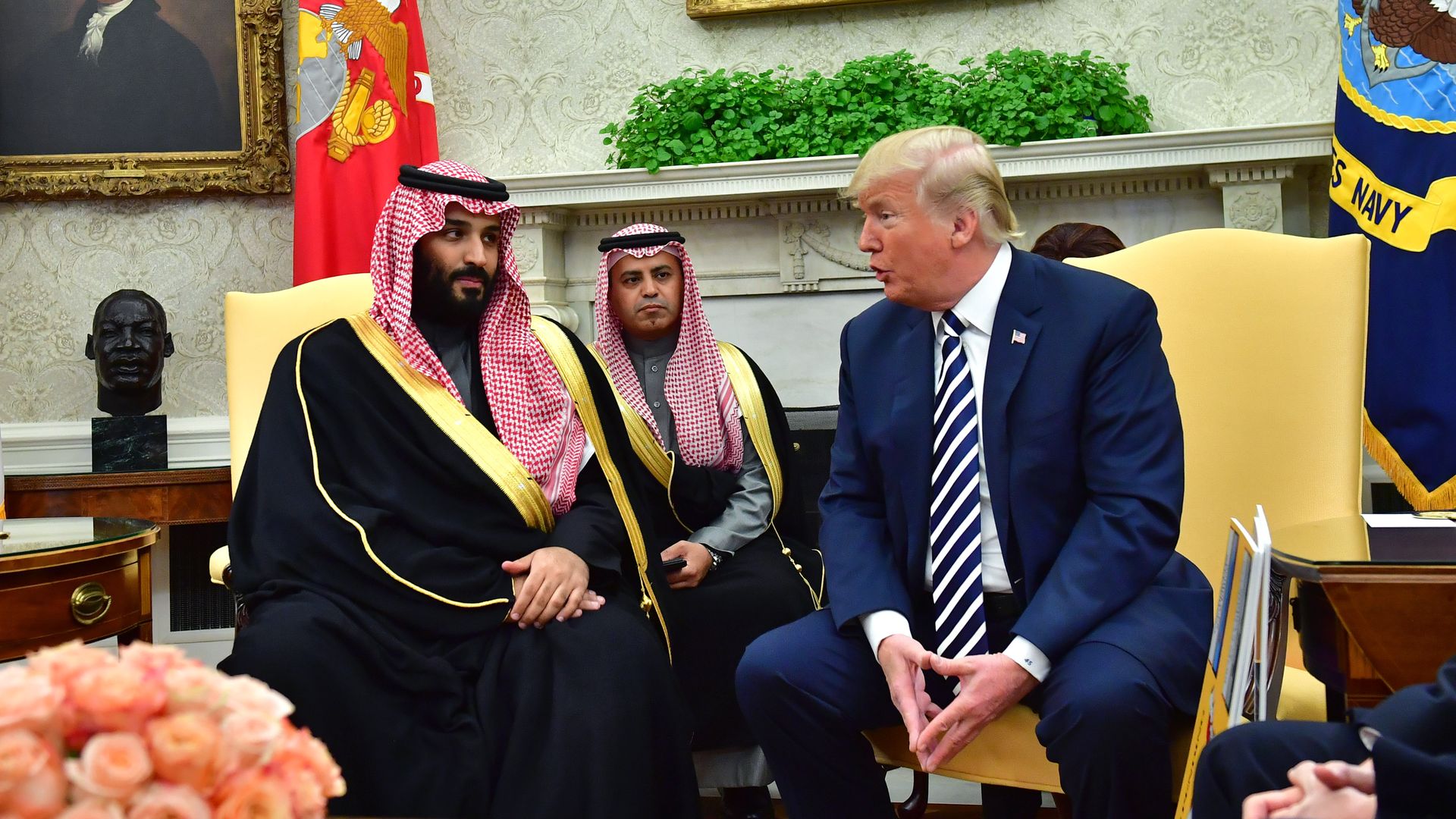 President Trump gave a warm welcome to Saudi Arabia's Crown Prince Mohammed bin Salman's at the White House on Tuesday, sustaining what some have called an all-time high in U.S.–Saudi relations. Prince Mohammed's primary goal will be to build on the already close ties with team Trump to advance the kingdom's economic development and diversification plans by courting investment from U.S. technology, energy, finance and entertainment companies.
Yes, but: Despite warming relations, a number of key issues — including Saudi Arabia's nuclear aspirations, involvement in the Yemeni civil war and human rights concerns — could create roadblocks.
Prince Mohammed will look to make headway on a nuclear energy agreement, as the country looks to develop its nuclear capabilities. But the U.S. may vie to restrict the kingdom's uranium enrichment rights, under terms similar to the Iran deal's, which would would be a hard bargain to strike. While the U.S. needs to sell contracts to revitalize its nuclear industry, the Saudis can turn to other nations if the U.S. is unwilling to pursue an equitable arrangement.
The crown prince also faces headwinds from Congress on the Yemeni war, although the vote today to restrict U.S. aid to the Saudi-led coalition was voted down in Congress. Despite claims to the contrary, he will argue that withdrawing already-modest U.S. aid to the Saudi-led coalition, especially intelligence-sharing, will only exacerbate Yemen's humanitarian crisis, while doing nothing to end what Riyadh sees as a war of necessity to prevent Iran from advancing on the kingdom's southern border.
The bottom line: Prince Mohammed and Trump see eye to eye on many key issues, like containing Iran, but Trump is unlikely to make much progress on U.S. objectives, especially ending the Qatar embargo and furthering an Israel-Palestine peace plan (which the crown prince warned would be impossible if the Embassy were moved to Jerusalem).
Ali Shihabi is the founder of the Arabia Foundation and author of "The Saudi Kingdom: Between the Jihadi Hammer and the Iranian Anvil."
Go deeper