Updated Mar 21, 2018 -

World
Putin's landslide a feat of election engineering, genuine popularity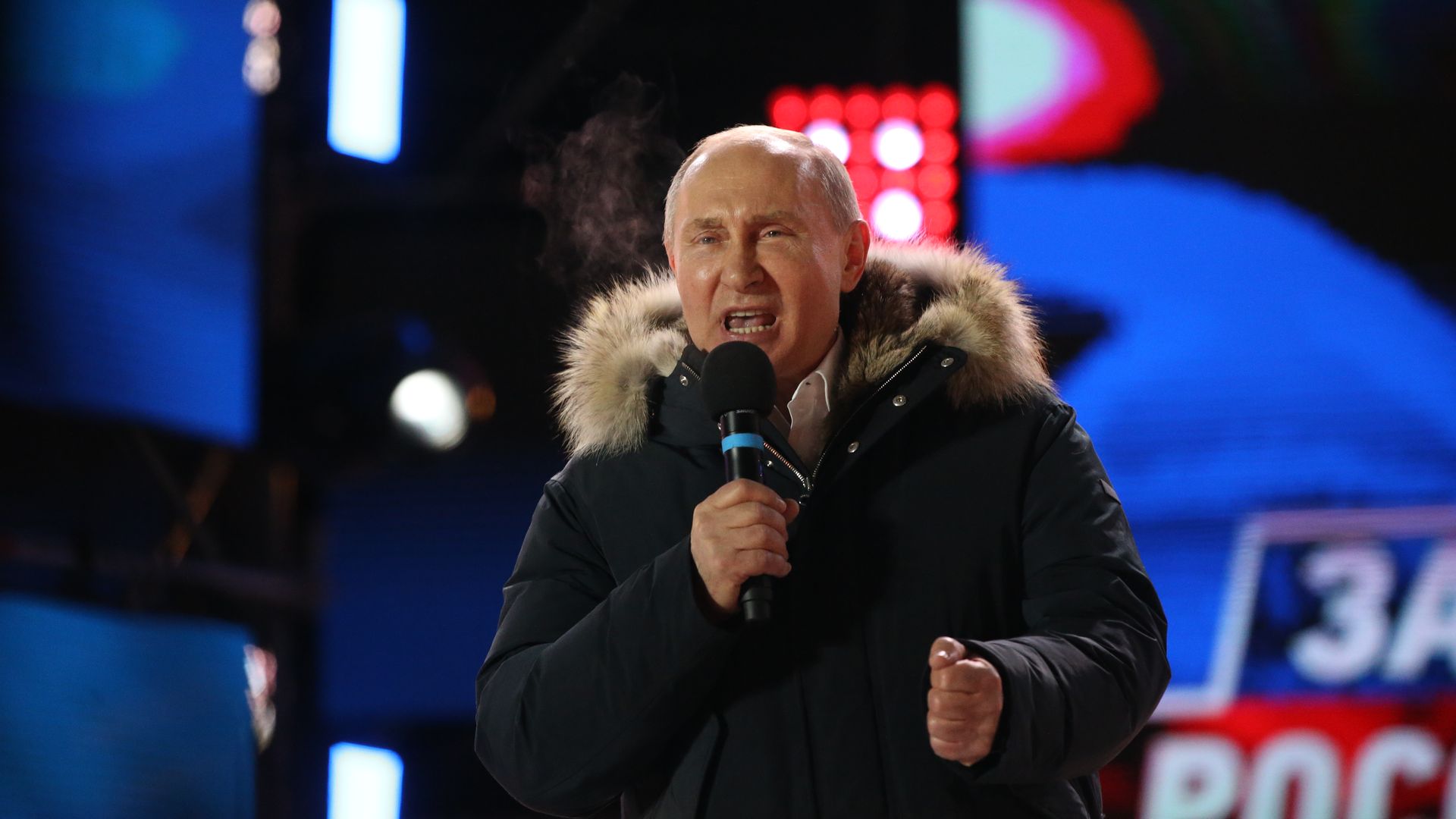 Russian President Vladimir Putin's commanding reelection victory — 76% of the vote with 67% turnout — has been described at once as a "sham" in The Washington Post and as evidence of his "overwhelming mandate" in The New York Times. The truth is more complicated.
Why it matters: The election was marked by all the usual shenanigans: roughly 10 million suspicious votes for Putin, ballot-box stuffing and blatant bias in media coverage. But the genuine popular support Putin enjoys should not be underestimated.
In some respects the race was even more unfair than usual. In past elections, approximately 25% of private sector workers and 38% of state sector workers experienced some form of political pressure from their employers to vote. The mobilization effort was far greater this time around. Putin also ran against a slate of historically weak candidates, even by Russian standards. Perhaps most important, the only serious opponent, Alexei Navalny, was banned from running.
Even as Russia faces serious economic and social problems, voters were not all frog-marched to the polls: Putin remains authentically popular. Economic stabilization, Crimea's annexation and Russia's resurgence on the global stage have all generated a level of widespread support for Putin that was reflected in the vote totals. And while his approval fell sharply in big cities before the election, it would be a mistake to ignore these trends in Russian society.
Perhaps most intriguing, a mysterious last-minute increase in registered voters gave Putin just over 50% of the vote. Of course, this means that 48% of registered voters either did not turn out despite the massive mobilization or voted for other candidates. Whether they stayed home out of apathy or in protest is uncertain. 
The bottom line: While there's no question that Putin's reelection was engineered, his political dominance is propped up by real support as well.
Timothy Frye is the Marshall Shulman Professor of Post-Soviet Politics at Columbia University and the editor of Post-Soviet Affairs.
Go deeper