Updated Mar 20, 2018 -

World
What to expect from Saudi crown prince's Washington visit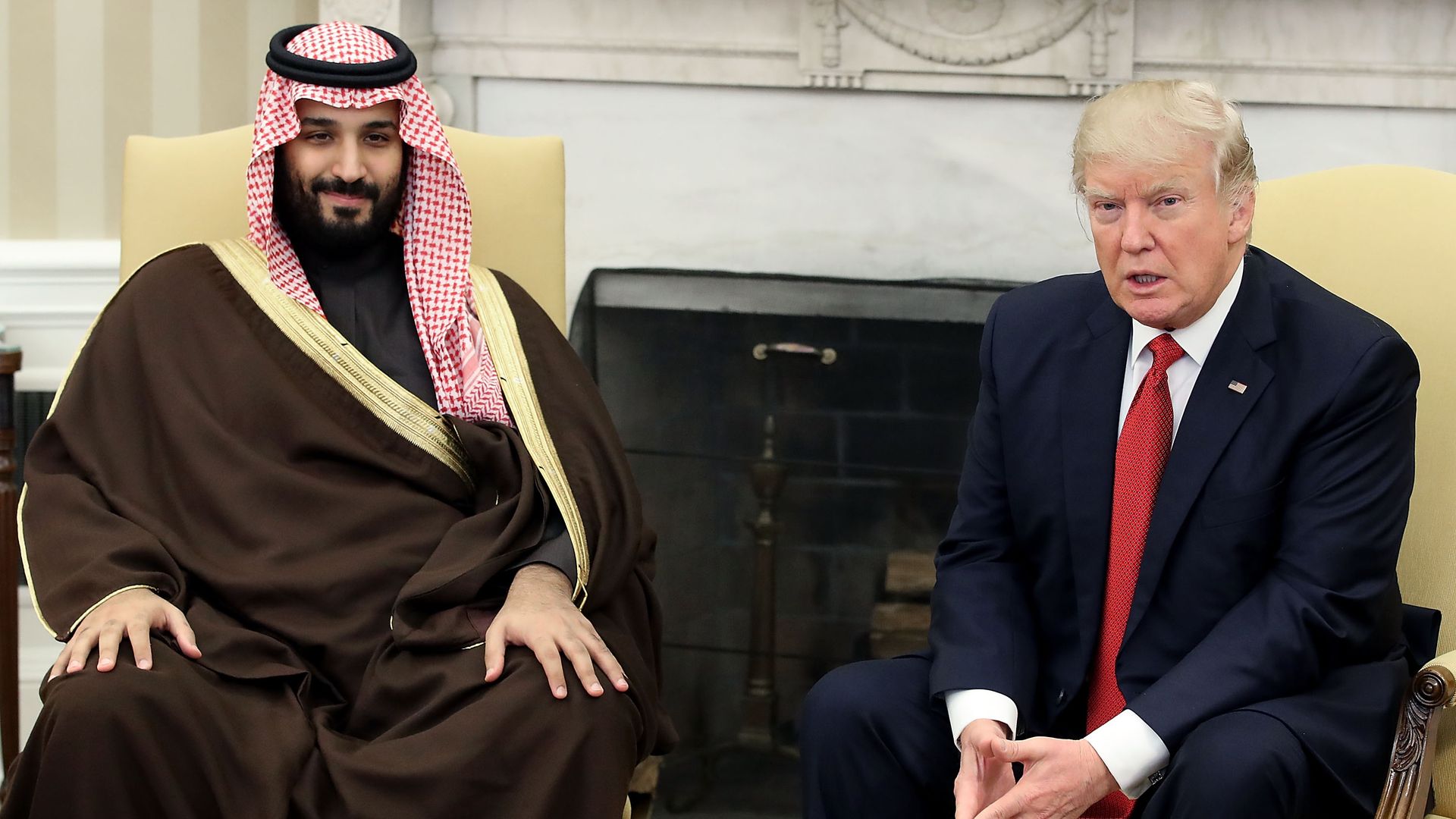 Saudi Arabia's Crown Prince Mohammed bin Salman will meet with President Trump at the beginning of a multi-city U.S. tour. His agenda is expected to range from geopolitics and security to energy and investment, in addition to his signature reforms: expanding the private sector while shrinking a bloated government bureaucracy, diversifying the economy, promoting arts and entertainment, introducing taxation and loosening restrictions on women.
Why it matters: While these reforms have found support in the U.S., other Saudi initiatives, such as its involvement in the Yemeni Civil War, face serious pushback, especially from Congress.
Top policy areas the crown prince's trip will address:
1) Countering Iran: The Trump White House has taken a more aggressive rhetorical posture toward Iran, Saudi Arabia's regional adversary, than past administrations. As Trump continues to express his frustration with the Iran deal, Prince Mohammed may push for a more proactive effort by the U.S. to roll back Iran's influence.
2) War in Yemen: Congress remains concerned about Saudi involvement in the devastating humanitarian toll of the Yemeni Civil War, which has resulted in nearly 15,000 civilian deaths, massive internal displacement, famine and a cholera outbreak. Despite a Saudi aid package rolled out early this year, Congress is considering two bills that would limit U.S. support for the Saudi-led coalition, which could become a source of tension during the visit.
3) Saudi nuclear energy: In a second likely source of friction with Congress, the Trump administration is hoping to sell nuclear reactors to the Saudis in a multibillion-dollar deal. But terms of that sale would be contentious: Nonproliferation proponents want a so-called Gold Standard 123 Agreement, which would prohibit enrichment; however, the Saudis view enrichment as their sovereign right, particularly in light of the Iran deal and the fact that only two of the 23 extant 123 agreements meet the gold standard.
4) Vision 2030: Prince Mohammed plans to introduce reforms that will alter the traditional social contract between Saudi citizens and the state. His visits outside Washington will likely be geared toward investment, especially the question of where it will make the first stock offering of Aramco, the national oil company. But while regulators in the U.K. appeared eager to woo the crown prince to attract the listing, their counterparts stateside do not seem as enthused. Additionally, the high-profile purge of Saudi royals and businessmen on corruption charges last November created uncertainty about the Saudi investment environment that he will likely aim to dispel.
5) Gulf diplomatic crisis: Relations between Qatar and the so-called Quartet — a bloc comprising Saudi Arabia, the United Arab Emirates, Bahrain and Egypt — have been badly strained since last June. The blockade, which arose from the Quartet's charge that Qatar sponsored terrorism and threatened their own internal stability, has riven the Gulf Cooperation Council. The Trump administration hopes to hold a summit later this year to bring the diplomatic row to a close, but this is unlikely without Saudi and Emirati buy-in.
The bottom line: U.S.–Saudi relations, which became frosty under Obama, have warmed under Trump, but critical diplomatic issues leave much work ahead.
Owen Daniels is associate director of the Middle East Peace and Security Initiative at the Atlantic Council's Scowcroft Center for Strategy and Security.
Go deeper: Read more at the Atlantic Council's New Atlanticist blog.
Go deeper