What Trump and Putin did and didn't discuss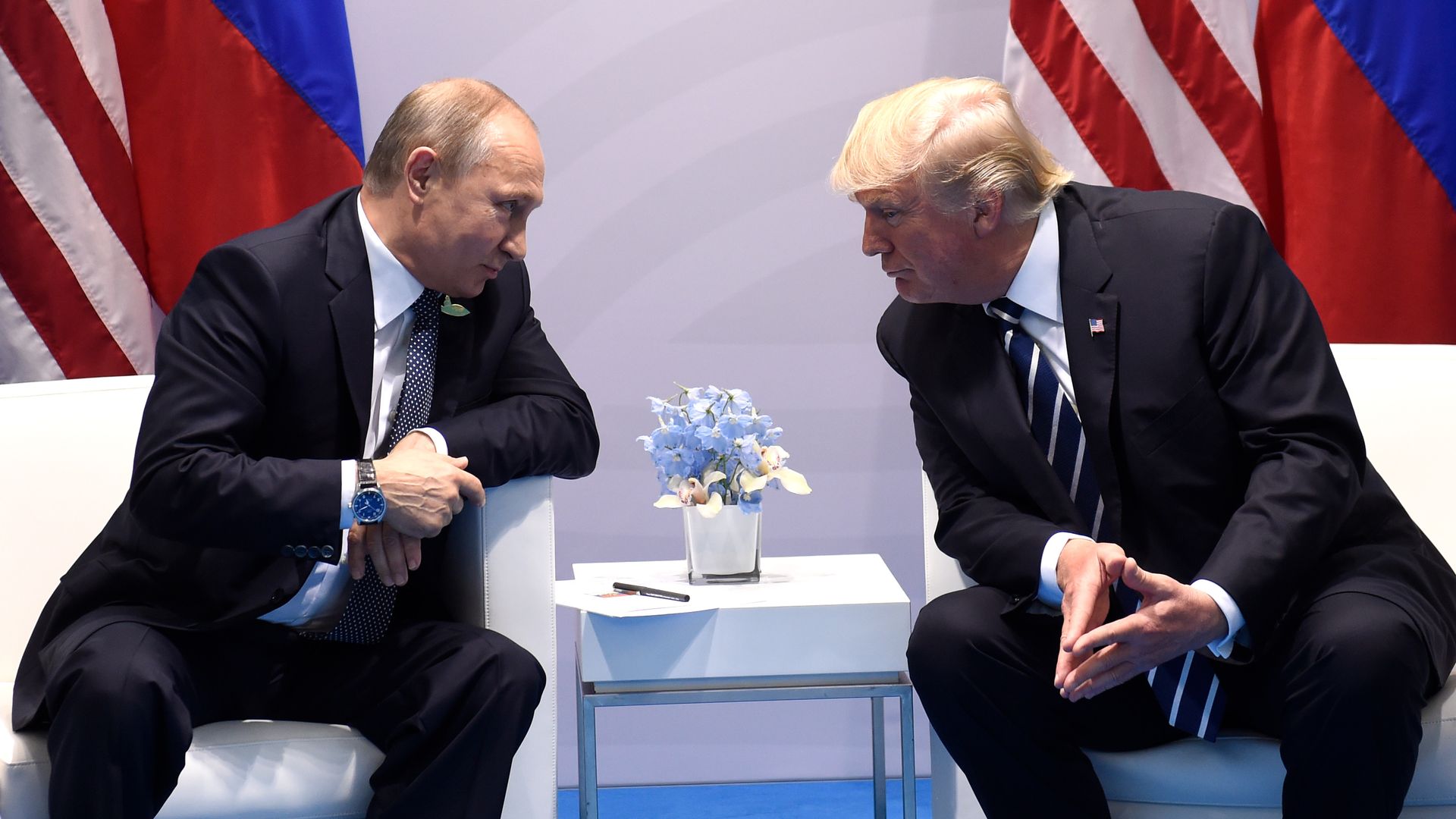 President Trump spoke with Vladimir Putin this afternoon, and congratulated him on winning re-election on Sunday. After the call, Press Secretary Sarah Sanders was asked whether Trump felt the election had been free and fair, and said it wasn't up to the U.S. to "dictate" how Russia holds elections.
The bottom line: Trump is not alone in congratulating Putin — leaders in France, Germany and elsewhere have done so this week, as Barack Obama did in 2012. But past administrations certainly have seen it as America's role to call balls and strikes when it comes to elections abroad, and weigh in when democratic institutions are being undermined. A departure from that approach would be welcomed not only by Putin, but other leaders of pseudo democracies around the world.
"Look, in terms of the election there, we're focused on our elections. We don't get to dictate how other countries operate. What we do know is that Putin has been elected… We can only focus on the freeness and fairness of our elections."
— Sarah Sanders
What to watch for: Will the White House take a similar position on elections in Venezuela in May, which are widely expected to be a farce? Based on past comments, probably not.
More on the call
Trump and Putin discussed:
Meeting in the near future to discuss "the arms race," per Trump.
North Korea and shared national security priorities, per the White House readout.
"The problem of Syria" and "the internal crisis in Ukraine," per the Kremlin readout.
Per Sanders, Trump did not raise:
Russian election meddling.
The poisoning of ex-spy Sergei Skripal with a chemical weapon in the U.K., which the U.S. and its allies have said Russia is responsible for.
Instances of ballot stuffing, and Putin's efforts to undermine any serious competition in the election.
Sen. John McCain's response: "An American president does not lead the Free World by congratulating dictators on winning sham elections."
Flashback: Obama called to congratulate Putin in 2012, when he returned to the Russian presidency after a four year hiatus. Obama, who was attempting a "reset" with Russia at the time, didn't raise electoral issues either, though the State Department did. In the ensuing days, Obama held a press conference and Press Secretary Jay Carney a gaggle, and neither fielded questions about Russia (though the election did come up in Carney's first full briefing the following week).
Go deeper