Trump's trade plan that would blow up the WTO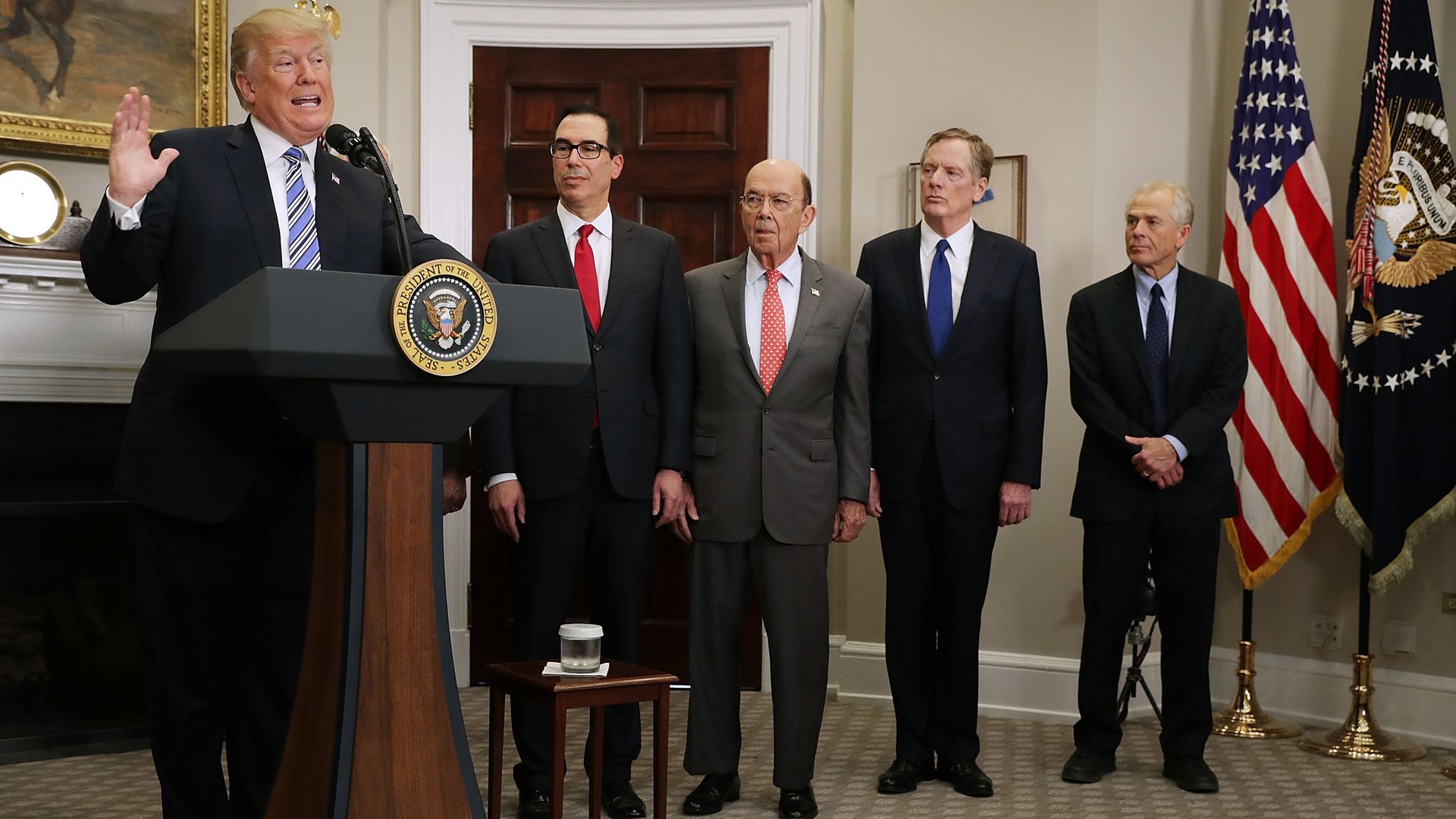 For months, President Donald Trump has been badgering his economic advisors to give him broad, unilateral authority to raise tariffs — a move that would all but break the World Trade Organization.
His favorite word: "reciprocal." He's always complaining to staff about the fact that the U.S. has much lower tariffs on some foreign goods than other countries have on the same American-made goods. The key example is cars: The European Union has a 10 percent tariff on all cars, including those manufactured in America, and China hits all foreign-made cars with 25 percent tariffs. But the U.S. only charges 2.5 percent for foreign cars we import.
Trump and ascendant nationalist economic advisor Peter Navarro think this is wildly unfair. So the president wants Congress to pass a bill to let him raise tariffs to reciprocal levels, according to three sources with direct knowledge.
One source familiar with Trump's thinking told me that Trump doesn't want to raise tariffs — he wants to use the new power this bill would give him as leverage to force other countries to lower theirs. Some of his advisers, including Gary Cohn, have told associates this won't work and could lead to a trade war. CNBC's Eamon Javers was the first to report this development.
Trump initially asked senior officials, including then-Staff Secretary Rob Porter, to draft an executive order to let him do it unilaterally. Porter and others explained he couldn't legally do that by himself. So now, Trump is asking for a bill.  
Trump's idea would effectively break the WTO. One of the core WTO principles — which has underpinned globalization and trade for 70 years — is an idea called "most favored nation status."​ Countries that belong to the WTO have all agreed to charge the same tariff rate for imports from all other WTO members.
Wealthier nations like the U.S. have tended to commit to lower tariff rates than poorer nations. The U.S. can re-negotiate tariff rates, but is supposed to go through the WTO process — and whatever rate they re-negotiate they have to give to everybody else. Trump doesn't like that. He wants to match tariffs nation-by-nation, product-by-product.
This is probably dead-on-arrival in Congress: Most Republicans on the Hill are free-traders and nearly universally opposed to Trump's tariffs. They won't get behind this. And a source familiar with Trump's legislative affairs team's thinking says such a bill has little chance of success. Trump, however, thinks the idea is a no-brainer. He mused aloud to staff in an Oval Office meeting last week, "Who could be against reciprocal?"
Why it matters: Trump is just getting started on his hardline trade mission. Gary Cohn and Rob Porter were among the few in the White House who would fight for free trade policies. Once they're gone, the most influential voices on trade will be economic nationalists (with the possible exception of Larry Kudlow; we'll have to wait and see if he'll start off his tenure as chief economic advisor by going to war with the president over trade.)
What else to watch for: Aggressive tariffs against China. As Politico first reported, when Trump's team presented him with a package of tariffs that would target the equivalent of $30 billion a year in Chinese imports, Trump told them he wanted even bigger tariffs.
Axios has further learned that in an Oval Office meeting on Thursday, Trump told Kevin Hassett, the chair of his Council of Economic Advisers: "Kevin, you've gotta make the number bigger." Hassett told Trump he'd have to go away and study the potential impacts of these larger tariffs against China, according to a source familiar with the interaction. Two sources with direct knowledge tell me the administration's current tentative plan is to potentially put tariffs on hundreds of Chinese products by the end of March.
Go deeper