Trump's opioid plan includes death penalty for some drug dealers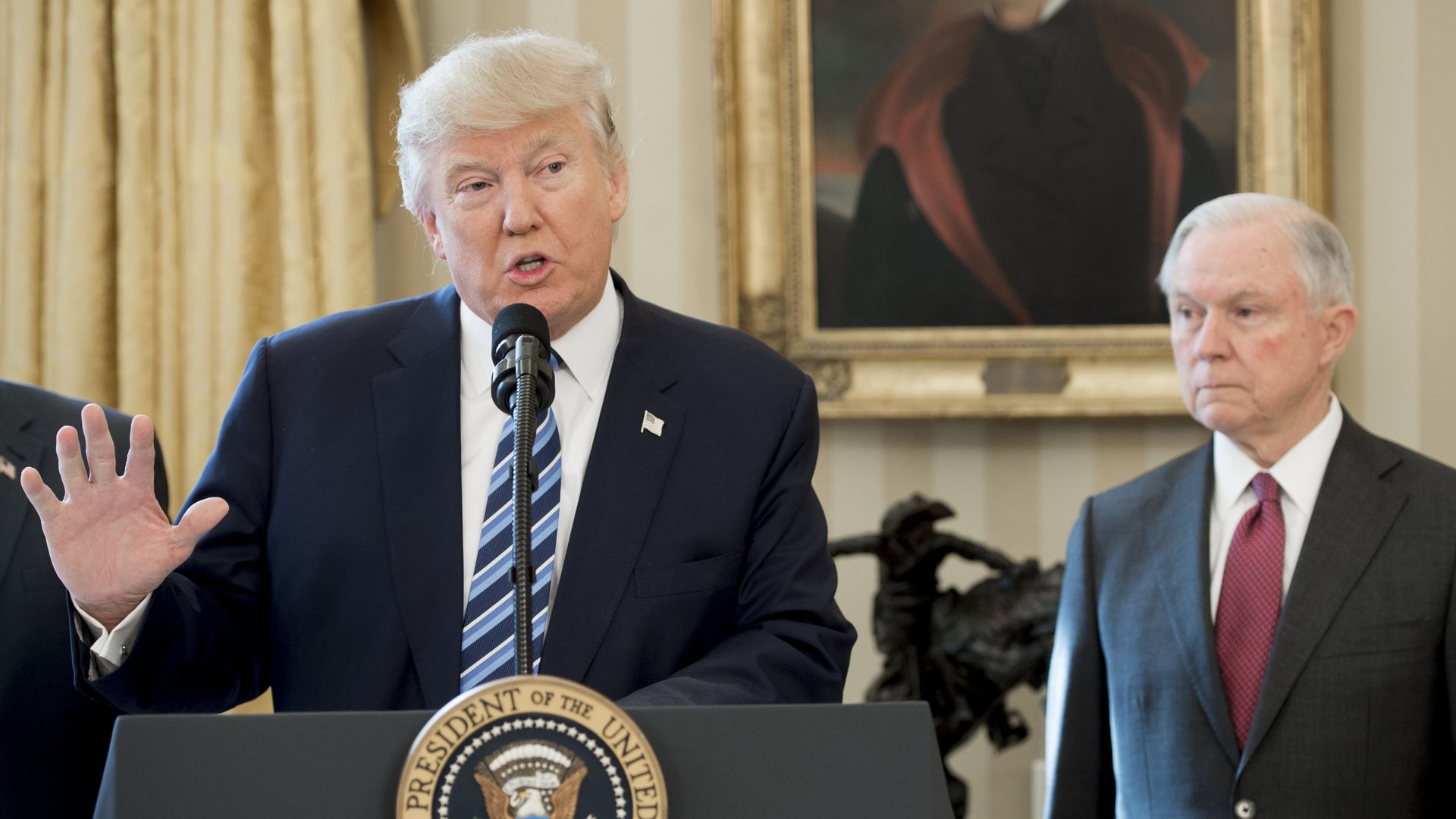 On Monday in New Hampshire, President Donald Trump will present his blueprint to combat the opioid epidemic, which includes a mandate for the Justice Department to allow prosecutors to seek the death penalty for some drug dealers, senior administration officials said on Sunday.
The details: A top administration official told reporters during a background call that law enforcement "is a key part of the holistic approach to combat" the "surge" in opioid addiction, and the DOJ would seek the penalty for some drug dealers "as appropriate under current law." But they declined to say under what circumstances it would be deemed appropriate. The DOJ didn't immediately respond to Axios' request for comment on the issue.
The backdrop: This will be Trump's first visit to the state — hit hard by the opioid epidemic — since his 2016 campaign. On the campaign trail, Trump had promised to alleviate the scourge of drug abuse and addiction that has swept the country, a pledge that helped propel him to a crucial victory in the Republican primary there two years ago.
The plan's focus areas: Law enforcement and interdiction, a prevention and educational advertising campaign, improving access to treatment programs and helping those impacted by the epidemic find jobs while fighting addiction.
Officials said the plan will detail the measures the administration will take and legislative actions on which they want Congress to act.
Some specifics:
Work with coastal services and shipment services to set up screening technologies to detect illicit substances that are being shipped into the country.
Support research and development efforts for technologies and additional therapies designed to prevent addiction and decrease the use of opioids in pain management.
Reduce demand and the overprescription of opioids.
Allocate funds for initiatives related to opioids to help states transition to a nationally interoperable Prescription Drug Monitoring Program network.
Increase support for state and local drug courts to provide offenders with access to treatment "as an alternative to or in conjunction with incarceration, or as a condition of supervised release."
Urge Congress to pass legislation that tightens sentencing penalties for drug dealers trafficking certain illicit opioids.
Impose appropriate criminal and civil actions to hold opioid manufacturers accountable for any unlawful actions, and also screen federal inmates with opioid addiction and connect them to treatment services.
The timeline: The White House's plan will be shared in the coming weeks and months, officials said. They noted that some proposals are already underway by utilizing existing fundings and that they're negotiating with lawmakers to allocate new funds.
Go deeper