John Kelly's day from hell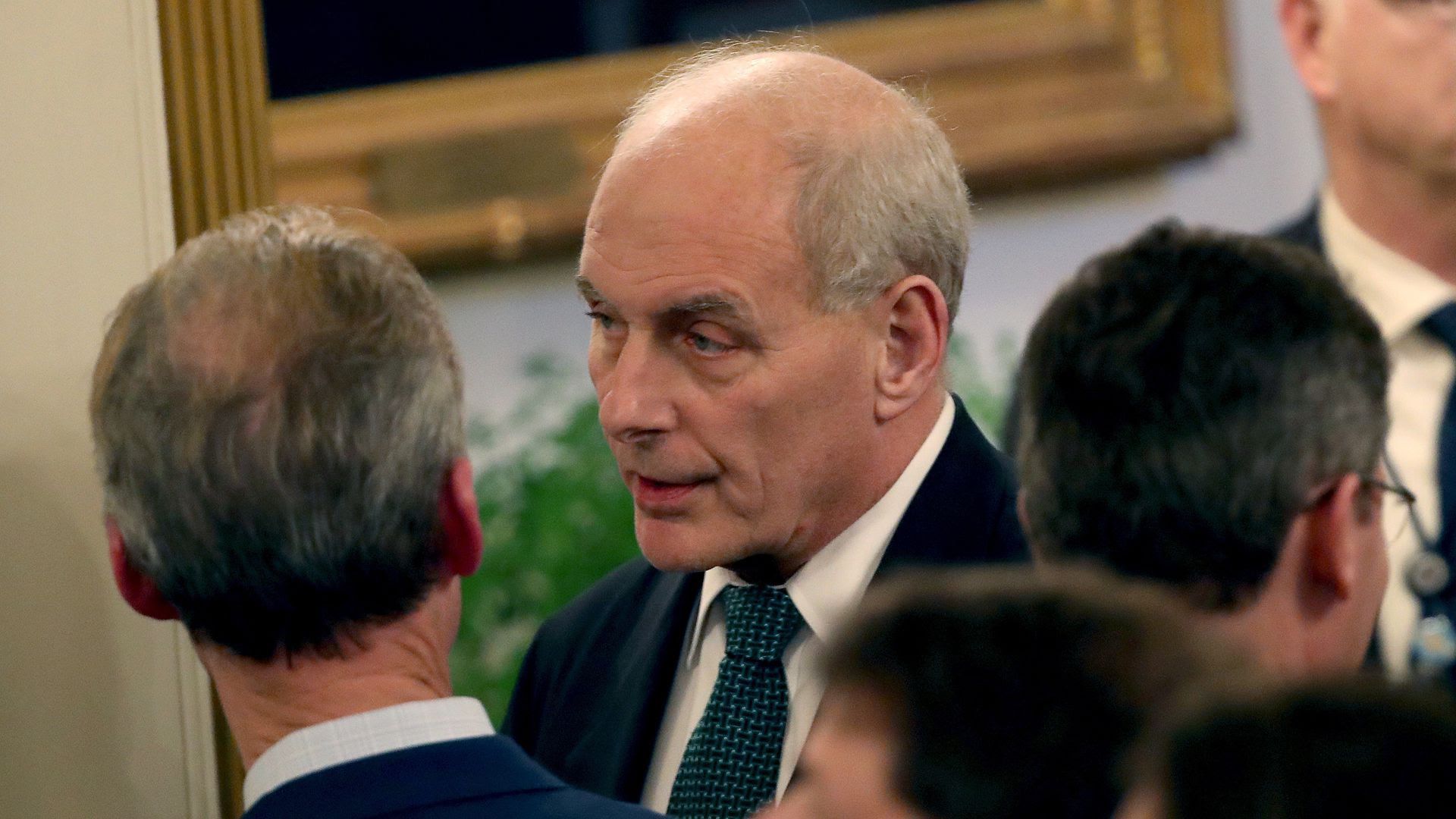 White House Chief of Staff John Kelly started yesterday with prescient bravado.
What we're hearing... The retired four-star Marine general told about 20 West Wing officials — including National Security Adviser H.R. McMaster — in the 8 a.m. senior staff meeting: This is on the record, since you're all going to go out and tell the press, anyway.
On the Washington Post front page, above the fold, was the headline: "Trump plans to replace McMaster, maybe others."
Kelly stunned the room by declaring: We all read the same newspapers and watch the same shows. Contrary to what's been reported, H.R. and I are still here.
Kelly then told the silent staffers: The press's worst day was when I came in. The press wants to take down the president. I stand between the press and the president. They have to take me down first.
Lindsay Reynolds, the first lady's chief of staff, broke the tension by joking: "We thought this was Black Friday — everybody gets fired."
Economic adviser Gary Cohn topped her: "I can't get fired. I already resigned."
During senior staff meetings, the staff goes around the room, and General McMaster usually makes several orderly, numbered points.
Yesterday, he passed when his turn came.
All of this was before Kelly called in reporters for an off-the-record meeting (Axios didn't attend or make any agreement, so we're able to share the contents with you) where he acknowledged that Trump himself was probably responsible for a significant number of the stories about staffing chaos.
As we reported yesterday, and we told you in Axios PM, Kelly said it's likely that Trump is talking to people outside the White House, who then talk to reporters.
Kelly also said that past cocaine use by Larry Kudlow, named this week to succeed Cohn, won't be a problem for his security clearance, as it is public knowledge. Kelly joked that the 1990s were "a crazy time."
Staffers were shocked that Kelly revealed to reporters that Secretary of State Rex Tillerson, during a diplomatic swing through Africa, was suffering from a stomach bug and was using a toilet when Kelly told him to cut the trip short and return to Washington.
Be smart: Kelly defended McMaster at the senior staff meeting — even though the chief is widely known to be casting about for a replacement.
Now you'll better appreciate this bit in the WashPost story: "The mood inside the White House in recent days has verged on mania ... White House officials have begun betting about which staffer will be ousted next."
Go deeper ... "On Leadership" column in WashPost Sunday Business section, "Trump's 'cascade of chaos': When there's too much turnover at the top."
Go deeper