Scoop: Kelly says Trump probably contributing to staff chaos stories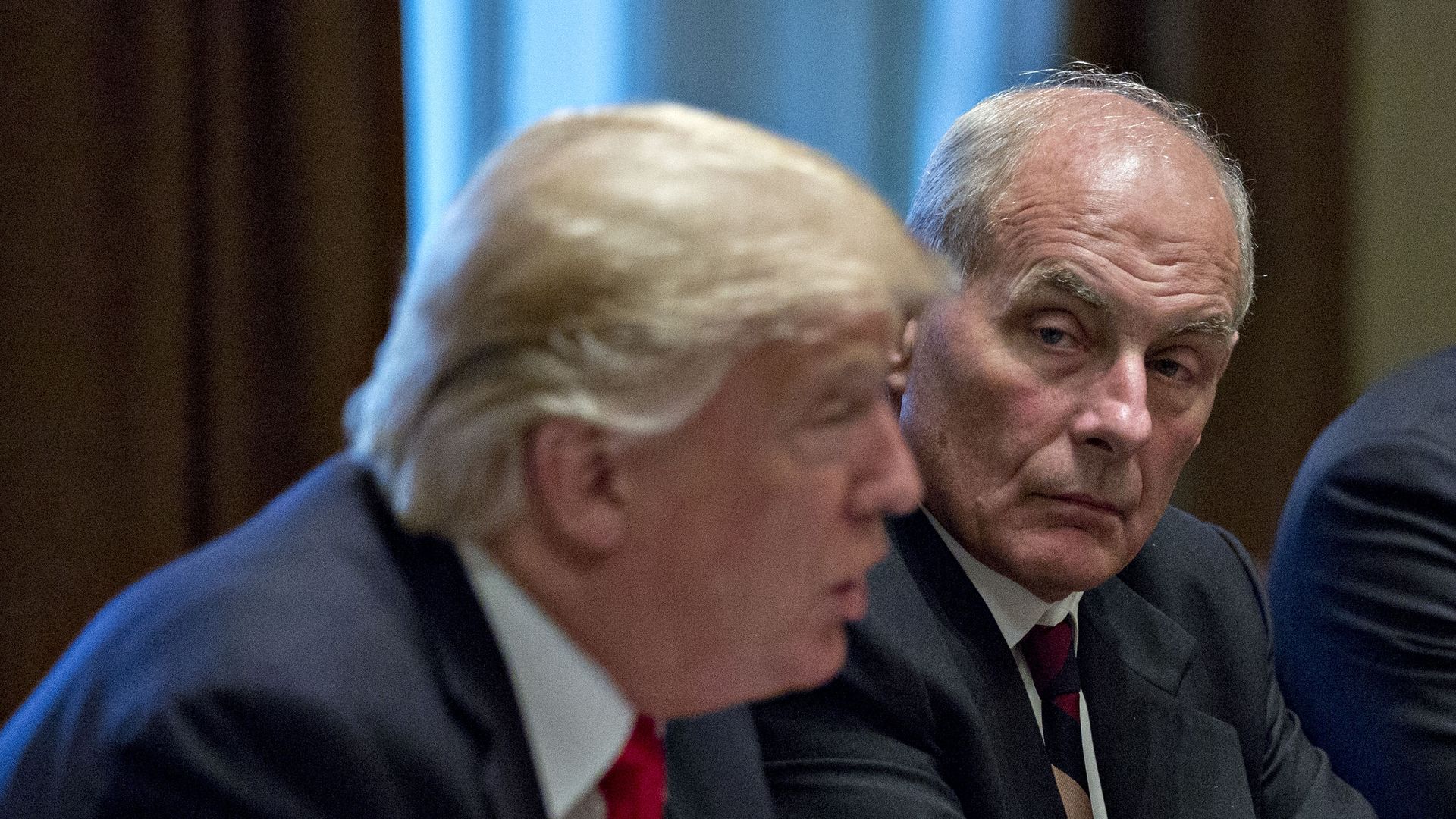 John Kelly acknowledged in an off-the-record session with reporters today that his boss, Donald Trump, is likely speculating about staff moves to people outside the White House and that reporters are then talking to those people. And that's how a good deal of news is likely being made about all the possible replacements.
How we know this: Axios was not invited to the off-the-record session and is therefore not bound by the rules. We got our information from three sources familiar with the meeting, who paraphrased the discussion. 
What we're hearing:
Kelly acknowledged to the reporters it's likely that Trump is talking to people outside the White House and that reporters are then talking to those people. Kelly cast Trump's own conversations as a significant contributing factor to stories about the staff changes. (Kelly was making the point that he's not around for a lot of Trump's conversations so can't be sure what he's telling people over the phone.)
Kelly disputed the reports about H.R. McMaster imminently leaving the White House. He said there are no active plans to replace him, and added that it would be great if the Army gave McMaster a 4th star.
Kelly also defended HUD Sec. Ben Carson, who is under pressure for spending $31,000 on a furniture set. Kelly said $31,000 sounds like a lot of money, but to put it in context he asked a reporter how much they think the chair they're sitting on costs. Kelly said it's probably worth hundreds of dollars but it will last a long time. He rationalized Carson's $31,000 outlay by saying the table could last for 80 or 100 years. Kelly was pressed on whether the President was going to fire Carson. He made a military analogy. He said whenever he makes a decision, he makes sure that it's legally permissible and from that line he takes five paces back — to allow for optics, ethical and other considerations. Kelly said he wants all decision-making across government to be like that and the impression reporters were left with was that Carson is not going to be fired. 
Kelly said he has been telling Trump that Jeff Sessions is doing a good job. Kelly went above and beyond to defend Sessions, and told the president that the press only reports about 3% of what he does. 
He said Deputy A.G. Rod Rosenstein and FBI Director Chris Wray are also doing good jobs. 
Kelly also said that Larry Kudlow's past cocaine habit won't be a problem for his security clearance, as it is public knowledge. Kelly joked that the 1990s were "a crazy time."
Get more stories like this by signing up for our weekly political lookahead newsletter, Axios Sneak Peek. 
Go deeper