Dem civil war: The battle for their future in the Trump era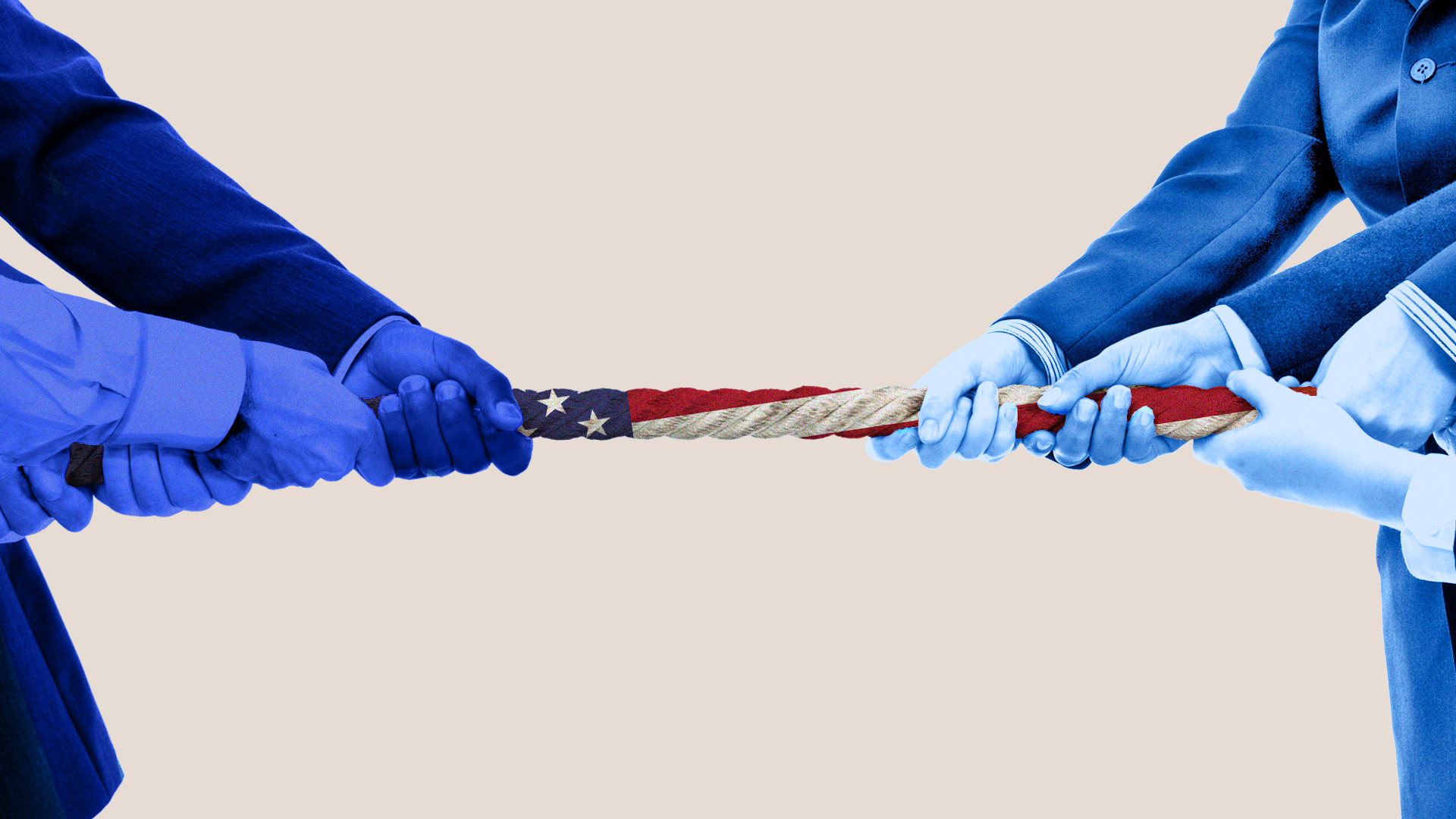 Moderate candidates led Democrats to two unlikely special election victories: first Doug Jones in the Alabama Senate race, and now Conor Lamb in a Pennsylvania House race. At the same time, the progressive wing of the party is energized by Trump's election and even attacking fellow Democrats who they consider to be too moderate.
Why it matters: There's always tension in both parties between those at the center and those on the more extreme ends of the political spectrum. But this year there's more at stake for the Democrats, who are trying to retake the House of Representatives while navigating this ideological war.
Why the left still thinks 2018 is their year:
Progressive Democrats argue that more liberal candidates can win close races by bringing out voters who haven't had the chance to vote for their ideas — no Democrat had challenged Tim Murphy, the former Republican congressman whose seat Lamb will fill, in his last two elections.
That convinces some to believe that maybe these districts aren't as Republican after all. "Many districts appear red because no progressive has run there," said Amanda Litman, co-founder of Run For Something, which has far-left candidates running in places like Oklahoma and Kansas.
Rita Bosworth, executive director of Sister District, which helps Democratic candidates win state elections, says progressive candidates offer "bold and refreshing solutions, even if voters don't agree with them across the board."
Billionaire donor Tom Steyer, who's leading a campaign to impeach Trump — over the objections of party leaders — thinks moderate Democrats are too incremental while progressives adopt a more visionary approach.

Some, like Adam Green and Sarah Badawi of the Progressive Change Campaign Committee, think Democrats' path to the majority is through the districts Hillary Clinton won plus those Trump won by single digits. "There's no excuse for running a conservative Democrat as opposed to someone who will advance a progressive vision," said Green.
The Trump factor: "In this type of climate, it's less about who you are and more about why you're running and your willingness to stand up to Trump," said Zac McCrary, a Democratic pollster who has worked with congressional races across the country. "Democratic voters want to know their candidate gets it and is going to be a very active watch dog on Trump."
Why the moderates think they're the answer:
Rural, blue-collars areas are the "path to the majority," said Rep. Cheri Bustos of Illinois, and those areas are more likely to support more moderate Democrats.

That view is reflected in the Democratic Congressional Campaign Committee and the Blue Dog Democrats, a coalition of moderate Democrats formed in 1995, working closely together this cycle for the first time since 2006.

The improbable Doug Jones win in Alabama is a key example. Paul Maslin, a Democratic strategist who worked as a pollster on Jones' Senate campaign, said Jones focused his messaging on finding common ground with "the middle of the electorate in Alabama who supported Trump or some Republican in the past."
There's some concern among moderate Democrats who see how progressive candidates are successfully challenging their preferred candidates across the country. The argument, some say, is that while some progressives might be able to win a primary, there's no way they can win a general election against a Republican in a red district.
"They clearly have never run races before in tough districts," said Kristen Hawn, who works with the Blue Dog Democrats as a political strategist. "This pie in the sky, rainbows-and-butterflies-and-unicorns world they live in ... It just doesn't work that way."
The battles to watch:
Moderate Democratic senators who support the Republican bill to undo some of the Dodd-Frank banking reforms (like Jon Tester, Joe Manchin, Claire McCaskill and Heidi Heitkamp) are taking heat from Sen. Elizabeth Warren.
Democratic Rep. Dan Lipinski — a Blue Dog Democrat co-chair who is anti-abortion, voted against the Affordable Care Act and has served for 13 years — is facing a serious primary challenger in first-time candidate Marie Newman. Sen. Kirsten Gillibrand and Reps. Jan Schakowsky and Luis Gutiérrez have endorsed Newman.
A progressive coalition launched a five-figure ad against Democratic Rep. Tim Ryan after he expressed support for lowering the corporate tax rate.
Jay Hulings in TX-23, a more moderate candidate, lost to Gina Ortiz Jones, who is supported by EMILY's List and would be the first lesbian and Filipina-American to hold a U.S. House seat in Texas.

The DCCC openly opposed Laura Moser, a more progressive candidate in TX-07, who finished in the top two in her primary.
The bottom line: Moderate Democrats could help the party win the House in November, but face opposition from people in the party that want to be more stridently anti-Trump.
Go deeper