Inside a drug pricing contract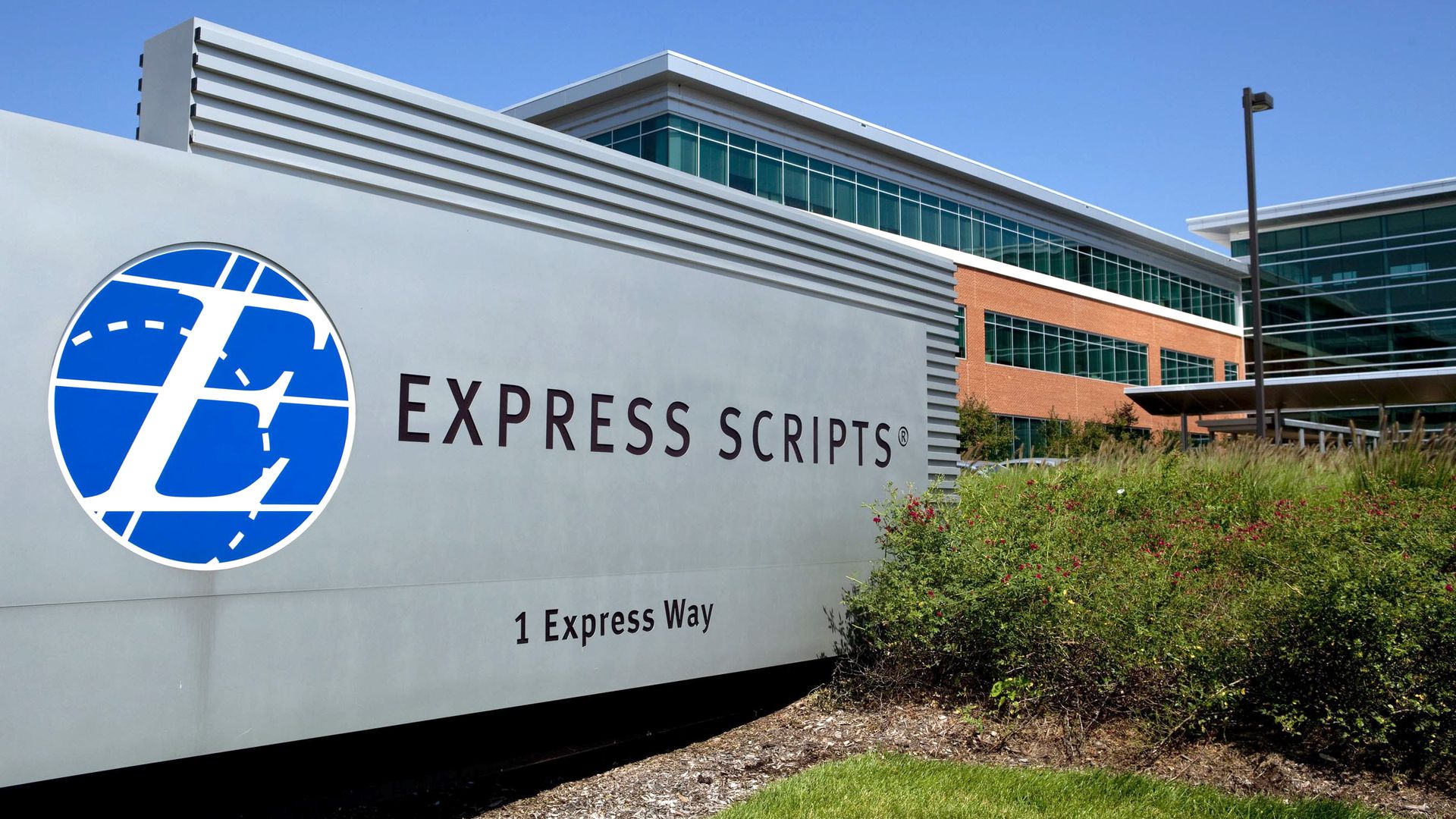 A contract template used by Express Scripts, the largest pharmacy benefit manager in the U.S., provides a window into how pharmacy benefit managers — middlemen that manage drug coverage for businesses throughout the country — steer negotiations with drug companies to benefit their own financial interests.
Why it matters: These benefit managers have a lot of power over the prescription drug coverage people get through their employers, and they're supposed to negotiate discounts so coverage is cheaper for insurers and employers. If they're not making it cheaper, there's less chance people will get relief from high drug prices.
The details: Axios obtained a 36-page Express Scripts contract template from a source who works in the health care industry. Express Scripts and employers use the document as a starting point to determine how medications are paid for and how pharmacy networks work, but the contract usually is not in the public's view. Since it's a template, there are no hard numbers or terms of any specific agreements.
The big takeaway: There's nothing illegal about these contracts. But the language is clearly written with the PBM's financial interests in mind, and critics say those kinds of provisions can result in lost savings for everyone, especially for small companies and their employees.
"This whole contract is about the undisclosed spreads that they take."
—
Susan Hayes
, pharmacy benefit consultant
Even some of the largest companies think they are protected because they have in-house and outside attorneys vetting contracts, yet that's not necessarily the case.
"That's a little bit like going to Las Vegas and consistently thinking you can beat the house at their own game," said one source who has worked in the industry for many years. "These PBMs have entire departments of lawyers where this is their game."
The other side: Express Scripts, which is in the process of being acquired by Cigna in a $67 billion deal, didn't dispute the contract template was its own. But spokeswoman Jennifer Luddy said in an email the document was "several years old," although some sources said it appeared to be current.
Luddy added that employers are "savvy purchasers of pharmacy benefits" and that these contracts are common: "It is industry standard terminology used by all PBMs, and is well-understood by clients and consultants."
In a follow-up email, Luddy said: "It is clear to us that there are several vocal PBM critics who are eager to provide their biased interpretations of this template contract to serve their own agenda."
The details: These are some of the major provisions. The contract was explained in interviews with several people who work in or are familiar with the pharmacy benefit industry, most of whom asked not to be named given the sensitivity of the issue and to speak candidly.
Rebates
A primary function of a PBM is to negotiate rebates from drug companies. Most of those rebate dollars flow back to employers (not workers).
But Express Scripts collects other rebate-like fees from drug companies that it doesn't have to pass along to employers.
The Express Scripts contract explicitly says "rebates do not include things" like "administration fees" from drug manufacturers, "inflation payments" and numerous types of "other pharma revenue."
"There are so many carve-outs of what they consider a rebate that it's very murky of what's being kept and what's being passed through (to clients)," an industry source said.
The contract also says Express Scripts negotiates rebates "on its own behalf and for its own benefit, and not on behalf of sponsor."
The brand/generic algorithm
Multiple people said the "proprietary" algorithm is one of the most important definitions, as it gives Express Scripts full authority to determine whether a drug is brand or generic without being transparent.
The algorithm allows Express Scripts to pocket the difference between a brand-drug discount and a generic-drug discount — a major tactic to maximize profits.
"This is why they don't miss earnings," said one person familiar with the industry.
Payment schedules
The "MAC list" and "maximum reimbursement amount" also permit Express Scripts to pay for drugs in a way that is "most advantageous to them," according to a source.
For example, using these different lists of drug costs, Express Scripts can charge its employer clients $15 for a particular medication but pay the pharmacy just $1 for the same medication — and keep the extra money for itself.
Financial disclosures and auditing
The last two pages rehash some of the initial definitions, but also reiterate how Express Scripts can collect almost any type of revenue it wants and "may realize positive margin" — code for reaping big profits and not having to share with employers.
Employers can choose to have their agreements audited, but they have to get Express Scripts' approval on what auditor is used.
And sometimes they don't get it. Hayes, a pharmacy benefit consultant who agreed to review the document and speak on the record, said Express Scripts has not allowed her firm to conduct audits.
Go deeper: The first target on drug prices: Pharmacy benefit managers
Update: DocumentCloud removed the contract after receiving a Digital Millennium Copyright Act complaint from Express Scripts.
Go deeper