Trump's tariffs risk harm to allies, cede leadership to China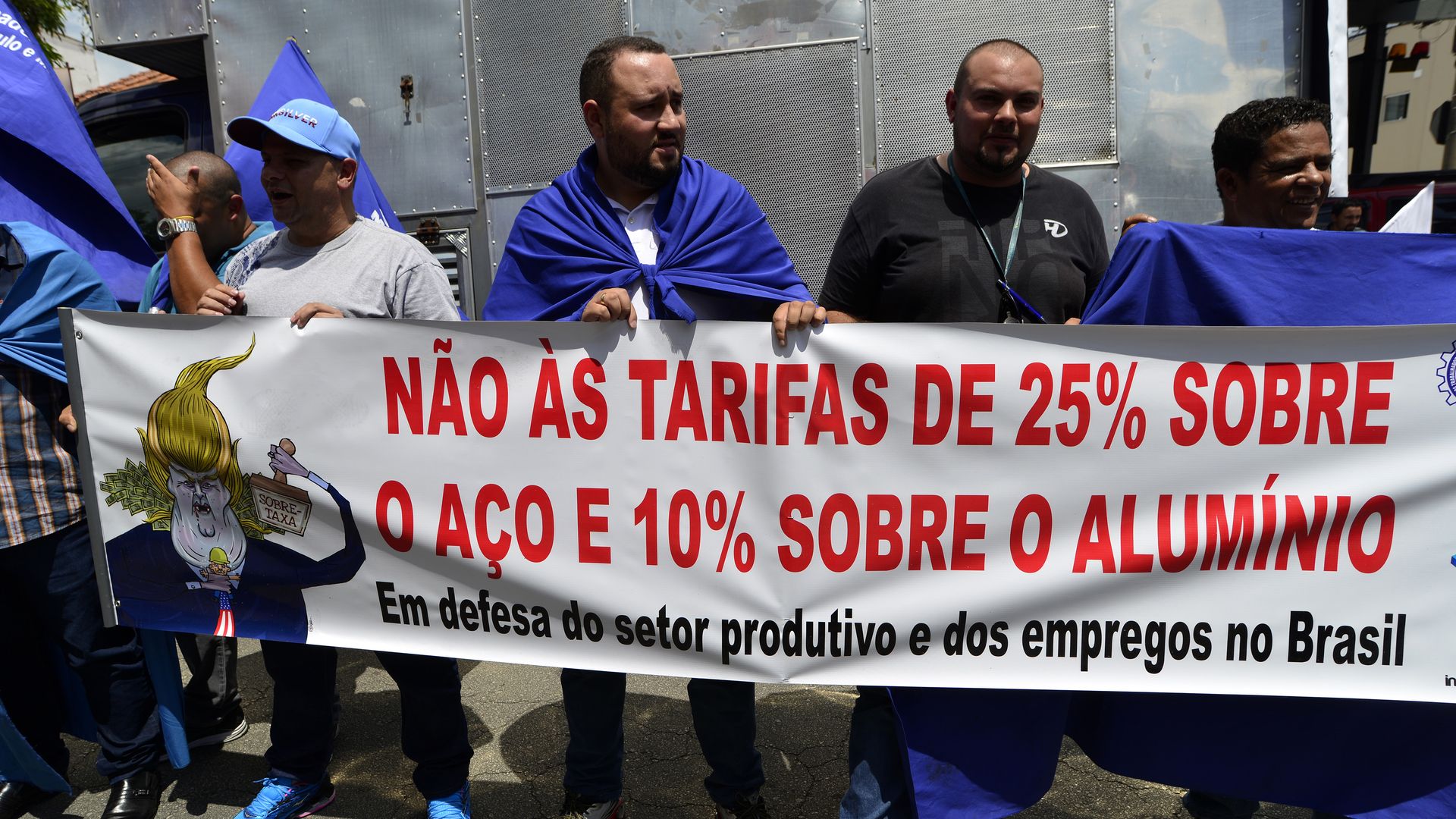 President Trump's tariffs on steel and aluminum, authorized last Thursday, will likely come with costs to the global economic and diplomatic order that exceed their domestic benefits.
Why it matters: The tariffs were intended to address Chinese economic practices that harm American workers. But in order to truly mitigate that harm, the U.S. would need to collaborate with Europe through institutions such as the World Trade Organization. Instead, Trump's tariffs will create tensions with our trading partners and undermine global stability.
The potential tensions:
EU–U.S. relations: The Europeans will not accept a tariff hike without responding. As the world's largest trading bloc and importer of U.S. goods, the EU has plenty of leverage. EU retaliation could result in higher prices for Americans, a slower U.S. economy and, most important for the president, layoffs in key American labor sectors. What's more: Trump's decision will further reinforce already negative European views of the U.S. administration.  
Managing China: Rather than checking China's ambitions, Trump's tariff move will allow Beijing to claim the moral high ground as a supporter of multilateral and open trade. It will also make it harder for U.S. and EU leaders to forge a joint strategy to address concerns about Chinese subsidies and dumping practices.
An already-fraying global economic order: The Trump tariffs circumvent the World Trade Organization, the global referee underpinning a stable, multilateral trading system. Trump, an international institution skeptic, is already stalling the appointment of U.S. judges to the WTO Dispute Settlement Body. His invocation of a rarely used national-security clause to justify the tariffs will further undermine the WTO and set a dangerous precedent for other countries to act unilaterally in self-interest.
The bottom line: Rather than checking China's ambitions as intended, the tariffs will likely create a vacuum of economic and diplomatic leadership for Beijing to fill.
Erik Brattberg is director of the Europe Program and a fellow at the Carnegie Endowment for International Peace in Washington.
Go deeper