Republicans invest millions in "Democrat district"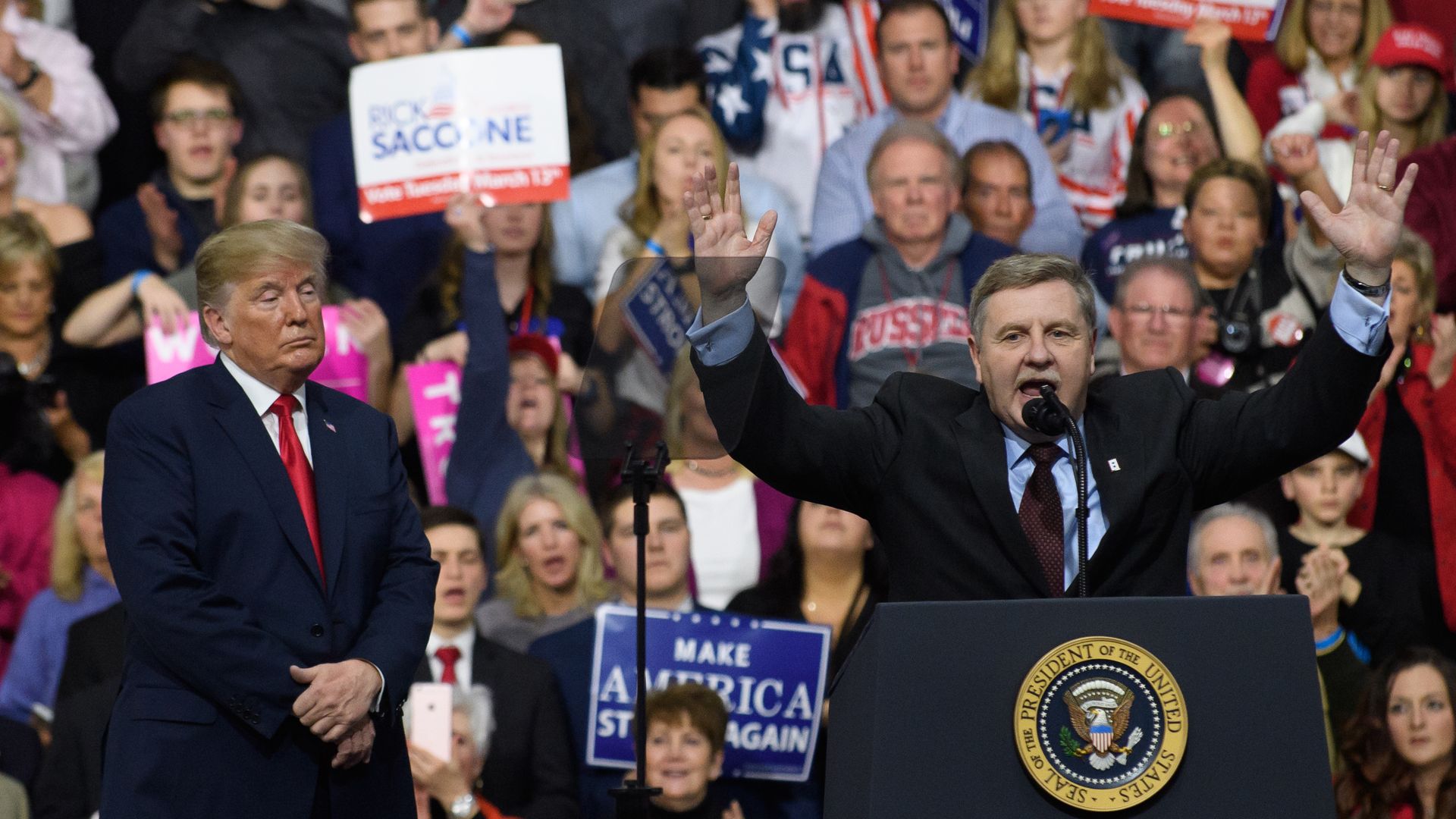 Outside GOP groups have spent $10.7 million supporting Rick Saccone ahead of the special election in Pennsylvania's 18th district, per CNN. The funding is a significant investment in what the state GOP chairman Val DiGiorgio called a "Democrat district," despite President Trump winning it by 20 points in 2016.
Why it matters: There's real worry that a Democrat could win this reliably Republican district. "It's a true toss-up and Lamb has a good shot to win," said a national GOP operative. That nervousness has resulted in Republicans outspending Democrats by more than $8 million and mischaracterizing it as a Democrat district.
Another sign of worry from Republicans: They backed off campaigning on the GOP tax plan in the final days ahead of the election, per Politico. Before the end of February, the majority of ads from Saccone, CLF, and the NRCC mentioned taxes, but that topic has been notably missing since March, Politico notes.
That matters because it's Republicans' one major legislative victory. Paul Ryan's super PAC has been consistently proud of it, and the party has been banking on using it to campaign throughout the midterm elections.
Abandoning this key message suggests it wasn't moving the needle for Saccone.
What they're saying: "The closeness in the race is a result of a good candidate in Lamb and lackluster in Saccone," said the GOP operative.
A breakdown of the money from CNN:
Rick Saccone
$3.5 million from the Congressional Leadership Fund (CLF), a Paul Ryan-aligned super PAC
$3.5 million from the National Republican Campaign Committee (NRCC)
$1.3 million from the RNC
$1.1 million from America First Action, a Trump-aligned group
$560,000 from 45Committee, another Trump-aligned group
$513,000 from a conservative super PAC called Ending Spending
$100,000 from the Club for Growth Action Fund, which regularly helps GOP candidates
Conor Lamb
$312,000 from the DCCC, but CNN cites "a Democratic source familiar with the strategy" who says the group has invested more than $1 million in the past 3 months
$426,000 of that $1 million investment was transferred to the Pennsylvania Democratic Party, per CNN.
$340,000 each from VoteVets.org and Patriot Majority
$250,000 from End Citizens United
$112,000 from the Service Employees International Union Committee (SEIU) on Political Education
$100,000 from Progressive Turnout Project and Working America, two PACs
Go deeper