Aung San Suu Kyi stripped of human rights award over silence on Rohingya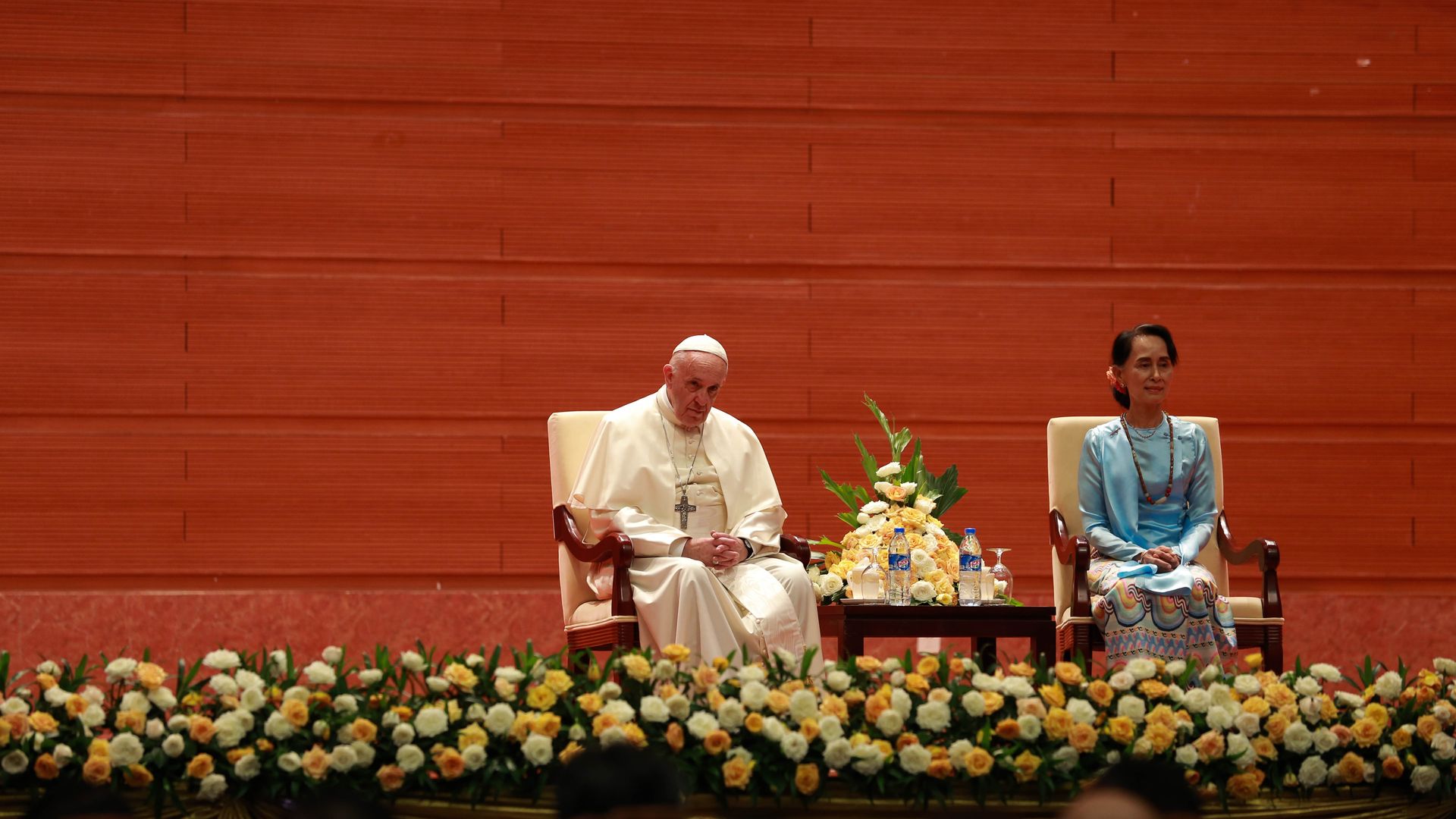 Myanmar's de-facto leader, Aung San Suu Kyi, has been stripped of the U.S. Holocaust Memorial Museum's prestigious Elie Wiesel Award, the New York Times reports, for "failing to halt or even acknowledge the ethnic cleansing" in her country.
The bigger picture: A Nobel Peace Prize recipient is leading a country in the midst of a possible genocide, and disappointing many of her former supporters abroad by not taking a stand.
Suu Kyi is the daughter of Aung San, a nationalist hero sometimes called the father of modern-day Myanmar. He was assassinated in 1947, when she was two.
How she got here
1988
After living abroad for decades, Suu Kyi is in Burma caring for her sick mother when a pro-democracy movement begins to take hold. She emerges as its leader, and is later arrested.
From 1989 to 2010
She spends 15 out of 21 years under house arrest.
October 1991
She is awarded the Nobel Peace Prize for her "nonviolent struggle for democracy and human rights," per NYT.
November 2010
She is set free, and her release is celebrated in Western countries; President Obama calls her "a hero...and a source of inspiration for all who work to advance basic human rights."
January-April 2012
She registers to run for a seat in parliament, and wins.
November 2015
Her party, the National League for Democracy (NLD) wins a majority in parliament. She is unable to become president because "anyone with foreign relatives" is barred from the office.

The military retains "significant power" in the country, including veto power over constitutional changes, and "direct control over the police," per the NYT.
April 2016
Suu Kyi is named state counselor, a role "created especially for her," CNN reports. This position "is widely expected to allow her to rule by proxy."
September 2017
Speaking to government officials and foreign dignitaries, Aung San Suu Kyi refuses "to criticize the country's military...accused of a vast campaign of killing, rape and village burning," NYT reports.

A fellow Nobel Peace Prize recipient, Muhammad Yunus of Bangladesh, tells the NYT: "The whole world stood by her for decades, but today she has become the mirror image of Aung San Suu Kyi by destroying human rights and denying citizenship to the Rohingya....All we can do...is pray for the return of the old Aung San Suu Kyi."
Worth noting: Some have defended Suu Kyi, noting that she does not control the military, and that she would lose support by speaking out more aggressively because most Burmese view the Rohingya as foreigners.
Where the Rohingya crisis stands
Go deeper