HHS cracks down on ACA defiance — but wants to legalize it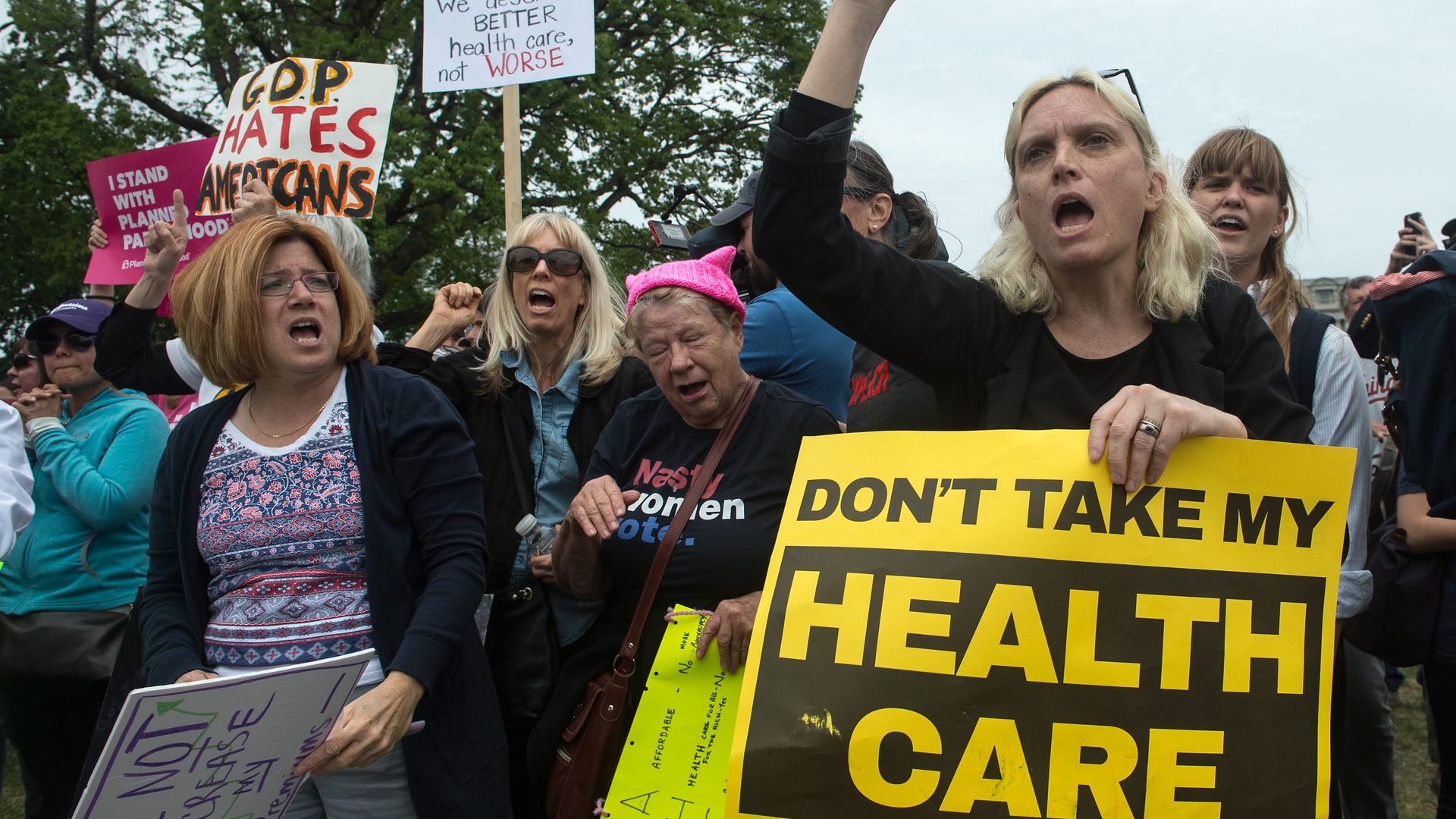 The Trump administration will enforce the Affordable Care Act, at least against the most brazen attempts to flout it: The Centers for Medicare & Medicaid Services yesterday told insurers and state regulators in Idaho that they cannot proceed with their effort to sell individual insurance plans that don't comply with key ACA requirements.
Yes, but: Administration officials made clear that they were barring Idaho's plan not because it would undermine the ACA, but because it's illegal — and that they want to change that.
The details: "The ACA remains the law and we have a duty to enforce and uphold the law," CMS Administrator Seema Verma said in a letter to state officials.
Idaho's plan has drawn widespread criticism from legal experts since it was announced in January, but the federal government hadn't taken a position on it until yesterday.
Why it matters: This is bigger than Idaho. It was the first state to try this, but if CMS had signed off, it would not have been the last. In fact, state lawmakers in Iowa voted to advance a similar idea just a few hours before CMS released its verdict on Idaho's effort.
The Trump administration is still not a friend of the ACA. Verma's letter opens by saying that the law is "failing."
ACA supporters had questioned whether there would be any limit to the administration's efforts to undermine the law. Well, here it is.
The catch: "We believe that, with certain modifications, these state-based plans could be legally offered [as] short-term, limited-duration plans. I encourage you to continue to engage in a dialogue with my staff regarding this and other potential options," Verma wrote in her Idaho letter.
How it works: The Department of Health and Human Services, acting on President Trump's instructions, has already said that consumers can keep bare-bones, short-term health plans for up to a year.
HHS secretary Alex Azar told reporters yesterday that HHS also wants consumers to be able to renew those plans to for more than one year.
The department has asked for public comments about whether it already has the ability to make that happen.
"We would like to be able to do renewability of these plans," Azar said. If it turns out HHS can't do that alone, "we are working with Congress to see if we might be able to get clearer authority."
The bottom line: A system in which "short-term plans" last for a year, and can be renewed for multiple years, would put them on the same footing as traditional insurance, and would not be much different from the system Idaho was pursuing.
Both would likely end up splitting healthy people into a parallel market and further limiting the ACA's appeal to poor, sick people.
What's next: If HHS ultimately decides it has the ability to let people renew short-term plans for multiple years, then the basic structure Idaho attempted could come back pretty quickly. If it needs to get that authority from Congress, that'll be a lot harder.
Go deeper