Africa is next in the U.S.-China race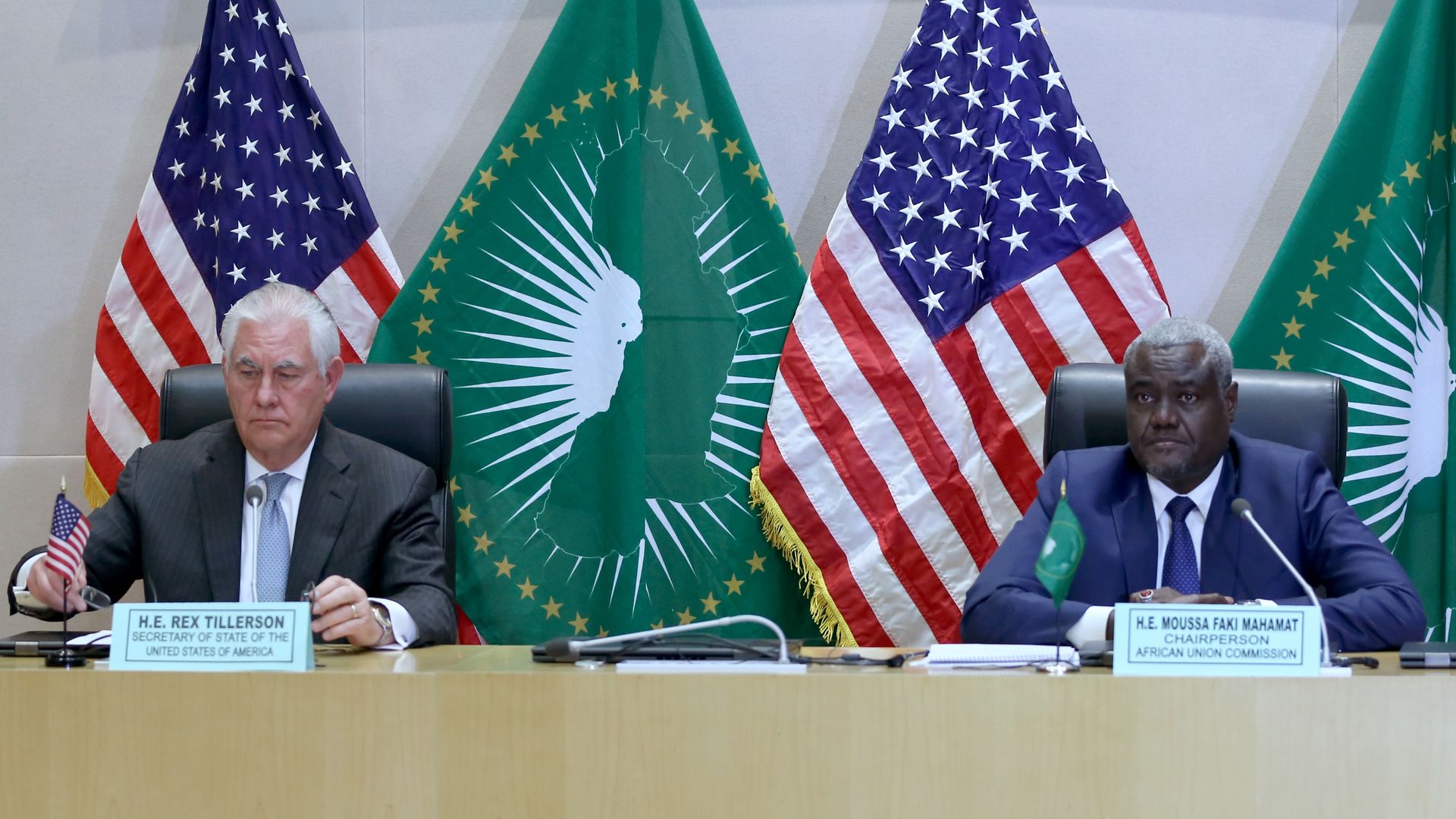 U.S. Secretary of State Rex Tillerson is warning Africans not to forfeit "any elements of your sovereignty" to China via its investments and loans, during his five-nation Africa tour. Separately, other U.S. leaders are growing more concerned about moves China is making on an important port in Djibouti.
Why this matters: Africa is the new target in the global influence race between China and America. Similar to a recent trip to Latin America, Tillerson is sounding the alarm over China's growing influence. But, China's reach is expected to continue expanding, especially as Chinese President Xi Jinping views President Trump's "America First" platform as a boon.
Predatory practices: On the eve of his trip Tillerson gave a speech at George Mason University, where he said that, in Africa, China:
"encourages dependency using opaque contracts, predatory loan practices, and corrupt deals that mire nations in debt and undercut their sovereignty, denying them their long-term, self-sustaining growth."
"Chinese investment does have the potential to address Africa's infrastructure gap, but its approach has led to mounting debt and few, if any, jobs in most countries."
"When coupled with the political and fiscal pressure, this endangers Africa's natural resources and its long-term economic political stability."
Taking over key port: Meanwhile U.S. leaders are growing concerned that PRC may be taking over a port in Djibouti. In testimony to the House Armed Services Committee earlier, Reuters reports that General Thomas D. Waldhauser, who heads U.S. Africa Command, said that "If the Chinese took over that port, then the consequences could be significant."
The Washington Post also says that the U.S. government is increasingly concerned:
"Ever since the Djiboutian government seized control of the Doraleh Container Terminal from Dubai-based DP World last month, reports are it intends to strike a deal with a Chinese-state-controlled firm to run the facility. On Tuesday, Djibouti signed an agreement to expand the port with a Singaporean company that works with China Merchants Port Holdings Co., which already owns a large stake in the facility."
"The port is significant not only because it sits next to China's only overseas military base but also because it is the main access point for American, French, Italian and Japanese bases in Djibouti and is used — because of its strategic location — by parts of the U.S. military that operate in Africa, the Middle East and beyond."
Go deeper: Bloomberg looks at China's massive investments in Ethiopia. If the U.S. is going to compete with China, it has to offer market access, investments, and mechanisms to improve infrastructure.
Go deeper