Trump wants to start his trade war tomorrow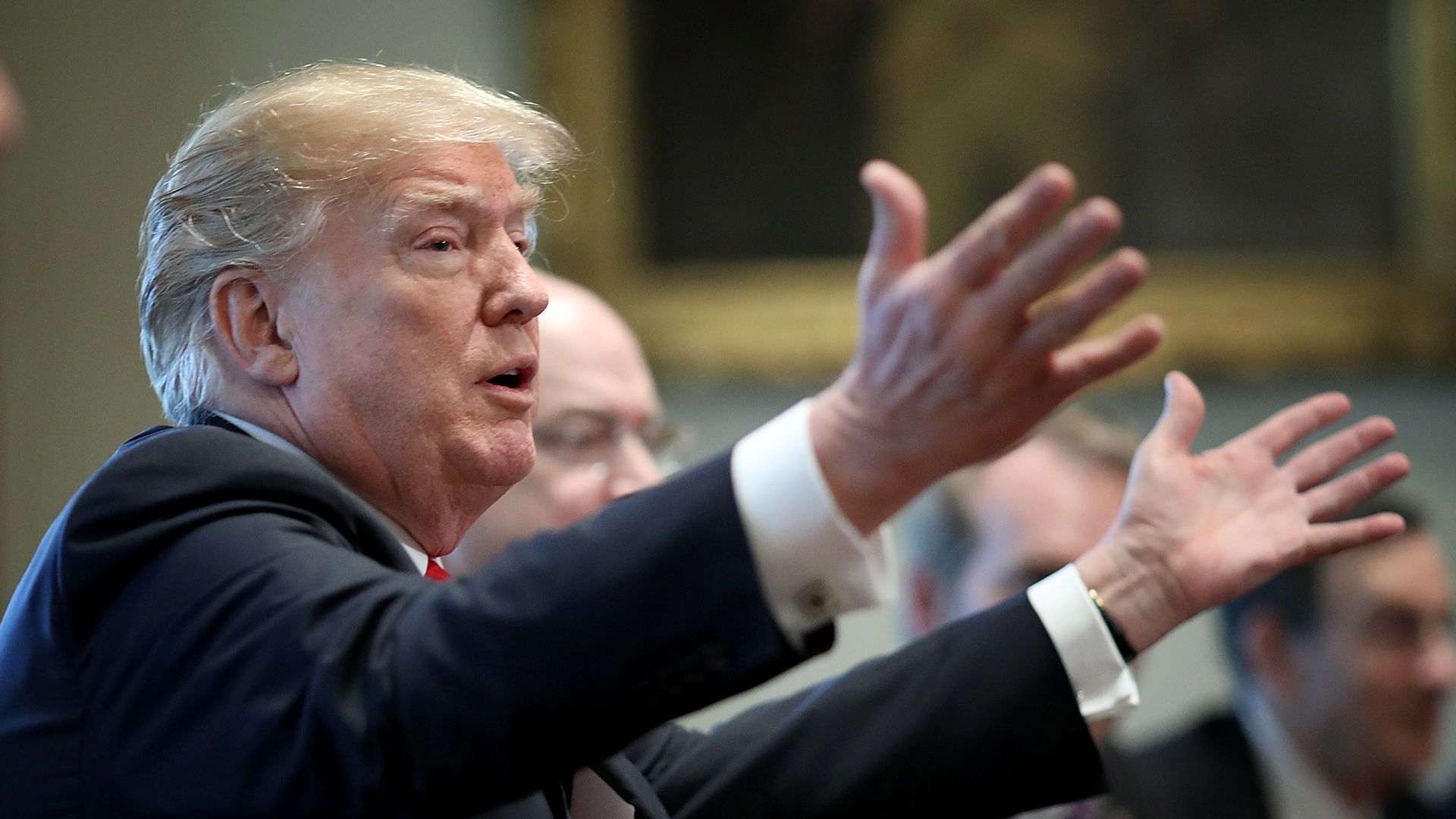 President Trump wants to sign a presidential proclamation tomorrow to set his steel and aluminum tariffs in motion, according to two senior administration officials. (More on how proclamations work below).
The big picture: Trump is impatient and he wants to act — or at least be seen as acting. He got fed up with staff, especially Gary Cohn and Rob Porter, not giving him his tariffs on steel and aluminum. And some of Trump's nationalist-minded advisers are telling him these tariffs will help turn out voters in the upcoming special election in Pennsylvania's 18th congressional district.
Yes, but: Keep in mind that this is what Trump has been telling staff he wants. These days — and in this White House — nothing is set in stone. Besides, the White House lawyers have been working overtime on these tariffs and sources tell me nothing is certain when it comes to timing.
What to watch from a proclamation:
Are any countries exempted? If not, this is a global 25% tariff on steel, and 10% on aluminum.
What, if any, steel and aluminum products are exempted? Past proclamations have listed specific products for targeted tariffs, but they were on different grounds than this round.
What does the post-tariff exclusion process look like? How do they handle the potential exemptions for specific products or countries after the fact?
How it works:
The Trump administration used a proclamation earlier this year when it slapped restrictions on Chinese solar panels.
Most proclamations imposing tariffs — like Trump's move against Chinese solar, Obama's 2009 Chinese tire tariffs, or Bush's 2002 steel tariffs — are highly-detailed documents based on government trade reports.
They also tend to run through the U.S. International Trade Commission (USITC), but this round will not because they're using Wilbur Ross' Section 232 report, citing national security grounds.
This one is different: 232 is rarely invoked, but one example is Ronald Reagan's use of 232 in 1982, when he cited national security grounds for ending oil imports from Libya.
The backdrop: Next Tuesday's looming Pennsylvania election could be pushing Trump to act quickly, given that the race is taking place in industrial steel and coal strongholds in the southwestern corner of the state. Trump's preferred candidate Rick Saccone is struggling against Democrat Conor Lamb. Senior Republicans on the Hill and inside the administration are nervous and pessimistic about this race in a district they really ought to win.
Go deeper