Court to test Kobach's voter fraud claims and Kansas voter registration law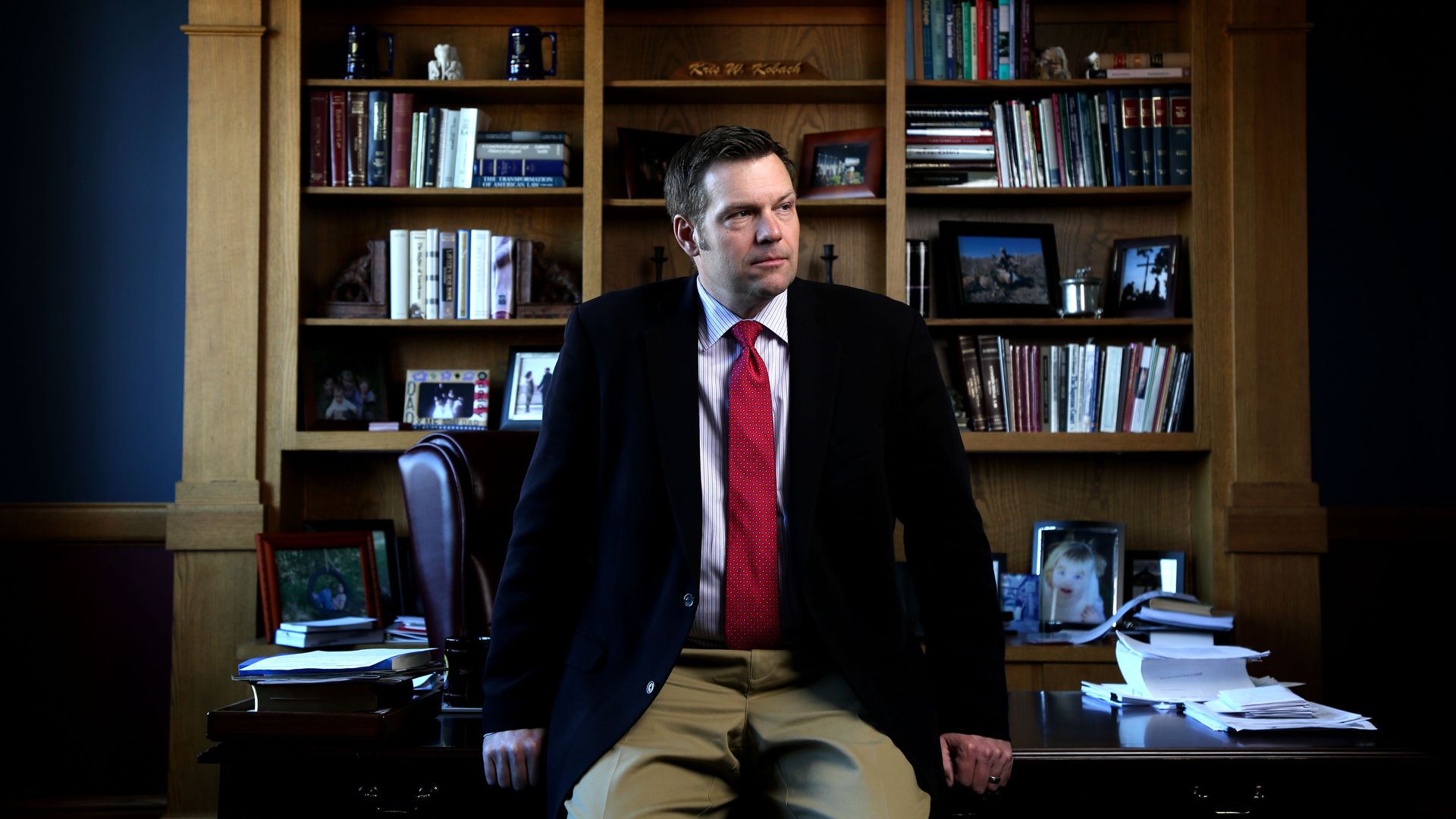 Kansas Secretary of State Kris Kobach, who led President Trump's now-disbanded voter fraud commission, will attend a federal trial starting Tuesday over a legal challenge to a law he championed that had blocked tens of thousands of voter registrations because it requires residents to provide proof of citizenship.
Why it matters: The trial, expected to last seven days, will be a major test to Kansas' sweeping voter registration laws as well as Kobach, who helped fuel the president's unsubstantiated claims that millions of fraudulent votes had cost him the popular vote. He said the law was intended to curb voter fraud, but now has to prove that Kansas has that problem — a similar undertaking his commission had failed to provide concrete evidence of.
The details: Under the law that went into effect in 2013, people registering to vote at the state's Department of Motor Vehicles are mandated to present documentary proof of citizenship, such as a birth certificate, naturalization papers or a passport.
Only three other states — Arizona, Georgia and Alabama — have similar proof of citizenship laws. However, only Arizona implements it. Eligible voters there who lack proof of citizenship to register can only vote in federal elections. Meanwhile, other states allow people to swear their citizenship under penalty of perjury.
What they're saying: The American Civil Liberties Union, which filed the lawsuit on behalf of voters, argue that the law violates the National Voter Registration Act that's designed to make the registration process as easy as possible by requiring minimal information. This is the key argument of the case.
The ACLU said more than 35,000 people were blocked from registering to vote from 2013 to 2016. Critics also contend that the law disenfranchises minorities, elders and college students who tend to vote Democratic and may not have the required documents readily available
Kobach's office didn't respond to request for comment ahead of the trial, but has staunchly defended the law in court filings, saying it's needed to prevent voter fraud by people in the country illegally. Kobach, an immigration hardliner who is running for governor, claimed that 127 noncitizens in Kansas had registered or attempted to register before the law went into effect.
The ACLU has kind of declared war on election security laws like ours in Kansas. This war is something that is outrageous. They're making ridiculous arguments like it's an unconstitutional burden for you to reach into your file cabinet at home and find your birth certificate.
— Kobach said in a
Fox News interview
last week.
The backdrop: Courts have temporarily blocked the state from fully implementing the law and ordered Kobach to register anyone who have registered at the motor vehicle office, whether they have provided a document proving their citizenship. The injunctions still hold until the case is settled.
Go deeper