Gridiron jokes from Tom Cotton and Mitch Landrieu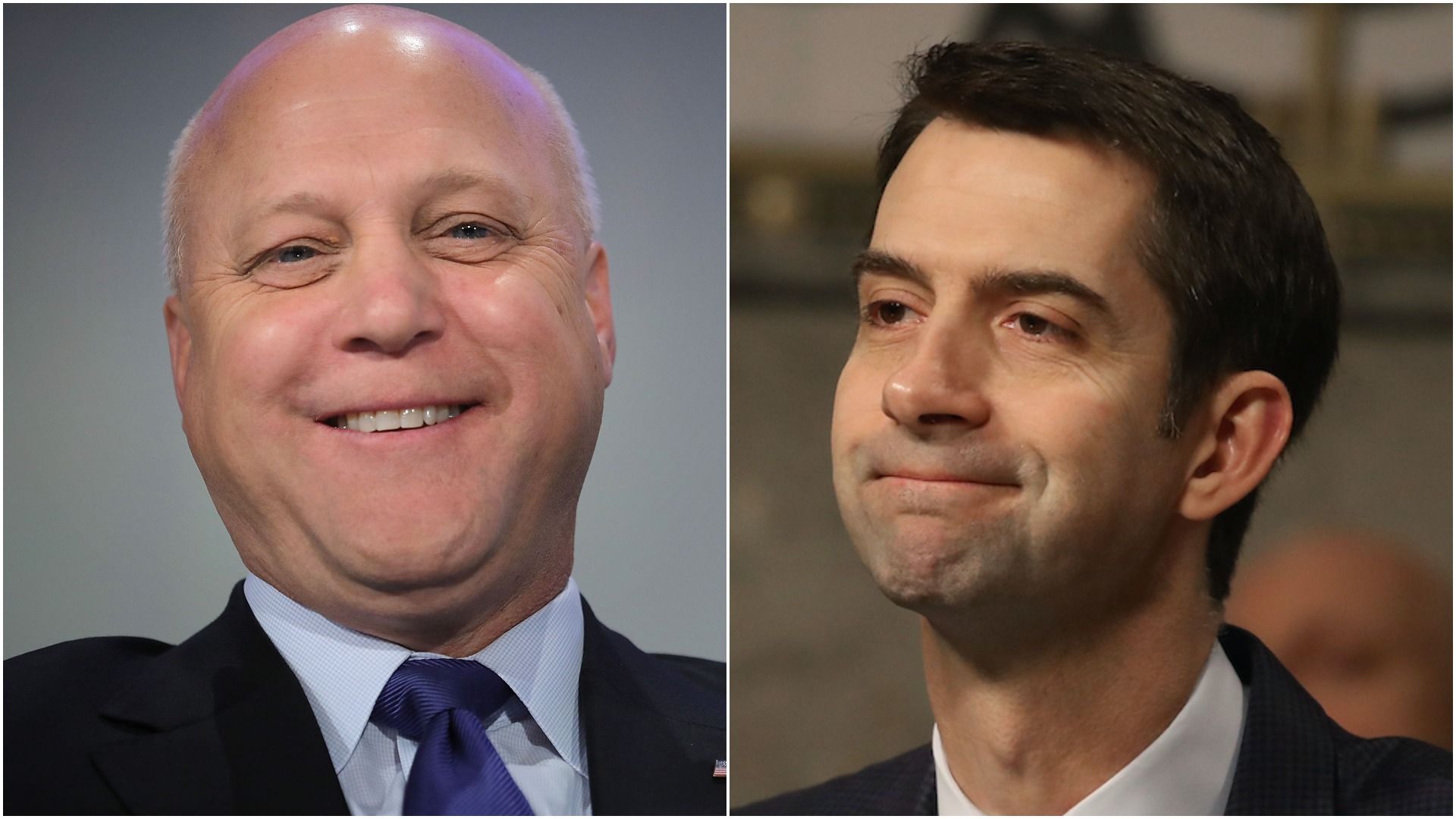 The white-tie Gridiron Club dinner traditionally has a speaker from each party, and both of last night's headliners are future presidential possibilities
Their jokes...
Sen. Tom Cotton (R-Ark.):
"I've been called a rising star in my party, which just proves how dark the Republican firmament really is."
"I came to this city by way of the Ivy League and a few years in the military. Being the only senator still in his 30s, I arrived in Washington as a young man looking for role models. As they say in crime stories, 'the search continues.'"
"More than a few reporters have strained to find the sources of the electrifying personality that's carried me so far in politics ... This is what you get when you combine the common touch of Harvard, the sensitivity of the Army, and the personal mentoring of Dick Cheney."
"Another unexpected mentor is Senator Elizabeth Warren. She was my first professor in law school, and she was a good one. She would even host dinner for students at her place — a hearty family recipe of stone-ground corn and freshly slaughtered buffalo. Liz calls it 'pow wow chow' and I just couldn't get enough."
New Orleans Mayor Mitch Landrieu (D):
"I just came here from Mardi Gras and I have to say: boy do you guys have some weird traditions."
"I did some homework: Did you know that the last sitting mayor to speak at your spring dinner was [New York's] John Lindsay in 1966? From the looks of it, a whole bunch of you were there!"
"I'm a Democrat from the South. That's lonely. ... For Nancy Pelosi, the south is San Jose."
Finishing on a grace note: "I am hopeful because when all is said and done, I believe love wins. It's a lesson as old as the Bible itself. One that Billy Graham himself and so many others remind us of so often: 'Whatsoever you do to the least of my brothers that you do unto to me.'"
"That's a pretty good way to live. And it happens to be a pretty good governing philosophy as well. ... [W]e cannot be great unless we are good."
"Mr. President: You are my president. You are our president. We all want you to do good. And we want you to do well. Our country depends on it."
Go deeper