Ukraine expects U.S. weaponry within "weeks," raising Russia tensions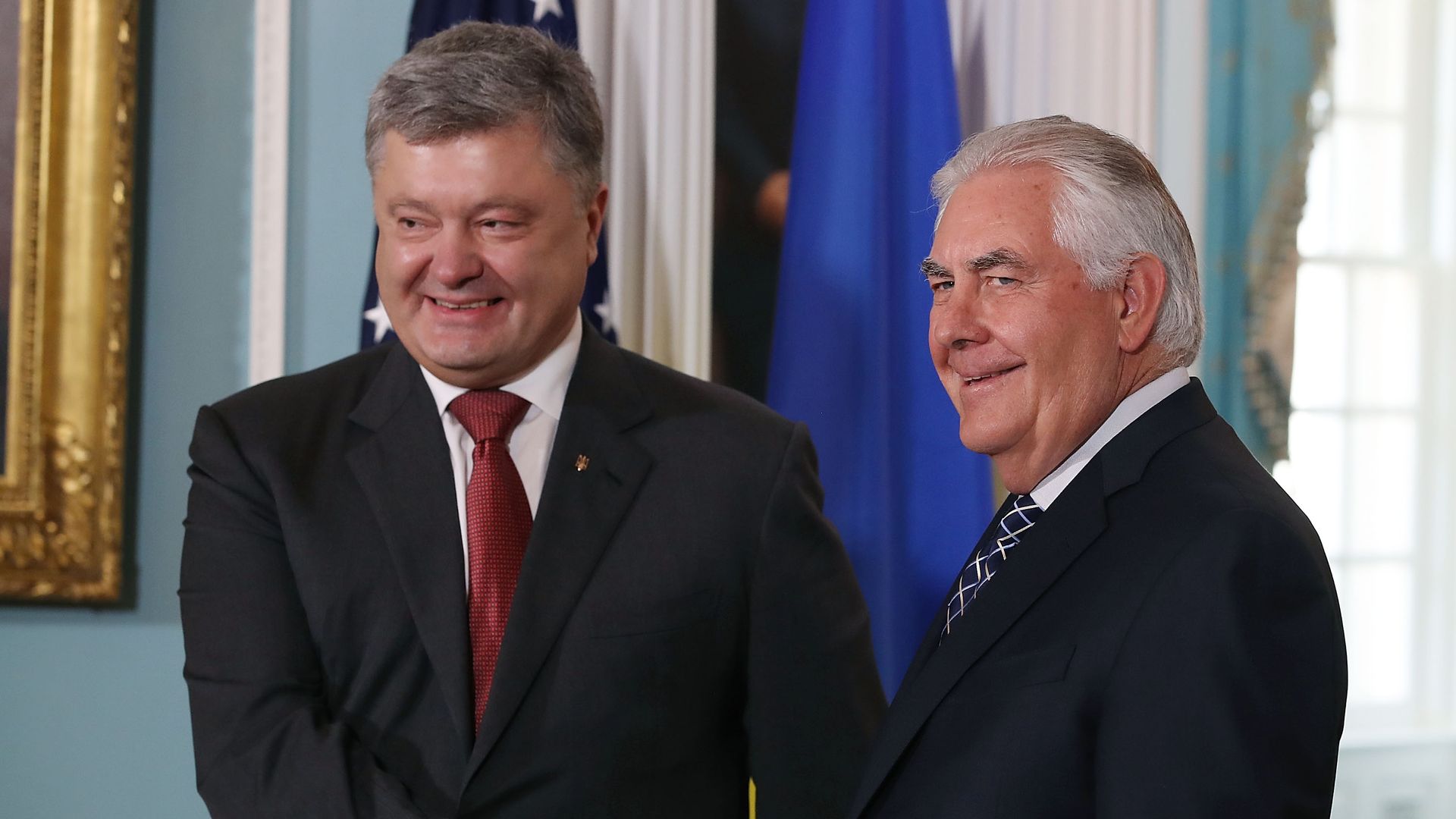 Tensions between the United States and Russia look set to escalate as Ukrainian president, Petro Poroshenko, has announced that he expects sophisticated weaponry from the US, including Javelin anti-tank missiles as well as heavy sniper rifles, to start arriving "in a very few weeks".
Why it matters: The decision in December by the US government to provide Ukraine with "enhanced defensive capabilities" for the conflict in the east of the country against pro-Russian separatists could destabilize the shaky ceasefire that currently exists. Russian President Vladimir Putin warned in September that any decision by the US to supply defensive weapons to Ukraine could reignite the conflict.
The backdrop: Ukraine has been battling pro-Russian separatists, backed by Russian personnel and materiel, in the east of the country since April 2014, following Russia's invasion and annexation of the Crimean peninsula. Moscow has fomented the conflict in Ukraine in an attempt to halt the westward drift of the country, which many Russians consider an historic part of the Russian Federation.
Ukraine has repeatedly requested weapons from NATO to help its depleted military defend itself against the well-armed pro-Russian militias, but the alliance worried such a move would fuel the conflict. Senators Lindsey Graham and John McCain, though, have pushed for more aggressive steps to confront Russia in Ukraine.
There have been dozens of ceasefires agreed since the start of the conflict, which has seen more than 10,000 people, mostly civilians, killed. The latest ceasefire saw violations decline during the Christmas and New Year period, though they flared up again during February.
After repeated violations of the latest ceasefire by the pro-Russian separatists, the US State Department on December 23 announced the government would provide assistance "entirely defensive in nature" to help Ukraine defend its territorial integrity and "deter further aggression".
The Trilateral Contact Group on Ukraine is preparing a new truce, the Organization for Security and Co-operation in Europe (OSCE)

said

on February 28.
The latest:
At a press conference on February 28, President Poroshenko said there would be a number of different US weapon deliveries, with the first to take place in several weeks, "starting with the anti-sniper devices, because many Ukrainian soldiers were killed by Russian snipers". Other weapons expected include tools for electronic warfare and air defense.
Poroshenko claimed, "the risk posed by Russia's wide-scale war against Ukraine is decreasing thanks to the strengthening of Ukraine's armed forces and continuing sanctions against Russia".
Poroshenko also said a recently adopted Ukrainian law on reintegration of the territories controlled by the pro-Russian separatists in the Donetsk and Luhansk regions supports a diplomatic solution to the conflict and the deployment of UN peacekeepers to the region.
Go deeper: Putin says Russia has tested "invincible" new weapon.
Go deeper