Americans increasingly believe GOP tax law will cut their taxes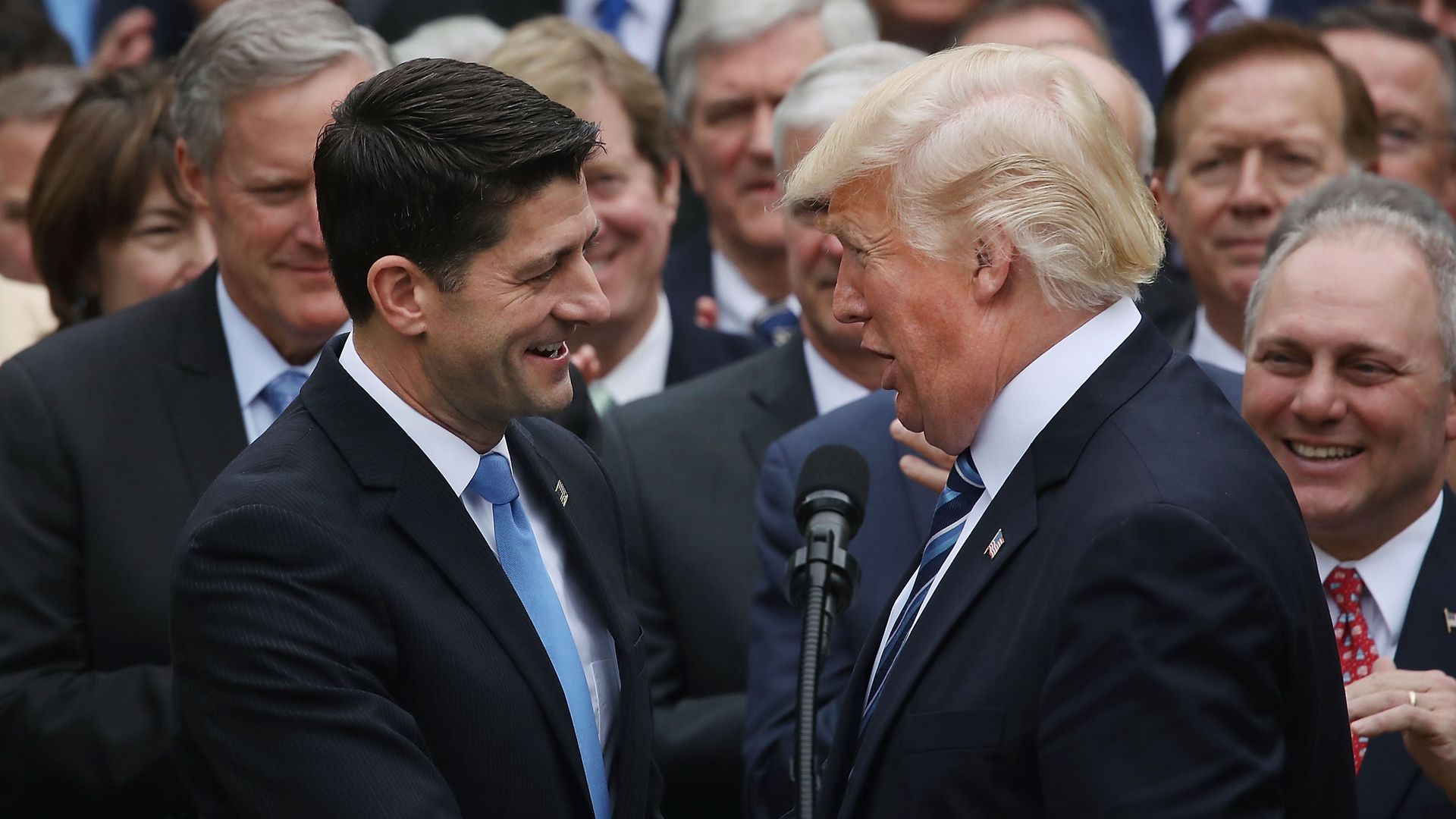 Polling in battleground districts shows that voters increasingly think the Republican tax law will cut their taxes rather than raise them. The results — via the American Action Network, a conservative nonprofit aligned with House Speaker Paul Ryan — highlight changing perceptions regarding the law's immediate effects in the 60 districts polled, even in blue states like New York and California.
The big picture: Midterm elections are not kind to incumbents, and Republicans are betting on the positive effects of the tax law to retain their congressional majority. It's the biggest legislative victory the party has to show for their time in office so far.
The state of play: Corry Bliss, who runs the outside groups linked to Ryan, may have as much as $140 million to spend on the midterm elections. His theory of the case: Republicans will keep the House if the middle class believes Republicans cut their taxes.
AAN's findings are in line with other recently released public polling, including a Monmouth University poll released in late January and a recent New York Times/Survey Monkey poll, which showed the law now has more supporters than opponents.
NY-24: In January, 41% of residents in New York's 24th congressional district thought the tax bill would raise their taxes while 26% thought it would lower them. In February, only 31% said it would raise and 32% said it would lower.
CA-21: In January, 42% said raise and 23% lower. In February, 30% said raise and 29% said lower.
PA-08: In January, 40% said raise and 30% said lower. In February 28% said raise and 34% said lower.
CO-06: In January, 40% said raise and 31% said lower. In February 27% said raise and 44% said lower.
VA-02: In January, 37% said raise and 33% said lower. In February 25% said raise and 40% said lower.
But, but, but: Republicans don't just need Americans to recognize that their law is cutting their taxes. They need their support. And you can expect Democrats to push the line that the tax law — while it does provide some immediate tax relief — disproportionately benefits corporations and the wealthy at the expense of average Americans.
Go deeper: How both parties plan to sell the tax law heading into the midterms.
Methodology: The automated telephone surveys were conducted by Remington Research Group in 60 districts using a minimum sample size of 800 interviews per district. The samples were selected at random, and conducted using Interactive Voice Response (IVR) technology. Note that all of these samples include a 25% cell phone sample.
Go deeper