Jared Kushner's security clearance has been downgraded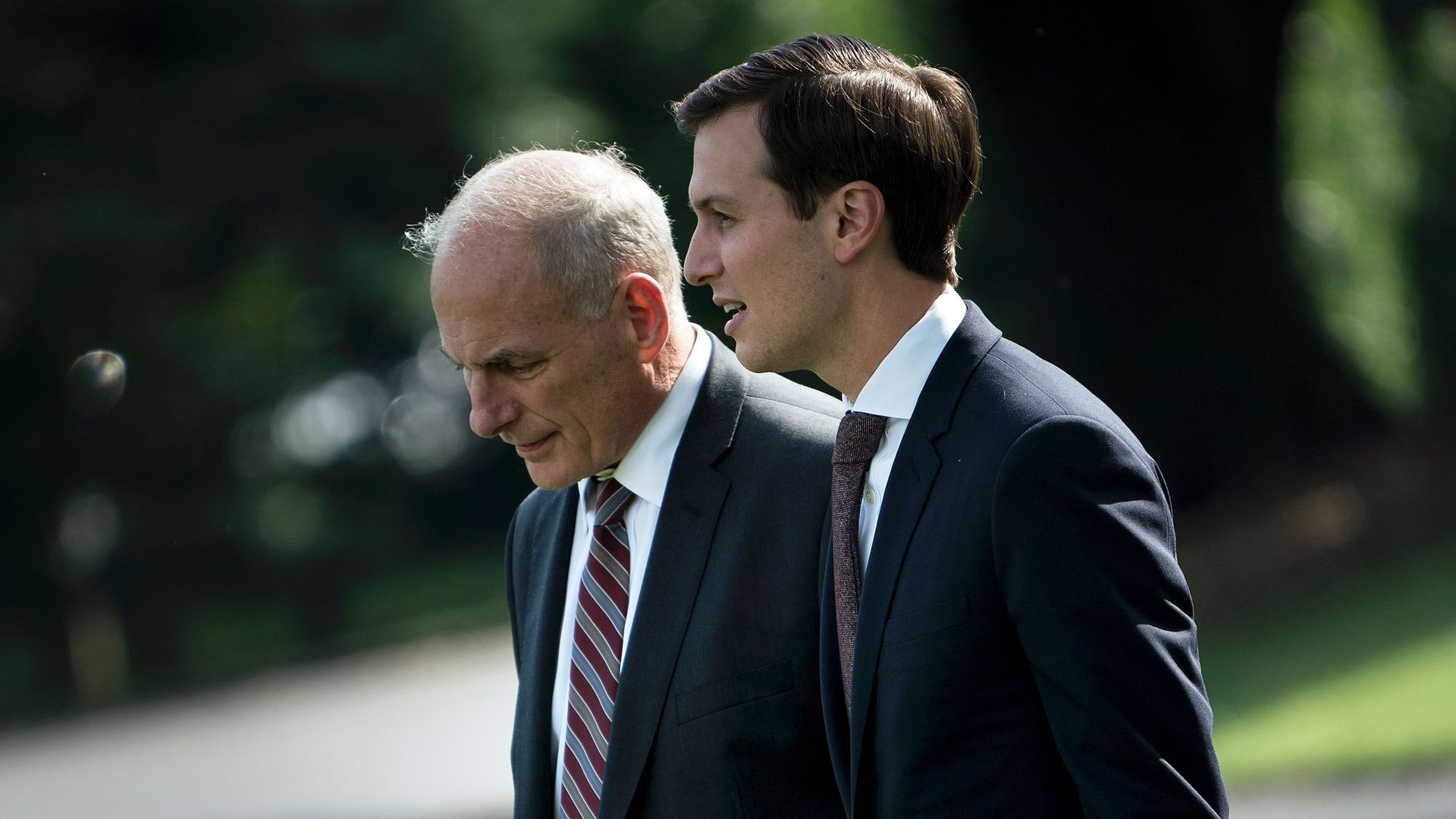 Chief of Staff John Kelly downgraded Jared Kushner's security clearance on Feb. 23 from "Interim Top Secret" to "Interim Secret," according to an administrative staffer involved in the HR process for handling clearances. The White House declined to comment on this story.
Why it matters: Kelly's recent overhaul of the security clearance process has officially changed Kushner's role — he was previously able to access sensitive national security information that very few people have access to, despite operating on an interim security clearance for the last year.
The difference in security clearances:
Interim Top Secret/SCI: Gives access to sensitive compartments of intelligence (SCI) that are restricted to a small group of "trusted, highly vetted and scrutinized users who need it to perform their duties," David Wade, former Chief of Staff to Secretary of State John Kerry, told Axios. That information is deemed so classified that if made public, it could have national security implications. handling is so rigorously enforced and protected."
Interim Secret: Would not have access to certain classified information, like the president's daily briefing. "You may be cleared for a level but that doesn't mean you have a 'need to know,'" an FBI officer told Axios.
Politico was the first to report that Kushner's clearance had been downgraded.
Kushner's lawyer, Abbe Lowell, said Kushner's work won't be affected. "The new policy announced by General Kelly will not affect Mr. Kushner's ability to continue to do the very important work he has been assigned by the President."
Background: When asked whether Kushner's security clearance would change at a press conference (on the same day Kelly ordered this downgrade), President Trump simply said, "General Kelly respects Jared a lot and General Kelly will make that call. I won't make that call."
Kelly previously announced his plan to revoke high-level access for those working on an interim security clearance, access that Kushner has been reluctant to give up.
Kushner's Interim Top Secret clearance allowed him to attend classified briefings, read the daily intelligence briefing, oversee strategies for Middle East peace, and meet with foreign officials around the world.
His clearance was downgraded once before, to Interim Top Secret on Sept. 15, because his background check wasn't completed and DOJ hadn't yet granted final clearance.
Go deeper