Mounting pressure on sheriff over handling of Parkland shooting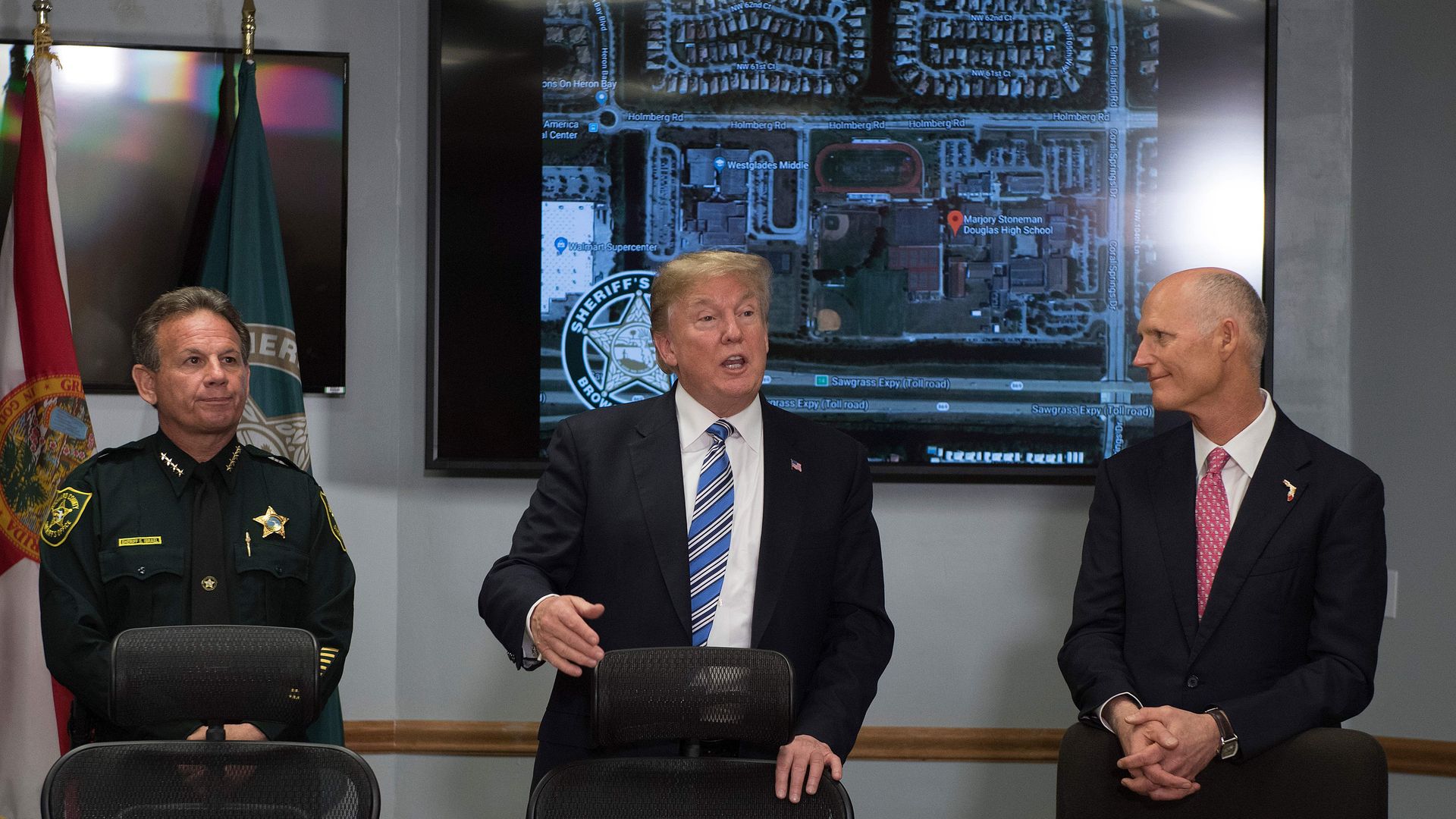 "Gov. Rick Scott ... asked the Florida Department of Law Enforcement to investigate the response to the Parkland school shooting, as questions mounted over the Broward Sheriff's Office's handling of the tragedy," the Fort Lauderdale Sun Sentinel reports.
The backdrop: "The announcement came just hours after Broward Sheriff Scott Israel appeared on CNN [with Jake Tapper for nearly 30 awkward minutes] and refused any blame for his agency's missteps and touted his own 'amazing leadership' after Tapper asked how the shooter was unnoticed despite 23 tips to the Sheriff's Office.
Broward County Commissioner Michael Udine, whose daughter attends Stoneman Douglas: "There are so many unanswered questions here on every different level, from the school board to the FBI to local law enforcement. Everybody who had a chance here failed our kids."
What the president is reading: The cover of the N.Y. Post hits "Broward cowards."
Gun outlook as Congress returns from 10-day break today ... WashPost, top of column 1, "GOP Hill leaders silent on gun bills ... Obstacles — and silence — on Capitol Hill even as clamor for new gun laws grows":
"The hands-off approach from the top leaders reflects divisions within the GOP between law­makers representing politically moderate, often suburban areas where there is wide support for new gun laws and those representing more rural, solidly Republican states and districts."
"While the former group has been increasingly vocal over the past week, it is the latter who constitute the bulk of the Republican majorities in the House and Senate — and are likely to dictate what legislation, if any, is considered.
AP: "[N]o plan appears ready to take off despite a long list of proposals, including many from President Donald Trump."
Worth your click: Mike Barnicle column, "Teachers Belong in Classrooms, Teaching: Does anyone actually believe that shooters would have stopped because their English teacher or lacrosse coach kept a Glock in the cabinet?"
Go deeper