Trump to host Arab leaders for sensitive talks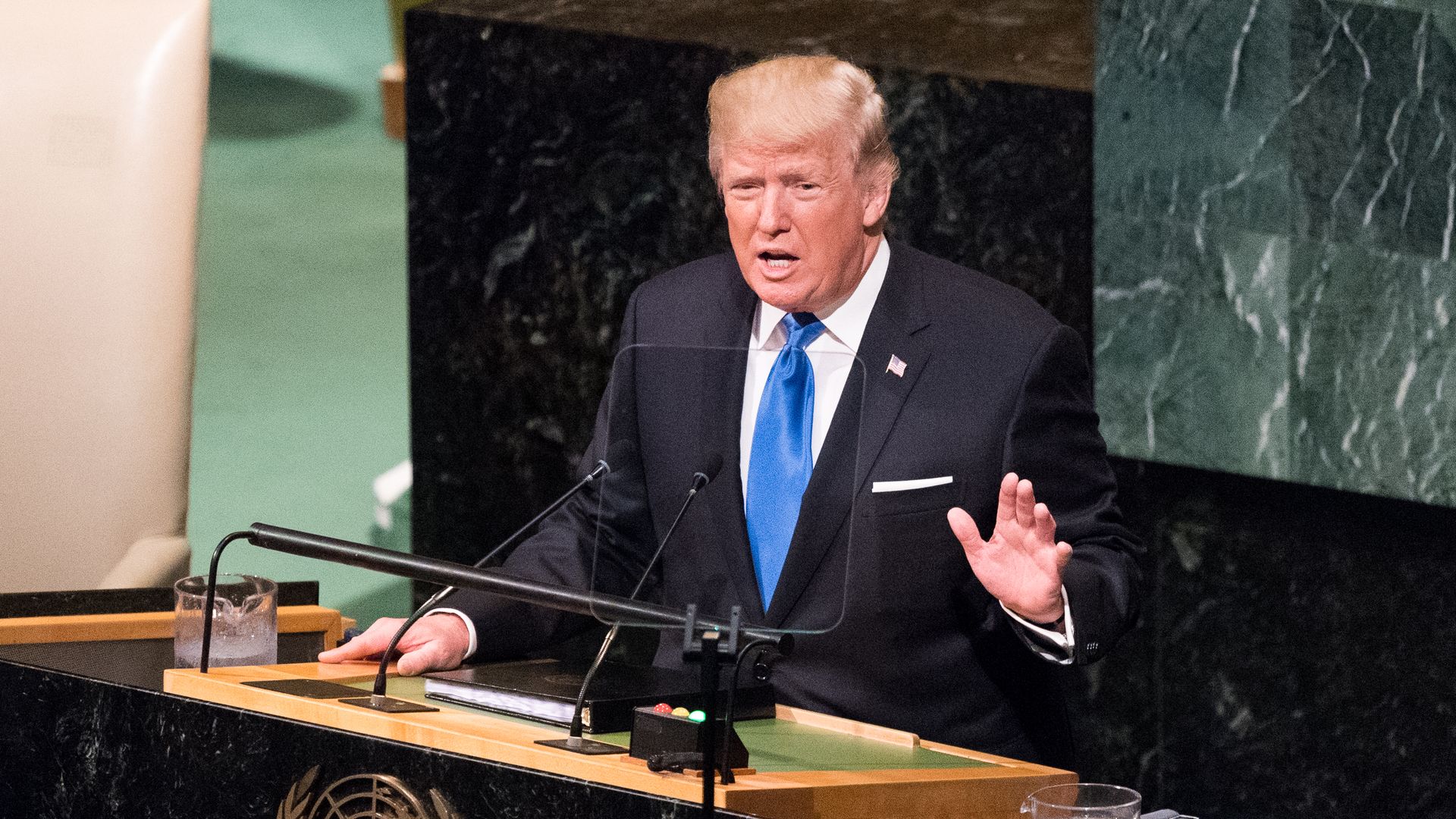 President Trump has accelerated his diplomatic efforts to broker peace among quarreling Arab monarchies, starting with an upcoming series of White House visits by leaders of Saudi Arabia, Qatar and the United Arab Emirates, Axios has learned.
The impact: Sources with knowledge of the negotiations tell us they hope these separate meetings — hugely consequential in their own right — will lead to a peace deal over Qatar in late spring at a summit in Washington or Camp David. That could help end the longstanding dispute over its alleged support for terrorism and ties to Iran.
Between the lines: The proposed Gulf Cooperation Council meeting would not be a peace summit — it's part of an annual series of meetings. But if there's enough progress towards a deal on Qatar, Trump would surely be tempted to brand it that way and claim the leading hand in defusing the tensions.
That's not the only issue on the agenda, though. The meetings will be packed with other disputes, like the Israeli-Palestinian negotiations, the humanitarian crisis in Syria, the conflict in Yemen, and Iran's funding of terror throughout the region.
What we're hearing: To ease the way to a potential deal, the current White House plan — which is only tentative and could change — is for Trump to welcome key Arab leaders in sequenced visits to Washington:
First, the Saudi Crown Prince is expected to visit in mid-March.
Next, the Abu Dhabi Crown Prince would visit around March 27.
The Emir of Qatar is expected to visit around a week or 10 days after that.
Why it matters (from the White House's point of view): The White House is keen to unify these gulf countries to preserve the integrity of the Gulf Cooperation Council and to bring the focus back to opposing Iran's bad behavior in the region. Iran benefits from the GCC being divided, so the Trump team is keen to unify the group again.
The UAE and Saudis, however, say the way for Qatar to resume diplomatic ties is to agree to 13 specific demands, which include commitments to cut ties with the Muslim Brotherhood and cool relations with Iran.
Crucial context: These Arab leaders who are opposing Qatar don't consider it the top flashpoint in the region. They're coming to discuss a range of issues — including the major regional problems in Iran, Yemen and Syria. "Qatar is a piece, but it's a small piece," said a source familiar with the negotiations.
In the view of some gulf leaders in the Saudi bloc, the Qatar dispute is a regional disagreement that has persisted for years. They argue the pressure on Qatar has yielded wins for the U.S., including the recent open skies agreement and a memorandum of understanding on combatting terrorism and its financing.
Go deeper