Updated Feb 25, 2018 -

World
Hell on earth: What to know about the crisis in Eastern Ghouta, Syria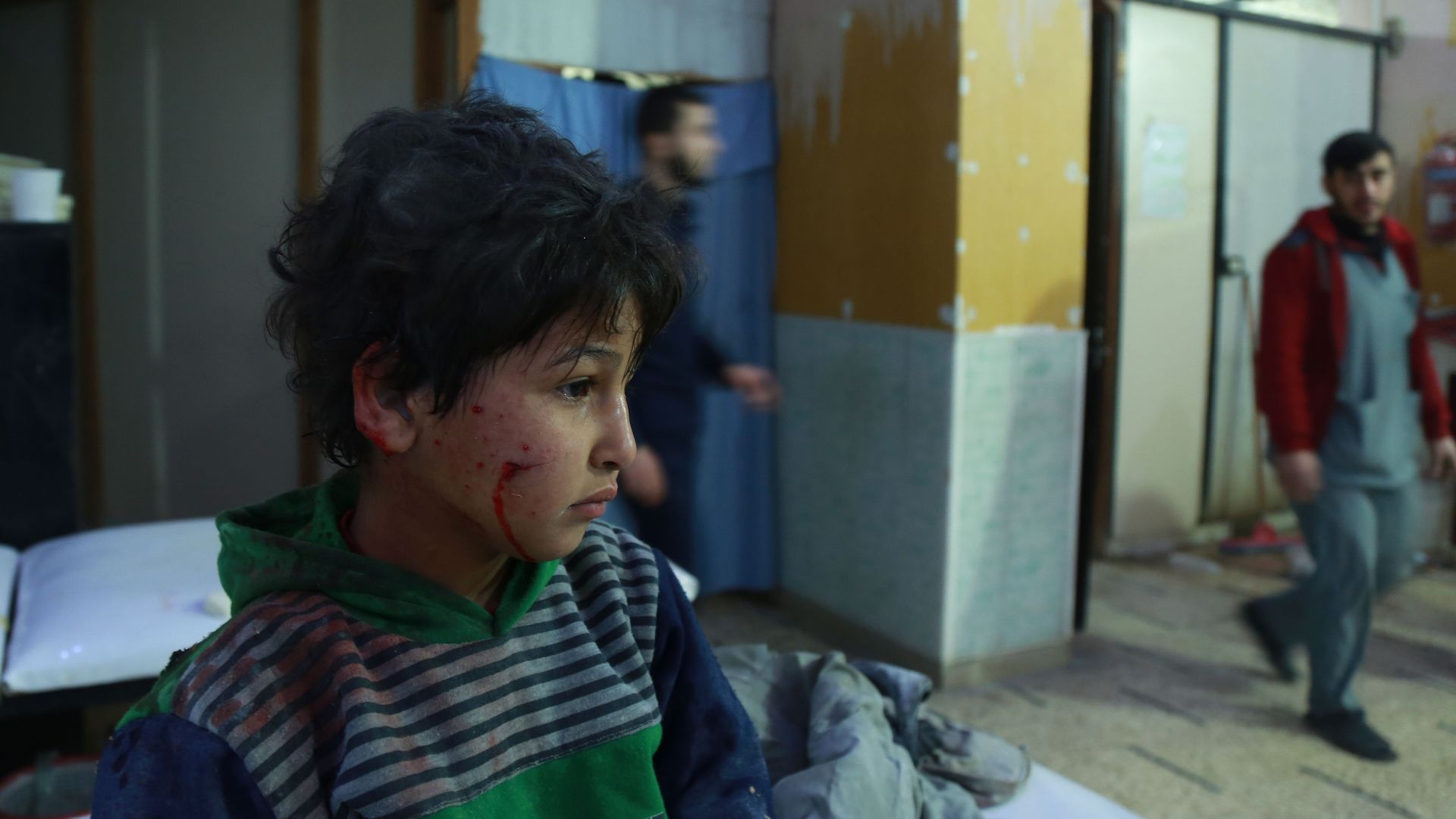 The U.N. Security Council voted on Saturday in support of a 30-day cease-fire in Eastern Ghouta, a suburb of Damascus in Syria that has been torn apart by increased strikes in the last week.
Why it matters: Since Sunday, more than 500 people have been killed in Eastern Ghouta, and more than 2,000 injured, Al Jazeera reports. Assad regime forces, supported by Russia, have "continued their aerial bombardment" of the area in efforts to push rebels out. International leaders have called for an immediate cease-fire to get humanitarian aid to the thousands of civilians still living in the area.
What's happening
Eastern Ghouta, in 2011, "was among the first communities to rise up against the government," NBC reports.
In 2013, it was the site of a massive sarin gas attack that left over a thousand people dead.
It was established as one of four "de-escalation zones" in Syria last year, in an agreement signed "by government backers Iran and Russia, and rebel ally Turkey," Al Jazeera reports.
Due to the chaos brought about by increased attacks, the few doctors left in the area have been "forced...to use expired drugs and scramble for water," CNN reports. A volunteer medical worker told CNN "doctors were using expired drugs, including anesthetics, because they had no other option."
CNN also reports there are around 400,000 people still trapped in Eastern Ghouta, many "in desperate need of humanitarian aid."
The desired end-goal
Ibrahim al-Assil, a Syrian political analyst and fellow at the Middle East Institute, told Axios a U.N. resolution isn't enough.
"This is the biggest problem in the Syrian conflict: the regime thinks the best way to gain more is through military means, and that's why it doesn't negotiate and that's why it doesn't want to negotiate. There isn't any threat of punishment or consequences if it doesn't comply with the U.N. resolution."
— Ibrahim al-Assil
Per al-Assil, the aim of the international community needs to be "civilian protection, and to reduce violence. And the only way to do that is through negotiation," otherwise there will be "thousands and thousands of people being killed, and children dying out of hunger."
As for the Assad regime, al-Assil says its goal "is not to fight the armed groups [in Ghouta] as much as to break the population, and to control them."
The responses
U.S. State Department spokesperson Heather Nauert said a ceasefire was needed to "allow the delivery of humanitarian supplies and the urgent medical evacuation of over 700 civilians in Eastern Ghouta."
The U.S. Ambassador to the U.N. Nikki Haley said on Wednesday: "It's time to take immediate action in the hopes of saving the lives of the men, women, and children who are under attack by the barbaric Assad regime. ... All eyes will now be on the Syrian regime, Iran and Russia."
Head of Delegation in Syria for the International Committee of the Red Cross, Marianna Gasser, said in a statement on Wednesday: "Wounded victims are dying only because they cannot be treated in time. In some areas of Ghouta, entire families have no safe place to go. ... This is madness and it has to stop. Civilians must not be targeted."
Director for international policy at Physicians For Human Rights, Susannah Sirkin, told the Guardian: "There is absolutely no doubt that the Syrian and Russian governments meant to harm the civilian population in eastern Ghouta, in direct defiance of international humanitarian norms."
Go deeper