Mueller brings new charges against Manafort and Gates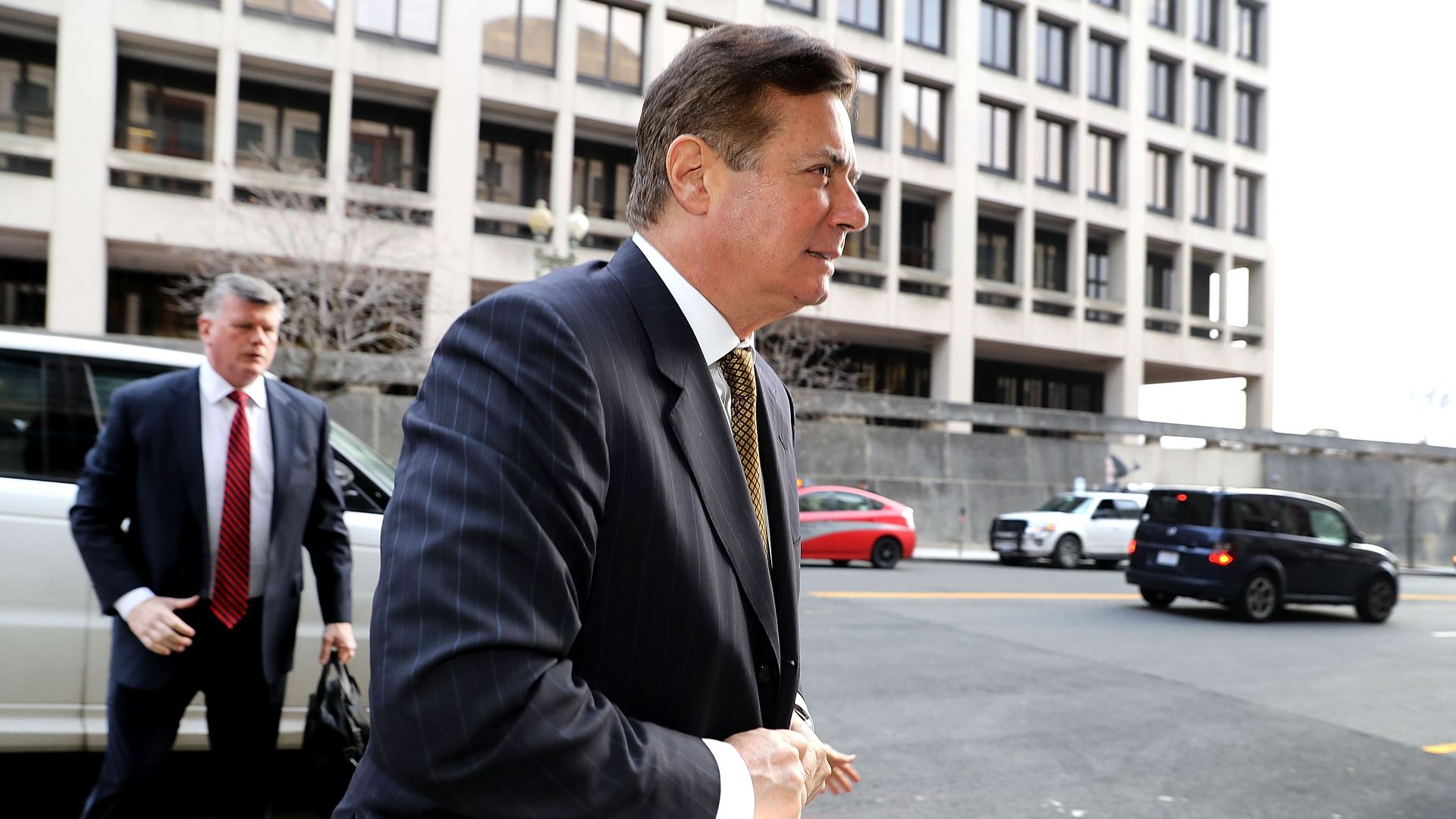 Special Counsel Robert Mueller brought 32 new financial charges against former campaign chairman Paul Manafort and his business associate Rick Gates on Thursday.
Why it matters: "The new charges intensify the legal pressure on Manafort and Gates as they prepare for trial later this year," the Washington Post says.
The new charges filed in the Eastern District of Virginia:
Both Manafort and Gates were charged with allegedly filing, and assisting with filing, individual income taxes that falsely claimed they didn't have financial interests in an account in a foreign country, and failing to accurately report the associated income.
They were charged unlawfully failing to file a disclosure with Treasury related to foreign accounts.
The final 9 counts cite that Manafort and Gates allegedly did "conspire to execute a scheme and artifice to defraud one or more financial institutions."
What we know:
Per Politico, while there were no new defendants named in Thursday's indictment, "it alleges that the men had a 'conspirator' at at least one of the lenders from which Manafort obtained the loans."
The charges claim that more than $75 million "flowed through offshore accounts the men had set up in foreign countries," per CNN.
They both used the millions in offshore accounts "on home improvement and to refinance their mortgages," CNN reports, and Gates used it "for his mortgage and children's tuition."
Per BuzzFeed, Manafort "made more than $12 million in wire transfers," and spent it on "home improvements, antique rugs, clothing, cars, and real estate, among other things."
What it means: These new charges strengthen Mueller's case against Manafort and Gates, which could go to trial later this year. They also suggest that a plea deal for Manafort or Gates is unlikely, at least in the short term.
Manafort's attorney: "Paul Manafort is innocent of the allegations set out in the newly filed indictments and he is confident that he will be acquitted of all charges. The new allegations against Mr. Manafort, once again, have nothing to do with Russia and 2016 election interference/collusion. Mr. Manafort is confident that he will be acquitted and violations of his constitutional rights will be remedied."
Go deeper