The science of conspiracies: Where Flat Earth meets Pizzagate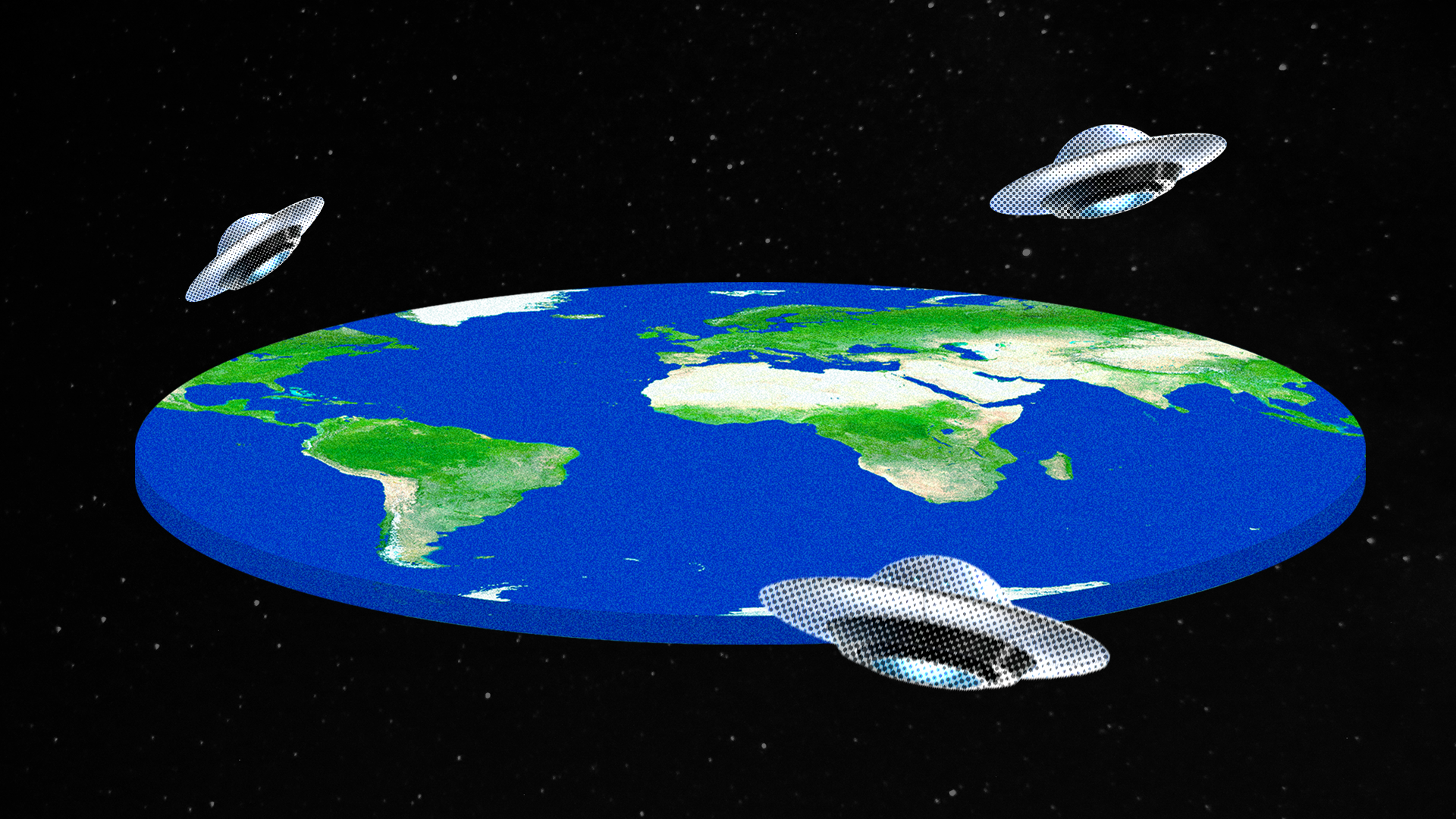 "Fake news" was rampant throughout the 2016 election — and it's still around. But it's hardly new: people have believed in conspiracy theories for ages, and scientists are no stranger to combating them.
The bottom line: From anti-vaccine conspiracies to climate change denial to those who believe in modern "fake news," many conspiracy theories are united by one idea: "Nothing is an accident. They never accept randomness," says Stephan Lewandowsky, a cognitive scientist at the University of Bristol who studies climate change denial.
What's happening: Fake news, conspiracy theories and denial of science were the focus of many talks at the annual meeting of the American Association for the Advancement of Sciences in Austin this weekend.
Who the believers are: Conspiracy theories are not inherently partisan, and neither are anti-science ideas. Liberals and conservatives believe falsehoods about genetically modified organisms, and believe that vaccines cause autism. But some conspiracy theories are distinctly partisan.
Who is susceptible: everyone. Researchers have shown that exposure to conspiracy theories, even ones you don't believe, can impact your worldview.
Flat Earth: Perhaps one of the best-known conspiracy theories is that the earth is flat. Now, the believers have their own community built around YouTube videos. Here's what Alex Olshansky, a grad student at Texas Tech, and cognitive psychologist Asheley R. Landrum found when they interviewed attendees at the first Flat Earth conference:
Most (but not all) attendees were white and male.
Most (but not all) attendees were biblical literalists, and believed in a young-Earth creation story.
Although many were deeply religious, they distrusted organized religion.
Many were first introduced to the Flat Earth theory via YouTube, where they initially watched 9/11 conspiracy videos. The YouTube autoplay function eventually lead them to the Flat Earth videos.
They like try do-it-yourself science, and encourage each other to design experiments that show the earth is flat.
People who believe one conspiracy are likely to believe others, notes Olshansky. Most who believe in a flat earth also deny climate change, for example. That's because if you believe the government has conspired once, it's easy to believe they did it again. It's an easy jump from Watergate to Pizzagate.
One big exception: the people Olshansky interviewed do not believe that there was any Russian involvement in the 2016 election, which likely reflects the partisan bias of Flat-Earthers.
The media's role: University of Exeter researcher Benjamin Lyons studies how the media can spread scientific conspiracy theories. The highlights of a study he presented at AAAS:
Lyons gave some people a real news article about Zika and mosquitoes, while others got an article that stated that Zika was caused by companies hoping to make money off of a vaccine. Others read an article that indirectly implied this by including a quote from a politician that asked, "who benefits?"
People who heard the explicit conspiracy theory were more likely to believe it. But the people who heard the implied conspiracy believed it, too.
When both groups were given a fact check that debunked the claim about Zika, both groups seemed to stop believing in the conspiracy theory.
Yes, but: The people in this study were confronted with a conspiracy theory they were unfamiliar with. When it comes to entrenched false beliefs (like, say, that human-caused climate change isn't happening, or the Earth is flat), it can be much harder to change someone's mind.
When climate deniers are presented with new facts, says Lyons, they argue against them. That very act of arguing can strengthen their own beliefs.
More broadly, each additional argument against the conspiracy theory ultimately becomes fodder for it, according to Lewandowsky. A new paper that shows vaccines don't cause autism, for example, could be further proof that doctors are being bribed to say otherwise.
Science denial and conspiracy theories are inherently tied says Lewandowsky. If you reject the majority of scientists who say climate change is happening, you also need to believe in a conspiracy forcing the majority of scientists to lie.
The impact: It's part of why seemingly outlandish articles that ran during the election were so hard to discredit. If they supported someone's opinions about a candidate, the public was more likely to believe them — and later articles that corrected those fallacies failed to shift the dial.
Go deeper