Americans held in Serbia for allegedly filming military buildings with drone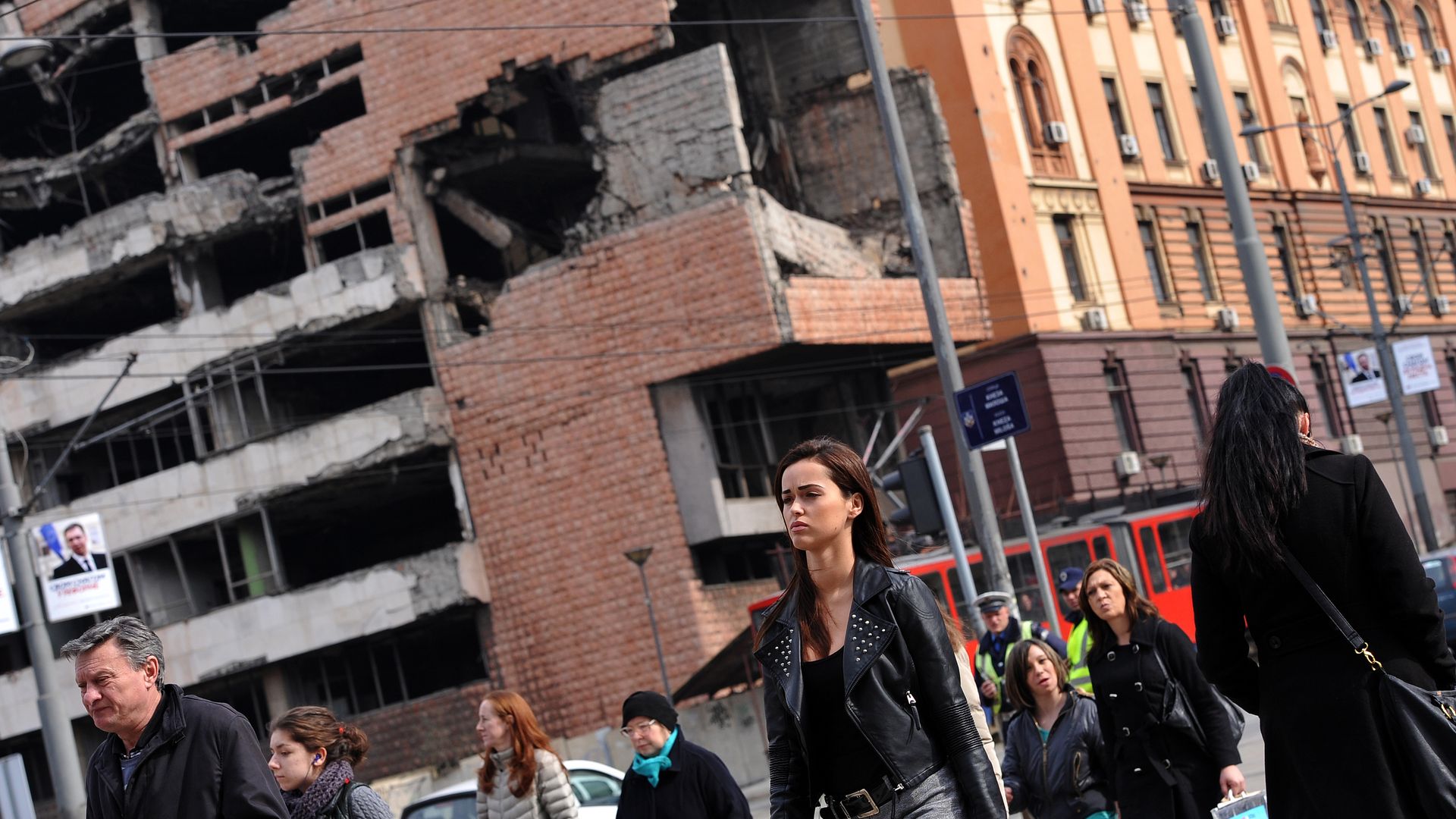 Local Serbian TV stations report that police are still holding two Americans from Florida for allegedly using a drone to film military facilities in Belgrade, though two Ukrainian women arrested with them were released earlier on Tuesday. The Serbian Ministry of Defense confirmed the arrests on Monday.
The backdrop: The news follows several other security-related issues in Serbia involving foreigners. An American was reportedly arrested earlier this month in possession of a firearm, and "pro-government media alleged that he was a former Navy SEAL and had planned the assassination of unidentified Serbian officials," per the AP.
The Ministry of Defense said the two Americans and two Ukrainians were detained on Sunday trying to film buildings that once housed the General Staff of the Armed Forces of Yugoslavia, until they were destroyed by NATO bombing in 1999. The Serbian Defense Minister said, "It is not a coincidence that such a large number of foreign citizens tried to bust into premises controlled by the Army of Serbia."
Why it matters: The arrests come as Russia and the West are vying for influence in Serbia, the largest of the states to emerge from the collapse of Yugoslavia in the 1990s. Orthodox Christian and Slavic, Serbia has close historical ties with Moscow, but President Aleksandar Vucic has made joining the European Union a priority.
The latest
Serbian broadcaster Pink reported Tuesday that the two Americans still being held by police are from Florida and claim they are working for a non-governmental organization.
The two Ukrainian women with the Americans have been released, with local media reporting they are from Luhansk, a city in the east of Ukraine, which is occupied by Russia.
There is still some confusion of the number of arrests, with Defense Minister Aleksandar Vulin claiming that members of Military Police on Sunday and Monday detained a total of eight foreign nationals in connection with the incident.
Worth noting: Amid growing worries about press freedom in Serbia, the Belgrade government on Monday granted a temporary residence permit to Belgian journalist Philippe Bertinchamps – a permit that he was previously denied – following protests by media rights organization Reporters Without Borders. Bertinchamps told local news that he believed he was no longer welcome in Serbia, despite being a long-term resident, because of his "critical writing about the situation in the country".
Go deeper