"Black Panther" makes history at the box office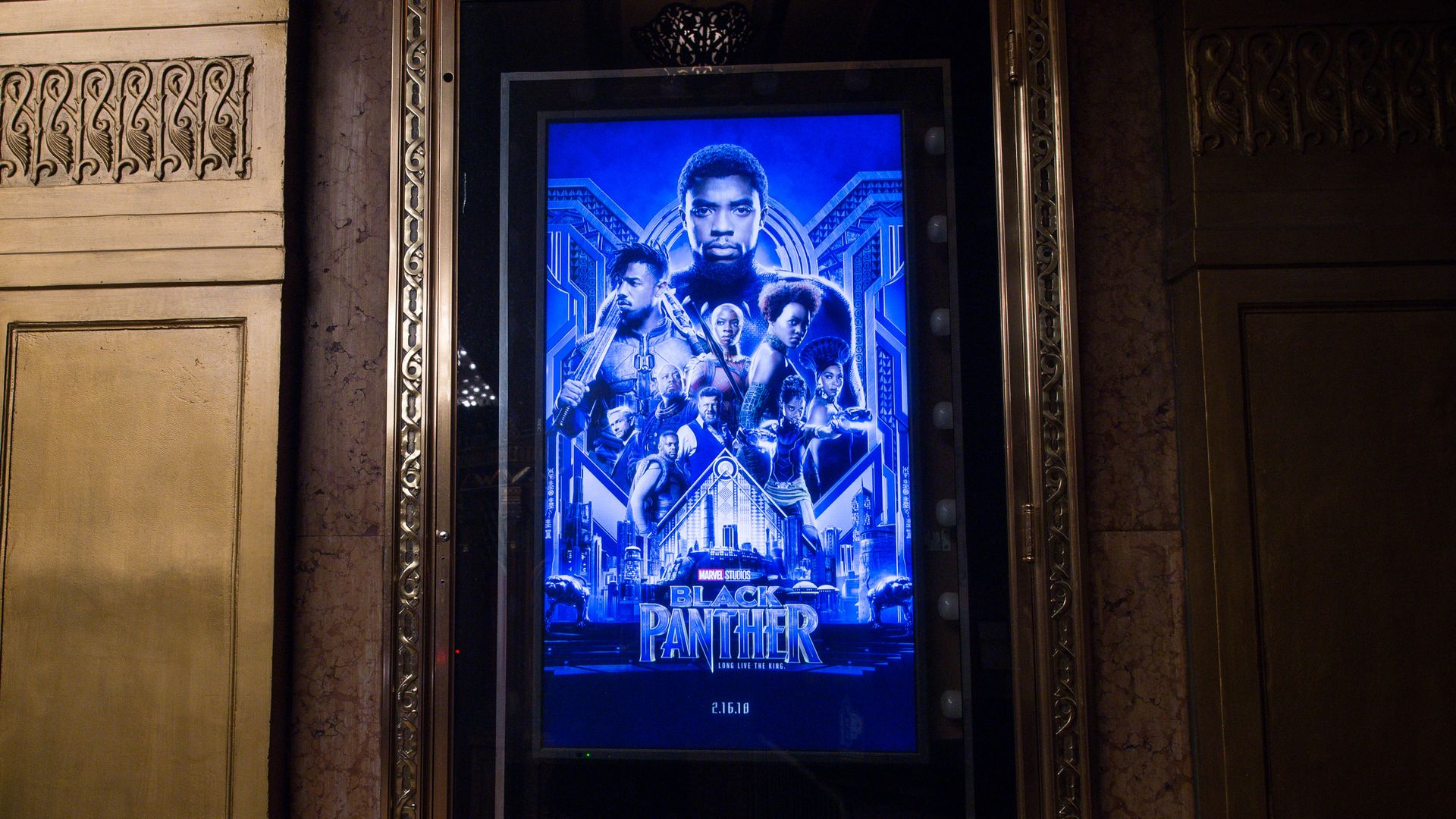 "Disney and Marvel Studios' Black Panther is making history at the North American box office, where it's pacing to take in a record-shattering $205 million-$210 million over the long Presidents Day weekend after earning a rare A+ CinemaScore from audiences," per the Hollywood Reporter. The film "earned $75.8 million on Friday, the eighth-biggest day of all time. Friday's gross includes $25.2 million in Thursday evening previews."
Why it matters: "Playing in 4,020 theaters, Black Panther drew a diverse audience on Friday; 37 percent of ticket buyers were African-American, while Caucasians made up the next largest group (36 percent), according to comScore."
"That sort of demo breakdown is unheard of for a marquee superhero tentpole. On average, African-Americans make up about 15 percent of the audience for such fare."
"Black Panther will easily score the top February opening of all time and possibly the best showing of any superhero pic ahead of fellow Marvel title The Avengers ($207.4 million), not accounting for inflation."
"The movie's projected three-day haul of $185 million will also rank high up on the list of all-time openings. It will also mark the biggest opening ever for an African-American director."
"Directed by Ryan Coogler, the $200 million film is a defining moment in Hollywood history, being a big-budget studio tentpole featuring a virtually all-black cast."
The gist: "'Black Panther' is the story of T'Challa, played by actor Chadwick Boseman, who returns home to Wakanda, an isolated, technologically advanced African nation, after his father, the king of Wakanda, dies and T'Challa must take his place as ruler." (L.A. Times)
The language: "[T]he filmmakers have used isiXhosa, one of South Africa's 11 official languages, to solidify the story's African authenticity. ... isiXhosa ... is a language that more than eight million South Africans — about 15 percent of the population — claim as their mother tongue." (N.Y. Times)
P.S. "Trolls target 'Black Panther': Tweets claim false attacks by black people at theaters" — L.A. Times:
"In the tweets, the posters frequently blame 'black youth' for the attacks, using images taken from various unrelated sources of bleeding and battered faces or images of blood in sinks and on towels."
"Public information officers for police departments in New York, Los Angeles, Chicago and Houston contacted by The Times said they had received no reports that would match the assault claims appearing online."
"Some of the accounts spreading the false reports have ... been suspended."
Go deeper