The giant pot of money that public schools don't touch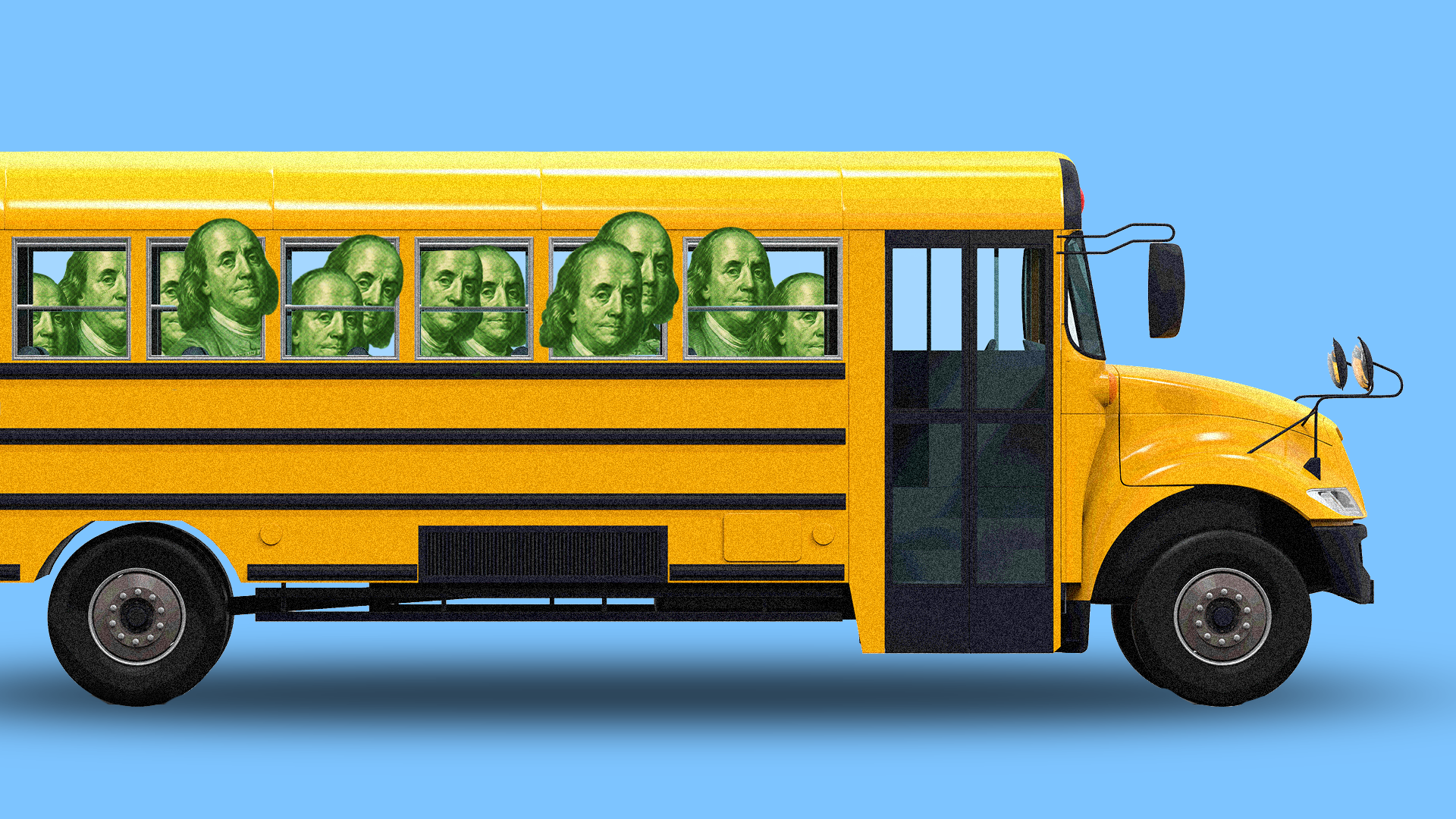 Billionaire financier Steve Schwarzman this week donated $25 million to the public high school from which he graduated in 1965. It is believed to be the largest-ever gift of its kind, and Schwarzman hopes it will encourage other public schools to fundraise from their alumni.
Why it matters: More than 90% of America's 56 million K-12 students attend public schools, and 3.3 million of them are expected to graduate this year from high school. Almost none are ever asked for donations, despite clear needs to improve academic proficiency and an increased reliance on student fees to fund extracurricular activities.
The issue
Most U.S. public schools don't have any bureaucratic infrastructure in place to raise money, in contrast to dedicated alumni giving and endowment functions at private schools and post-secondary schools. Some of this is related to state and federal regulations, but more is just the inertia of having never done it.
"U.S. public schools have historically been paid for with tax dollars and that worked, but we've reached a point where the tax base has eroded sufficiently that a lot of these districts don't have the requisite monies," Schwarzman tells Axios.
Indeed, public schools regularly rely on parent groups and local philanthropies to fill specific budget gaps and to support capital projects — even in affluent districts. But that approach has limitations:
Parents of current students already feel they are contributing financially, via both local taxes and assorted user fees. It's akin to why parents of a college graduate are more likely to donate than the parents of an active college student.
It's a relatively small pool of potential donors. Imagine a high school that graduates 250 students per year. That works out to 1,000 families from which to solicit funds. Compare that to the 10,000 alumni aged 20-60 that are being ignored.
"To me, as an investor, this is a pretty easy call," says Schwarzman, who on Thursday delivered his message to a conference of school superintendents in Nashville. "It's unrealistic to think that you can't raise enough money from an entire community to do better than break-even on a full-time fundraising person and some of the set-up costs. It's just about thinking different."
It's also about using modern technologies, such as social media, to locate alumni. One public school superintendent tells Axios that her district doesn't maintain contact information for students once they graduate, and that any alumni fundraising program would have to begin by pulling out decades worth of yearbooks.
The pushback
Some critics argue that increased private donations would be just a drop in the bucket for public schools and wouldn't change the trajectory of a school district in trouble.
"The total private giving to public schools, from individual donors to the Gates Foundation, is about $2 to $3 billion," Jay P. Greene, head of the Department of Education Reform at the University of Arkansas, says. That's less than half a percent of the $600 billion the U.S. spends annually on public schools.
There also are rules in certain school districts, such as the Santa Monica-Malibu Unified District in California, whose rules require money donated to a specific school or program be redistributed across all the district's schools to minimize inequities. This can dramatically reduce the impact of a private donation and discourage parents, according to Indiana University economist Ashlyn Aiko Nelson.
Moreover, some school maps are so convoluted that a kid can go to an elementary school, middle school and high school managed by three different administrations. This means the alumni would have no particular allegiance to a district, meaning that they'd only be likely to give if the individual schools made the ask.
Bottom line
That ask is key.
Steve Schwarzman only gave after the superintendent in Abington Township, Pa. contacted him, saying the district was trying to fully renovate a high school built in the 1950s that is no longer even large enough to house the district's ninth grade.
"Private schools have done this forever, and it's a capability that public schools can develop," he says. "They owe it to their students and their communities to try."
Go deeper