American terror: 1 gun takes 17 lives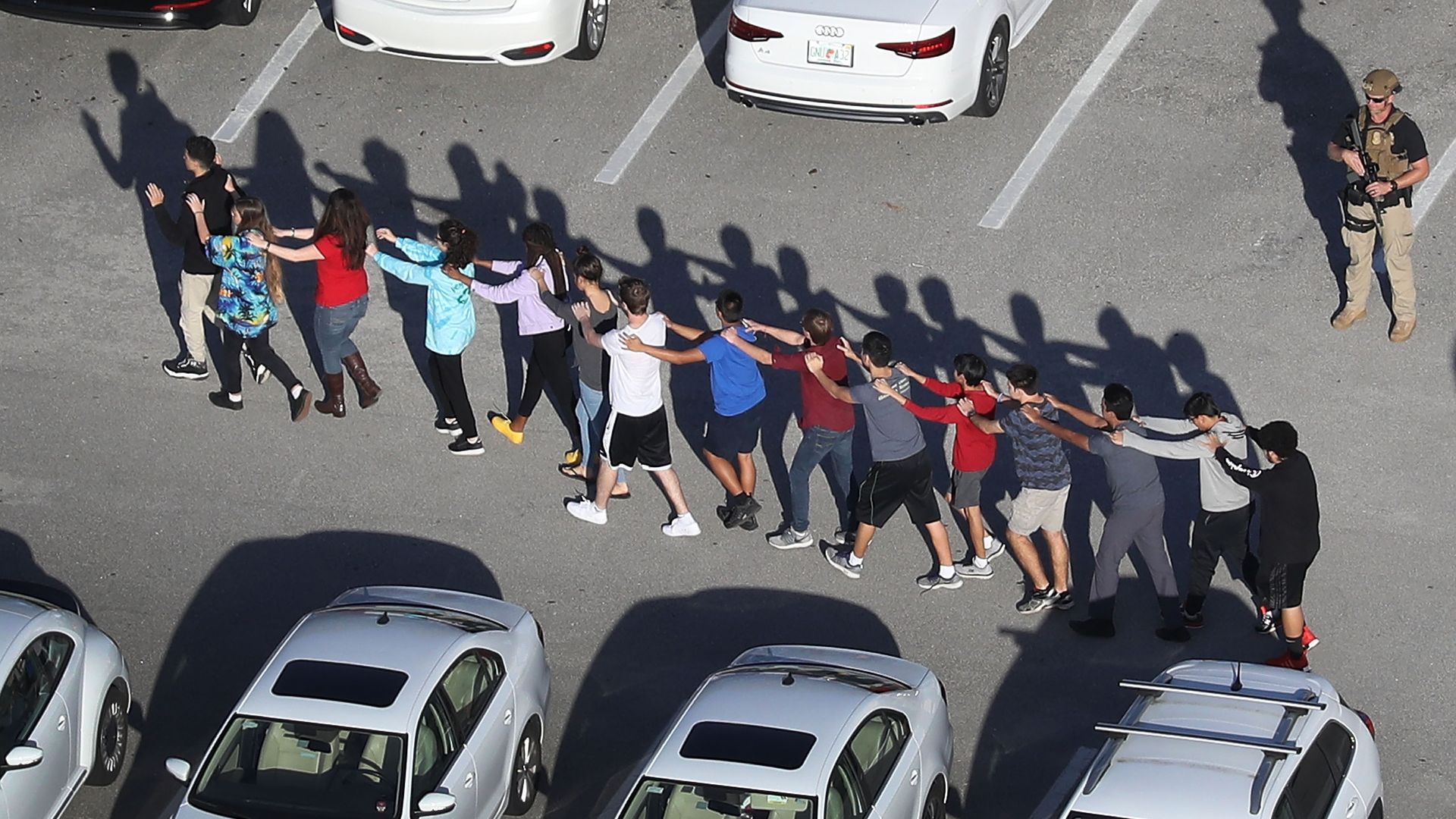 We saw, live, the helplessness of parents who had texted their kids and not gotten an answer. We saw the helicopter shots of a southern Florida high school that looked absolutely silent in mid-afternoon. It was on lockdown.
The new normal: "Lockdown," like "active shooter": a term that was unknown to us, but now is part of our young people's reality.
That same helicopter soon showed scores of terrified kids filing out with their hands up — a routine procedure, Brian Williams' experts explained on MSNBC, because the shooter can escape, or do further harm, by melding into a pack of pupils.
In fact, it sounds like that happened here. Per the Miami Herald:"The [19-year-old] shooter managed to slip in with his former classmates and make it off campus before he was taken into custody."
So many students streamed out that it looked like this might turn out OK. About three hours after the first bulletin, we knew it was a worst-case scenario — what turned out to be 17 dead. Columbine was 15, including the two perpetrators.
Brian Williams said that having to put their hands up was one more indignity for these scared students. In these scenarios, they also often have to yield their most prized possession — their backpack — until authorities know they have the gun.
Jim Cavanaugh — a former ATF agent who's an MSNBC law-enforcement expert when news strikes, whether Mueller or Vegas — pointed out that if someone can walk across your parking lot with a long gun and enter your school or business, "You don't have security." But, really? How many places in America are prepared for that?
The heroics of the teachers were pointed out by Clint Van Zandt, another MSNBC expert, who used to be an FBI profiler. A few decades ago, our teachers ran tornado drills. Now, they have to be experts in crowd control, and know how to calm and shelter kids amid horror.
All this is today's normal in a country that's one of the safest in the world, and should be one of the most nurturing. It all raises profound questions about what went wrong.
Here's a quick catch-up, via the Fort Lauderdale Sun Sentinel, the nearest big paper (Parkland, Fla., is in Broward County, sandwiched between Miami-Dade and Palm Beach counties)
"The deadliest school shooting since Sandy Hook [20 students and six adults killed in Newtown, Conn., in 2012] erupted [when] a 19-year-old man with a troubled past and an AR-15 rifle stalked the halls of Parkland's Marjory Stoneman Douglas High School."
"Expelled from the school over disciplinary problems, Nikolas Cruz is accused of squeezing off shot after shot ... The AR-15 used in the mass shooting was legally bought by Cruz," according to his attorney Jim Lewis, who is representing the family.
"Cruz was arrested off campus."
"Panicked parents streamed to this affluent [area] ... [P]olice officers crouched behind cars with guns drawn and students congregated on streets, many crying, hugging and calling friends and family."
Go deeper