Updated Feb 17, 2018 -

World
The high stakes of hijab protests in Iran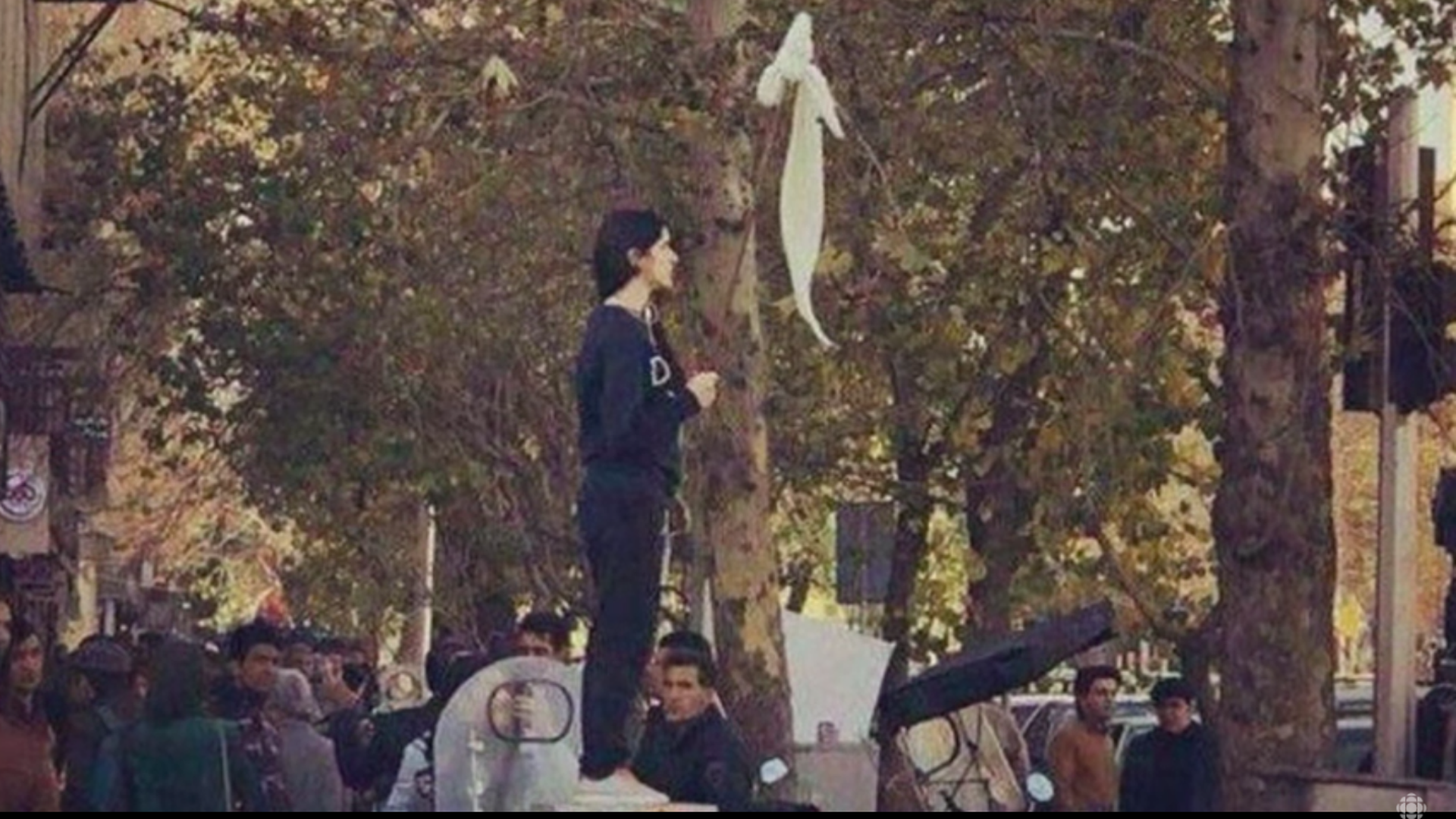 About 30 women have been arrested in Iran as a result of hijab protests that began in December when one woman, Vida Movahed, silently waved her hijab in the air for an hour atop a utility box on the crowded Enghelab Street in Tehran.
Why it matters: In a country where women have been punished for not observing "Islamic values" in public, this is a bold move. Haleh Esfandiari, Director Emerita and Fellow at the Middle East program of the Wilson Center, told Axios that the protests are "very interesting, very bold, very courageous," but "on the other hand, this has been going on in Iran for the last couple of years in different ways."
The history
Women in Iran have been forced to wear the hijab since the 1979 revolution. Per the Huffington Post, Iran's former Supreme Leader Ayatollah Khomeini made the hijab "an emblem of its religious and political identity."
Since the revolution, the Gasht-e Ershad (which translates to "guidance patrols") have been "the main agency tasked with enforcing Iran's Islamic code of conduct in public," BBC reports. The focus of their enforcement is "ensuring observance of hijab."
But women have been pushing the limits. Esfandiari told Axios that some women were not wearing proper head scarves while driving in their cars alone, and argued "with the morals police...that this is their private space, and in a private space you can be dressed as you like."
Iranian journalist and human rights activist Masih Alinejad started an online campaign titled "My Stealthy Freedom" while living in Brooklyn, New York, in 2014. She encouraged women in Iran to post photos of themselves without hijabs. Her page has more than 1 million fans on Facebook.
Alinejad also started the "White Wednesday" social media campaign last year, in which women post pictures of themselves without their headscarves. She told CNN: "This is a campaign that's been going on for years and years. The women of Iran have long been ignored."
The penalties for refusing
Women used to be arrested for not wearing the hijab, and there have been cases of women being fined, jailed and even lashed.
The New York Times' Women In the World reported in 2015 that two women were fined 9 million rials — $300 — for "not wearing the mandatory hijab properly in public." And, the same month, Iran's traffic police chief "warned that women could have their car impounded if they were seen driving with an improperly fixed hijab."
But, but, but: The rules changed in the capital at the end of last year, when police announced women would "educate" women who "don't respect Islamic values" instead of arresting them.
What's happening now
A group of women have started making public displays of removing their hijab and waving it in the air.
Esfandiari told Axios while this is "a new phenomena" that is causing a stir, is not yet a movement.
She said: "I don't think the government will react because one of the pillars of the Islamic Republic is to control the women, and the only way they think they can control the women is to force Islamic attire on them."
What's next
Sanam Naraghi Anderlini, a woman born in Iran who is now the executive director of the International Civil Society Action Network, told PBS: "The hijab is an important symbolic and practical element, but taking away the hijab is not enough. What women are really fighting for in Iran is equality under the law."
Esfandiari told Axios that "if the Islamic Republic was wise, it will just leave the women alone."
"These are the children of the revolution. Despite all the indoctrination, brainwashing, teaching in schools, preaching day-in and day-out, it didn't effect these young people at all. These people are connected to the world...they make themselves heard," she said.
Go deeper