The #MeToo moments on the campaign trail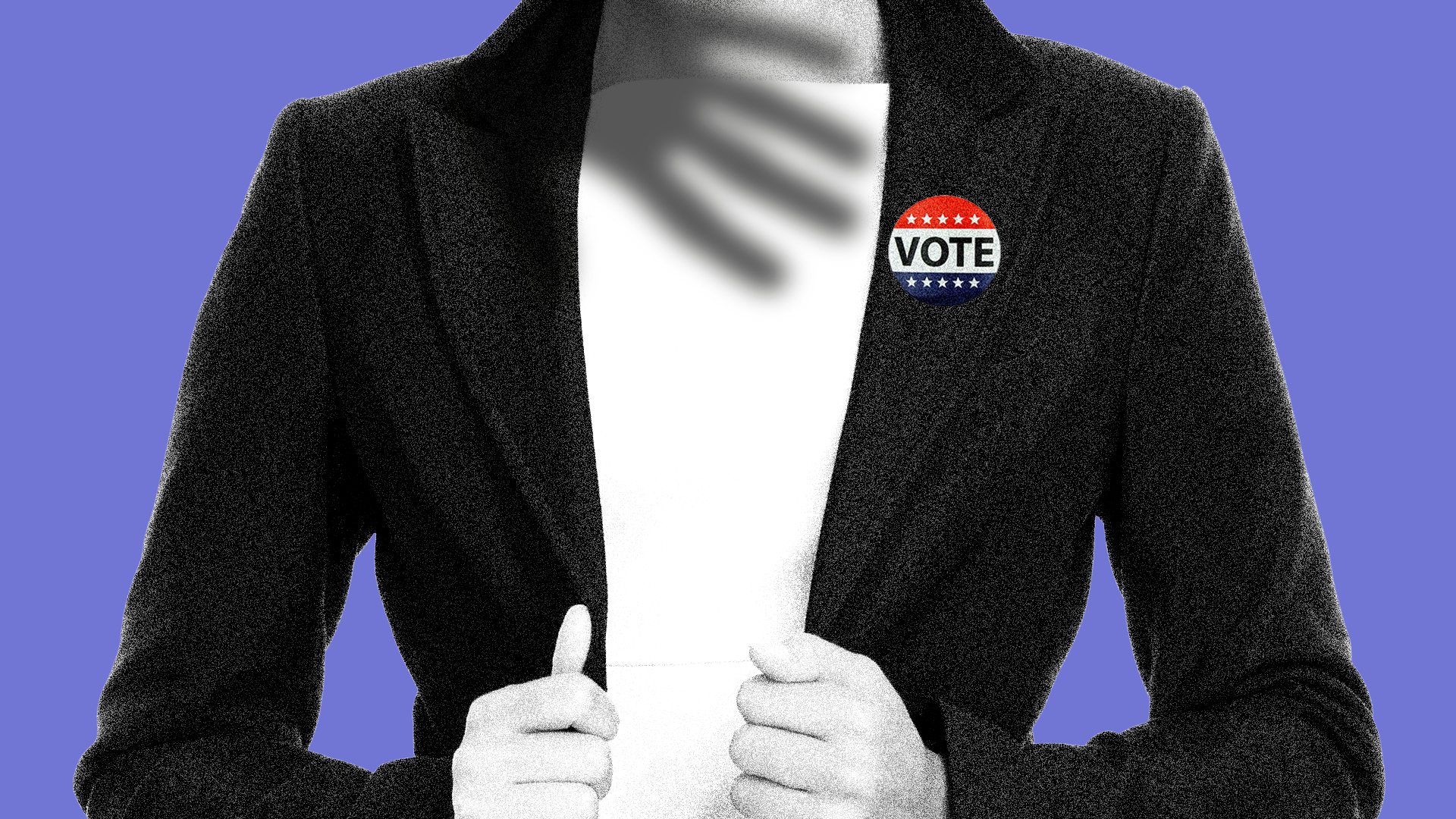 Jordan Kizmann, a 22-year-old field organizer for Hillary for America, was driving one of her volunteers home on election night 2016 when he exposed himself to her. The campaign didn't know how to help her.
Why it matters: Hundreds of campaigns are staffing up to battle for the House and Senate, not to mention thousands of local races. Staffers early in their careers are often left vulnerable in campaigns without established HR systems. The #MeToo movement threatens the culture of silence on campaigns, and Election Day 2018 is 264 days away.
The big picture: I've spent the last few weeks talking to current and former campaign staffers to get a sense of issues they face. They've told me working on a campaign requires nearly all of their time and energy as they work to one goal: winning. They said this culture makes them feel guilty about taking the time to address something unrelated, like sexual harassment.
I remember thinking, "This isn't normal. This isn't something I wanted to happen."
— Aleigha Cavalier, former Pa. gubernatorial campaign staffer
What sexual harassment looks like across campaigns, according to conversations with five former staffers:
Campaign volunteers can be the harassers
It's tricky for campaigns since volunteers are not formal employees. Jordan Kizmann and her volunteer had worked together for the previous three months.
In the first few minutes of the drive, the volunteer invited her to his house for drinks and food, which she declined, and then she heard his seatbelt unbuckle.
"I noticed he was touching his pants and fussing around," she said, adding that she continued to look ahead. "Then I noticed his pants were completely off and he was masturbating and tried to touch my leg."
After the incident, her boss admitted: "I don't know how to handle this situation. I'm not trained for this, I'm sorry." Then she called the HR director who emailed her the employee handbook that has information on what to do if a coworker does something inappropriate.
But Kizmann wasn't satisfied with their responses and said she never received a follow-up email or call from the HR director. "It's important for people in HR to understand that you're vulnerable in that situation and you need someone to take leadership," she said.
Harassment isn't always physical
Sometimes those who work adjacent to the campaign can be harassed by staffers. A women's rights group organizer in rural Pennsylvania felt verbally harassed by a city council candidate and his campaign manager.
The former organizer said they "talked about ways to proposition me ... and what they would do if I said no." The pair denied this, but admitted to calling her a "Jewish American princess," and the candidate said the campaign manager talked about masturbating to the woman's Facebook photos. The campaign manager also admitted to sending the organizer "a very insensitive and inarticulate email essentially asking her for a date." 
They eventually apologized to the organizer, but she said she's still upset by what she considers to be sexist and anti-semitic comments about her. The candidate told Axios: "I don't believe what we were saying about her was as nasty as what Donald Trump was saying in that infamous Access Hollywood tape."
Sometimes it happens after the campaign ends
A former campaign organizer for a Virginia gubernatorial race said the campaign's research director sent her a Snapchat picture of his genitals — after they had stopped working together. When she didn't respond he later sent her a Snapchat message offering to pay her money through the Venmo app if she sent him nude photos.
"I'm not a prostitute, I'm not a call girl, you can't just say this to me."
— How she replied on Snapchat. He then deleted her as a Snapchat friend.
Separately during the campaign she felt harassed by her supervisor, who she said "would sit next to you, touch your shoulder, it makes you cringe. I remember thinking about how nervous it made me feel."
She ultimately talked to the campaign's operations manager, who acted as HR, and the campaign lawyer, who said the best case scenario was not to be in the same room as him.
Harassment can be considered normal
Aleigha Cavalier, former operations manager for a Pennsylvania gubernatorial race in 2010, was the youngest person on senior staff. Another senior staffer "was in his 40s, married, had 3 children, but would constantly say sexual remarks or crude things about my body or sex life," she said.
But then things got physical after happy hour one night after work. He was walking her to her car, pretended to slip on snow and stuck his hand up her dress.
Because she was only 22 at the time, she said she shrugged it off — it was her first job out of college and she didn't really know what was considered normal behavior on campaigns. They were working closely together every day and because of her age, she didn't feel the agency to speak up. "I kind of just pretended like it never happened."
It can happen during work events with alcohol
A former staffer for the Republican Party of Florida in 2009 said a coworker grabbed her right breast at the organization's Christmas party.
"We were friends, it was sort of like a brother-sister thing," she said, recalling sitting at a bar in downtown Tallahassee. But as she said she was "sitting there watching everyone watch him squeeze my boobs," she thought to herself: "Great, now everyone's going to think I'm sleeping with him."
He later apologized and the woman said she decided against making a big deal about it. "There'd be times where I thought, 'Should I interject or am I going to lose my seat at the table?'" she said.
Other reasons why women don't report
Fear that the campaign will suffer. "No one wants to say anything during campaign because they don't want to hurt their candidates," said the former Virginia field organizer.
Others didn't want to have the stigma of speaking out and feared being labeled accordingly. "It was a big deal for me to have this job, I didn't want to be seen as the person who was causing drama or complaining," said Cavalier.
Campaigns are so insular that reporting one colleague could jeopardize chances of working for another on a later campaign.
Bottom line: All of these stories were either never reported during the campaign or weren't resolved properly when they were.
Go deeper: I previously reported on the lack of HR systems in place on campaigns, which leaves staffers unaware of how to report an issue when something comes up on the campaign.
I'll be following this throughout the 2018 election and can be reached at [email protected] if you have stories to share from your experience on a campaign.
Go deeper