Trump's key budget requests include billions for border wall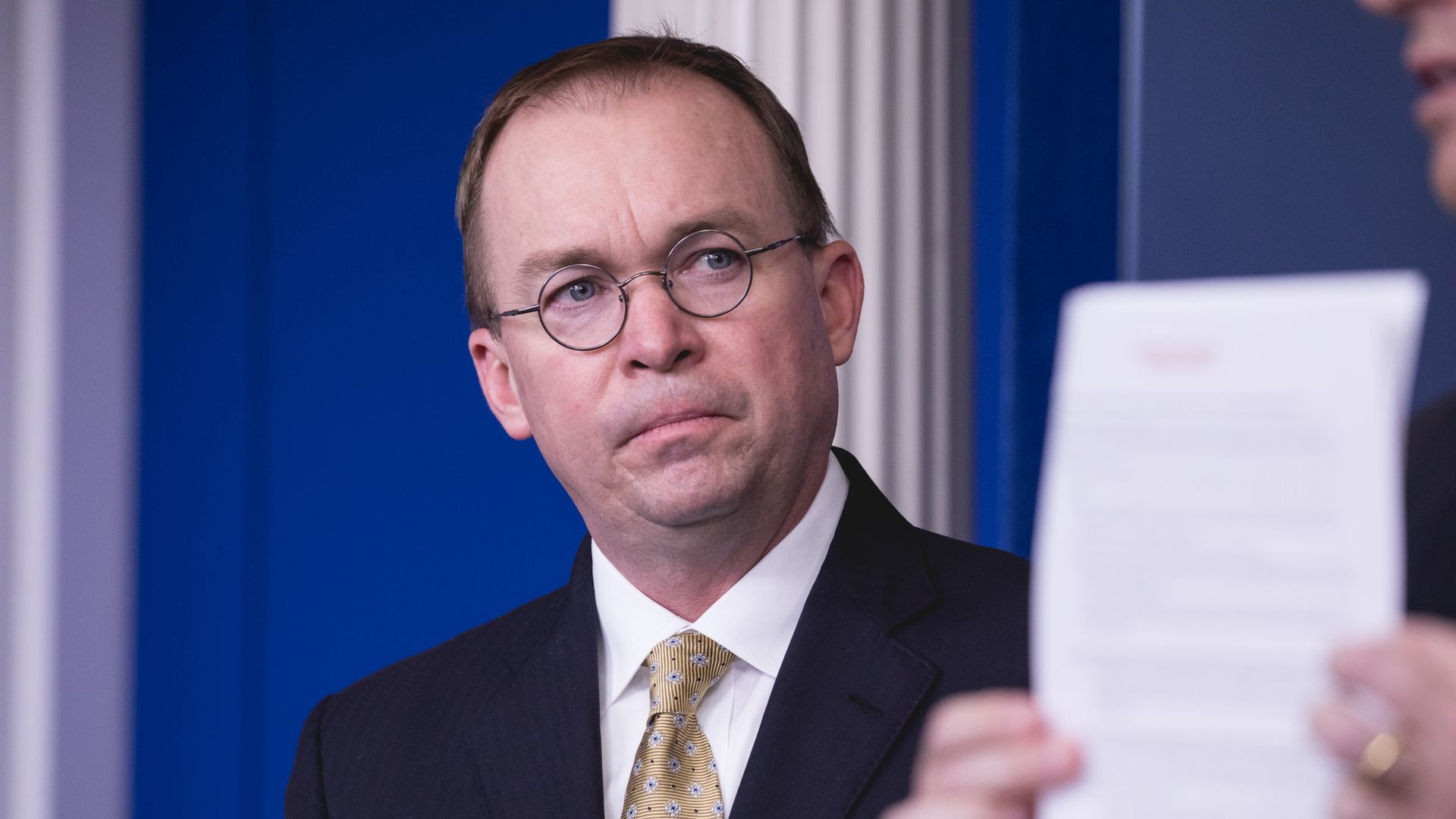 President Trump on Monday sent Congress his $4.4 trillion spending proposal for 2019, one week after Congress passed a massive bipartisan budget deal that bursts spending caps and adds $300-400 billion to the deficit over two years.
Reality check: It's unlikely that Congress will adopt the proposal as written, but it shows the priorities of the Trump White House. As Axios' Jonathan Swan reports, the budget reads like "science fiction." The proposal undercuts and does not reflect last week's bipartisan agreement as it adds to the growing deficit and seeks to impose major cuts for domestic programs, including Medicare.
Key budget items, per the Office of Management and Budget:
Rolling back more Obama-era financial regulations that were put in place to respond to the 2008 financial crisis.
Imposing spending reforms to cut deficits by $3 trillion over 10 years.
Infrastructure:
$200 billion over the next decade to fund President Trump's $1.5 trillion infrastructure plan, which Axios obtained a draft copy of last month. Read the breakdown here.
The White House is seeking $21 billion to jumpstart the infrastructure plan.
Border Security:
$23 billion for border security and immigration enforcement programs.

$782 million to hire and support 2,750 immigration agents.
$2.7 billion to offset detention costs.
President Trump requested up to $18 billion to build the southern border wall. It would cost an average of $24.6 million a mile, per the AP.
Veterans:
$85.5 billion in discretionary funds to provide medical care, mental health services, education benefits and other social programs to veterans.
Opioid and Health Care
$10 billion across Department of Health and Human Services for programs to combat the opioid epidemic. Axios' Sam Baker gives a run-down of the budget that's seeking to repeal the Affordable Care Act and cut federal Medicaid spending.
As the AP highlights, the administration wants a $500 billion cut over 10 years from projected Medicare spending.
Education Department:
The Department of Education is seeking a $7.1 billion budget — a 10.5 percent decrease from 2017.
Key items, per the AP: A $1.5 billion for the coming year to expand private and public school choice by providing scholarship funds to low-income students to attend private schools. Funds will be used to expand charter schools.
$200 million for STEM education and $43 million to implement school-based opioid abuse prevention programs.
Eliminate teacher preparation and aftercare programs.
The Environmental Protection Agency:
As Axios' Amy Harder explains, President Trump is proposing a 9% increase in the EPA's budget from last year's request, but it's still a nearly 25% cut from enacted levels.
According to the AP, the budget would slash funding for cleaning up polluted sites and ending the Climate Change Research and Partnership Programs.
Go deeper