Scoop: Rob Porter telling different story than John Kelly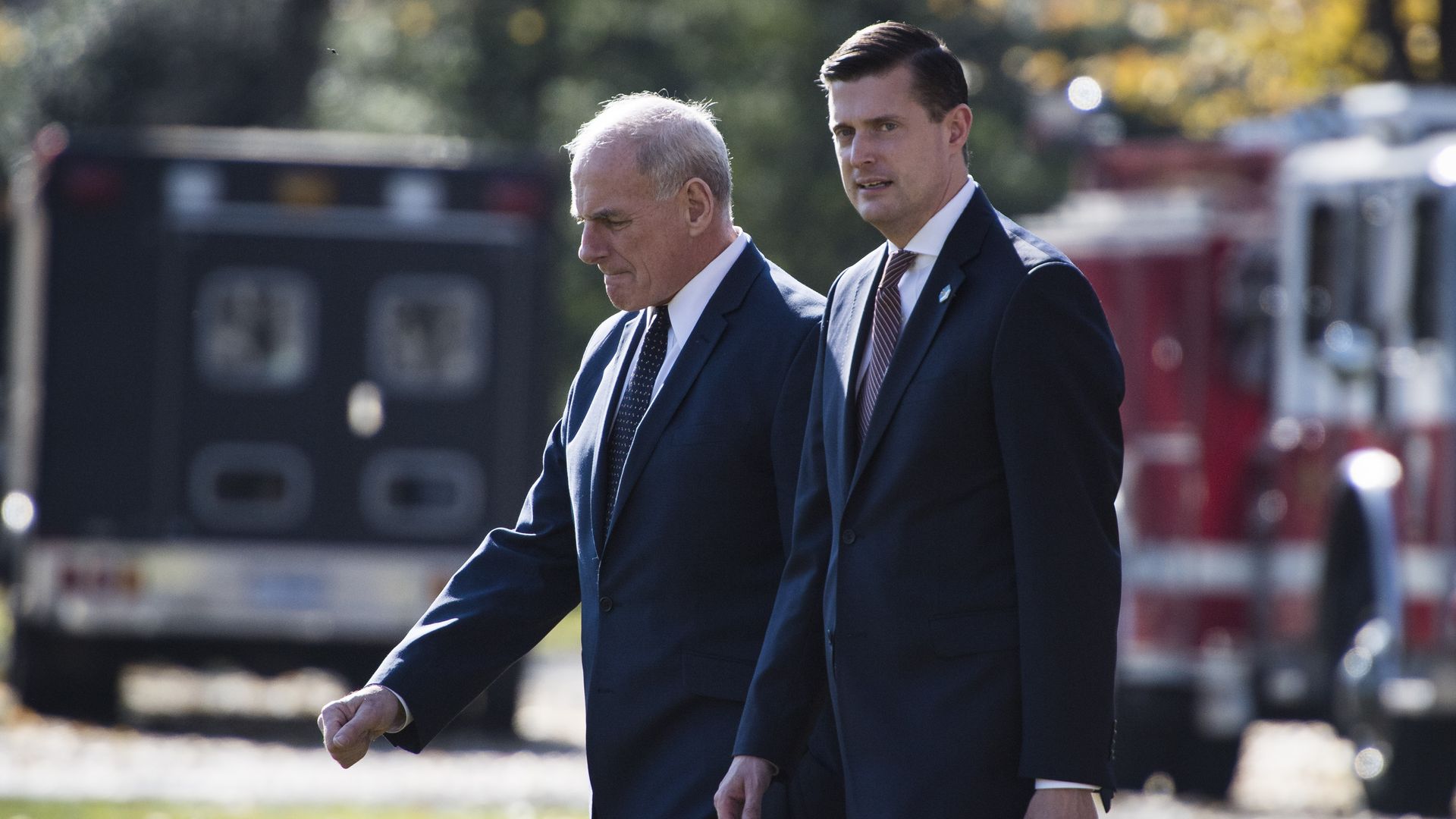 White House Staff Secretary Rob Porter is telling associates that some senior White House officials strongly encouraged him to "stay and fight," and claims he "never misrepresented anything" to Chief of Staff John Kelly.
Why it matters: This White House has a culture problem, starting at the top. The natural instinct is to defend/deny and show scant, if any, concern for the women alleging misconduct and harm. And when the going gets tough internally, the other natural instinct is to blame everyone but yourself. 
Porter has said nothing publicly since his departure from the White House on Thursday, following accounts of domestic violence from his two ex-wives.
But a coordinated defense is forming for Kelly on how he handled the matter, and Porter is telling a different story.
The backdrop: The White House has not provided a definitive timeline of Porter's departure, and leaks and statements have conflicted.
A member of Congress who has discussed the matter directly with General Kelly and President Trump tells Axios that Porter lied to the chief about what would be in the Daily Mail story.
According to the member of Congress, giving the most detailed Kelly version of events so far:
In Kelly's telling, Porter misrepresented to him that the Daily Mail story would be about a messy marriage and divorce, with allegations of verbal and emotional abuse.
Kelly specifically asked Porter about physical abuse of both ex-wives and girlfriends, and Porter denied that.
Upon Porter's denials, Kelly allowed the White House press team to write a statement giving a wholehearted endorsement of Porter as a man of great integrity. (This was Kelly's initial statement.)
Kelly is telling associates that only when the Daily Mail story published online on Tuesday night did he learn the real story.
Kelly says he immediately took action: he confronted Porter, told him he had to resign, then called President Trump to inform him of his decision. This is what Kelly means when he tells colleagues he acted quickly and settled the matter within 40 minutes.
On Wednesday, the day that The Intercept would later publish a photo of Porter's first wife with a black eye, Porter arrived at the White House and tried to either rescind his resignation or delay its effective date, according to the account by the member of Congress.
When Kelly learned of the indecision, he settled the matter: The general said Porter needed to leave the White House immediately — no further questions or debate. 
The member of Congress said: "President Trump didn't know any of this till the news broke, nor should he have been expected to know. Presidents don't get involved in background checks."
More on the FBI angle: Kelly is also telling associates that the first he learned of Porter's issues with his background check was in November.
But Kelly contends he didn't learn about the specific allegations of the violent attacks until the Daily Mail story published. "He learned that Rob had ex-wife issues and was in fact surprised to know Rob had ex-wives at all," the member of Congress told Swan.
The member added: "As Kelly did with other staff with interim clearances, he urged the FBI to resolve quickly. This was appropriate; background checks aren't ongoing investigations in which the FBI reports all allegations immediately.  They report final adjudications. This context isn't adequately explained in most reporting."
The big picture: Kelly has a credibility crisis with the news media and some White House staff because the West Wing gave reporters a contradictory official version of events in real time.
Asked by CNN's Jake Tapper on "State of the Union" if Kelly's job is in jeopardy, White House counselor Kellyanne Conway said: "No."
Conway said Trump told her: "Please tell Jake that I have full faith in Chief of Staff John Kelly."
According to the version Porter is providing associates, he told Kelly on Tuesday that a Daily Mail story was coming, and "indicated that based on the questions the reporter was asking, it would be bad." Here is Porter's version:
Porter told Kelly, as he had before, that he'd "had troubled marriages but that the more outrageous allegations of physical abuse that might be suggested were untrue."
Porter "never misrepresented anything" to Kelly.
Porter offered to resign on Tuesday after the first story was published, but some senior White House officials urged him to "stay and fight."
On Wednesday, Kelly told Porter it was unlikely he would ultimately get a permanent security clearance, given the accusations.
Porter told Kelly he "did not want to be a distraction or be problematic for the White House."
Porter again offered his resignation, which was accepted.
In a brief conversation with Kelly later in the day, Porter indicated that he "was committed to ensure a smooth transition and was prepared to leave immediately or stay for a period of days or weeks, whatever Kelly and the President preferred."
Porter "learned later that evening from news reports, not from Kelly or anyone at the White House," that Thursday would be his last day.
Get more stories like this by signing up for our daily morning newsletter, Axios AM. 
Go deeper