Grassley twists Trump's arm for criminal justice reform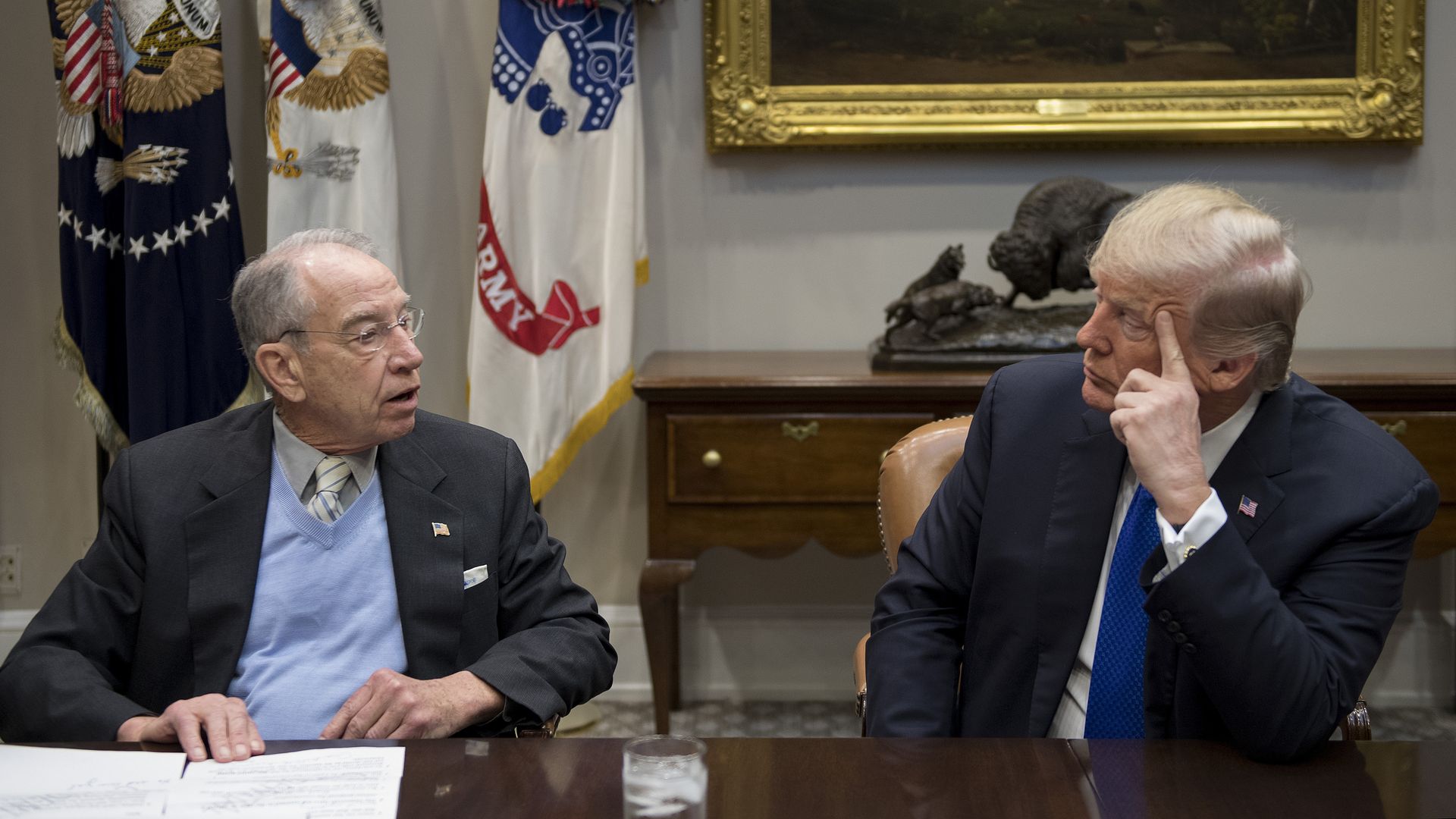 I checked in with Chuck Grassley, the powerful Senate Judiciary Chairman, who's been twisting arms for his (and Dick Durbin's) Sentencing Reform and Corrections Act .
Why it matters: Grassley-Durbin is the most ambitious bipartisan criminal justice reform bill out there. On Thursday, the Judiciary Committee will vote on it. Little known fact: 20 senators are co-sponsors.
What we're hearing: There's scant appetite in the Trump administration for Grassley's bill, which combines both prison reform (including programs to rehabilitate prisoners) and sentencing reform (shorter sentences for non-violent criminals.) Grassley introduced the same bill last Congress but McConnell refused to bring it up for a vote.
Attorney General Jeff Sessions can live with prison reform, but adamantly opposes anything that could be perceived as "soft on crime."
Trump has similar instincts. And even the White House's most passionate criminal justice reform advocate, Jared Kushner, believes they're better off shooting for what is achievable — prison reform only — rather than getting nothing at all, according to sources with direct knowledge. (Though Kushner personally backs criminal justice reform overall.)
A White House official told me they spent 6 months listening and learning on this topic and don't see a path forward at this time on criminal justice reform but do see a path forward on prison reform.
"We could have the status quo or we could have movement on a serious issue that could save money, reduce crime, and help people," the official added. "And it could build momentum for other areas as well."
The political reality: Grassley didn't deny the White House's cool reception of his bill, but he plans to use his substantial political clout to press Trump to change his mind.
As I've reported, Trump bends over backwards to keep Grassley happy. He knows that as Judiciary Chairman, Grassley played a crucial role in delivering two of Trump's biggest successes so far: the confirmation of Supreme Court Justice Neil Gorsuch and a modern record for circuit court judges in a president's first year.
"I've carried a lot of water for the White House," Grassley told me. "They ought to give some consideration for the close working relationship we've had on issues we agree on.""I think people at the White House have not wanted to go against Gen. Sessions," he added, before closing with a sentence crafted perfectly to appeal to Trump's ego. "This is an opportunity for a bipartisan victory by the President of the United States."
Go deeper