John Kelly crisis engulfs the West Wing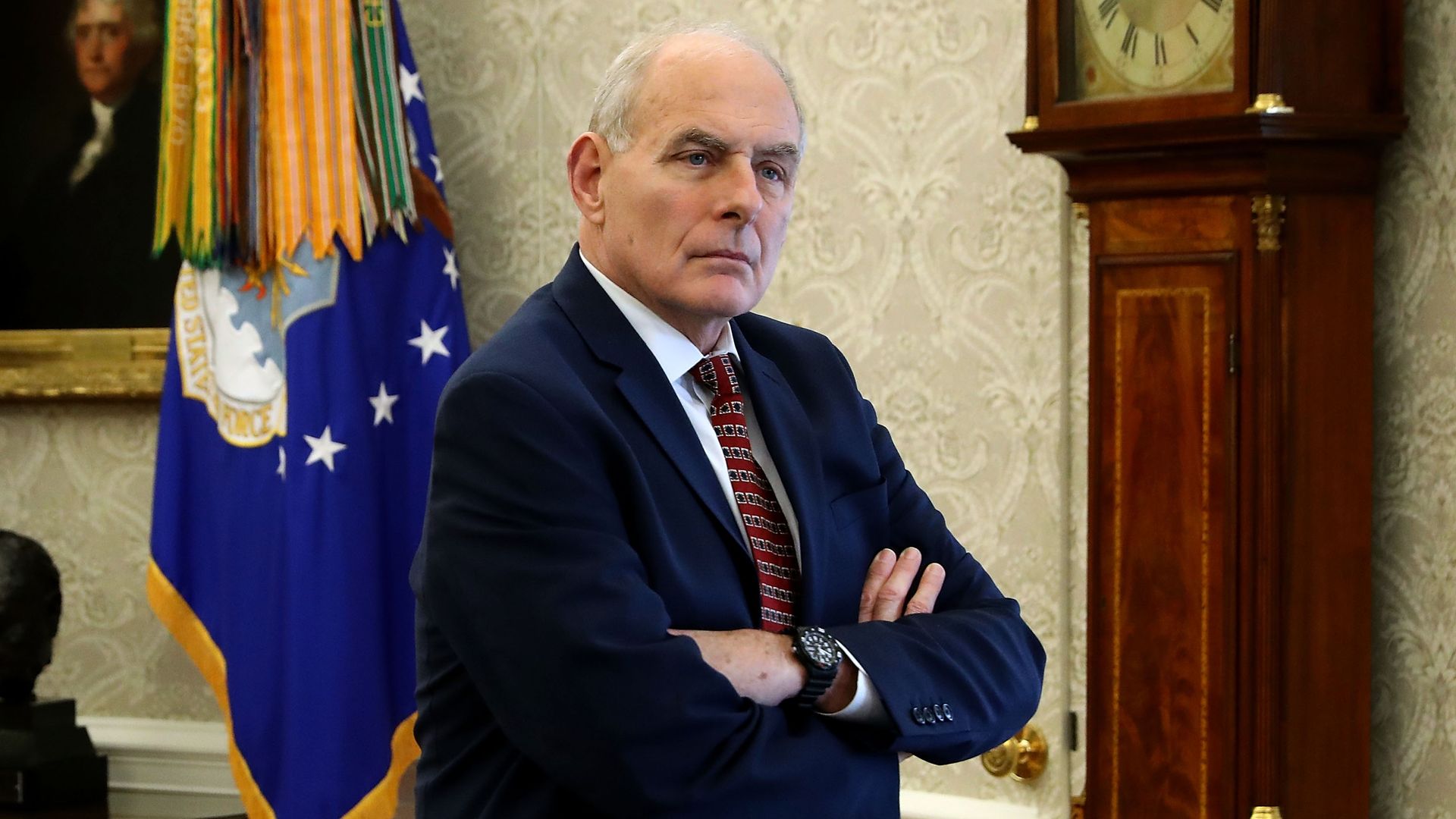 The Rob Porter crisis has become a John Kelly crisis, and it has now totally engulfed the West Wing. White House staff — especially Porter's close friendship circle —are shell-shocked by the allegations of domestic abuse by the departing aide. President Trump is enraged about the situation, though he still feels that it hasn't touched him.
The bottom line: Trump's affection for his chief of staff is gone, and Kelly has lost the goodwill of much of his staff. The president is mulling potential replacements, though aides doubt he has it in him to actually fire the retired general.
Where it stands: Kelly still has not adequately answered when he became aware of the horrific allegations against Porter. Nor have the other senior officials who should have had visibility over this: White House counsel Don McGahn and deputy chief of staff Joe Hagin.
The official White House line — that Kelly only became "fully aware" of the domestic assault allegations when the Daily Mail story broke — doesn't pass the smell test.
Both of Porter's ex-wives told the FBI about their claims.
There was a police report.
There was a restraining order.
There are photos.
All of this was part of his background checks which never passed muster.
The big picture: In any major corporation in America, Porter would have been escorted out the door the minute senior officials learned of these allegations. Everyone is entitled to their day in court, but in no normal corporation or White House could somebody continue serve under these conditions. And there is no organization in America more important than the White House.
Yes, but: It's probably not enough to get Kelly fired — because unlike other Trump aides, Kelly never wanted the job in the first place and would never fight to save it. And as a source close to the president told me, "That changes Trump's calculus."
What we're hearing: It's not surprising that Trump would make noises about getting rid of Kelly. But sources close to the president don't believe he has it in him to actually pull the trigger.
Yes, Kelly frustrates Trump. Yes, Trump complains about him. Yes, the two have never developed the  personal chemistry — full of off-color jokes and nicknames like Hopey (Hope Hicks) and Reincey (Reince Priebus) — that Trump has formed with some of his other advisers.
And yes, there's not a ton of personal affection for Kelly across the White House staff.
But everyone respects the service of a man Trump calls "a tough cookie." And Kelly's four star status inoculates him from the normal reaches of Trump's wrath.
"Trump is not going to fire him," the source close to the president said. "And does Trump have the stomach to do what he normally does when he's fed up with them? He usually makes their lives miserable, publicly humiliates them. But now he's up against somebody who doesn't care and would happily leave."
"It's like Russia and the United States in the Cold War. 'What are you going to do, blow me up?' They're pointing guns at each other and nothing ever happens."
The back story: When Kelly took over from Priebus  as White House chief of staff, one of the changes that most pleased Trump was the change in tone of the media coverage. Gone was the narrative of a West Wing in utter chaos; and here was a four star general who was whipping an unruly operation into military grade condition. 
The early goodwill has vanished. Kelly is getting pummeled for — as WashPost's Phil Rucker put it — a series of credibility-damaging moves:
Falsely claiming that Democratic congresswoman Frederica Wilson had tried to take credit for securing the funding for an FBI building.
Calling Confederate general Robert E. Lee "honorable" and blaming the Civil War on a lack of compromise.
Describing illegal immigrants who didn't apply for DACA as "too lazy to get off their asses."
Uncritically and wholeheartedly defending White House staff secretary Rob Porter after both of his ex-wives went on the record accusing him of physical assault.
Between the lines: The handling of the Porter scandal is an example of how the White House is trying to save Kelly, not throw him under the bus. "The strategy is to try and inoculate Kelly and protect him," a source familiar with the White House strategy told me. "That's why you see WH's defense saying he wasn't aware until recently. Essentially placing blame on others."
Kelly has told associates in the wake of the Porter crisis that we need to get to the bottom of who knew what and when — with the strong implication being that he wasn't here when the process started. He says it's an issue that preceded him.
Reality check: Good luck getting away with that.
None of the above instances — in and of themselves — have diminished Kelly in Trump's eyes. What does bother Trump is when his subordinates get bad press. (That contributed to the swift deaths of many previous White House aides, including the short-lived communications director Anthony Scaramucci.)
Don't forget: The only thing Trump resents more than being handled by staff is when an aide tells the world they're educating Trump about an issue he thinks he has mastered. Kelly managed to commit both sins in a recent interview with Fox's Bret Baier, in which he said Trump's views on immigration had evolved since the campaign, partly under Kelly's tutelage.
A friend of the president's told me Trump said this to him about Kelly: "Who does this guy think he is? I've evolved? I've been the same on this issue for 30 years. I knew about it before anybody did. I talked about it before anybody else did on the campaign. The only reason anybody talked about immigration was because of Trump."
Behind the scenes: But even if Trump is annoyed, the reality that Kelly won't grovel to save his job is probably enough to keep him safe. Kelly has also helped himself by slightly loosening his grip on the comings and goings in the Oval Office.
Whereas in the early days he didn't let anyone in without a reason, now it's possible for a select few to walk in and see Trump in rare instances when they really need to see him — or he needs to see them.
As an administration official told me:
"With Kelly, from day one, the tone has been 'we have a duty to the country to be here despite how screwed up this place is.'"
Get more stories like this by signing up for our weekly political lookahead newsletter, Axios Sneak Peek. 
Go deeper