U.S. engages in rare strikes against pro-regime forces in Syria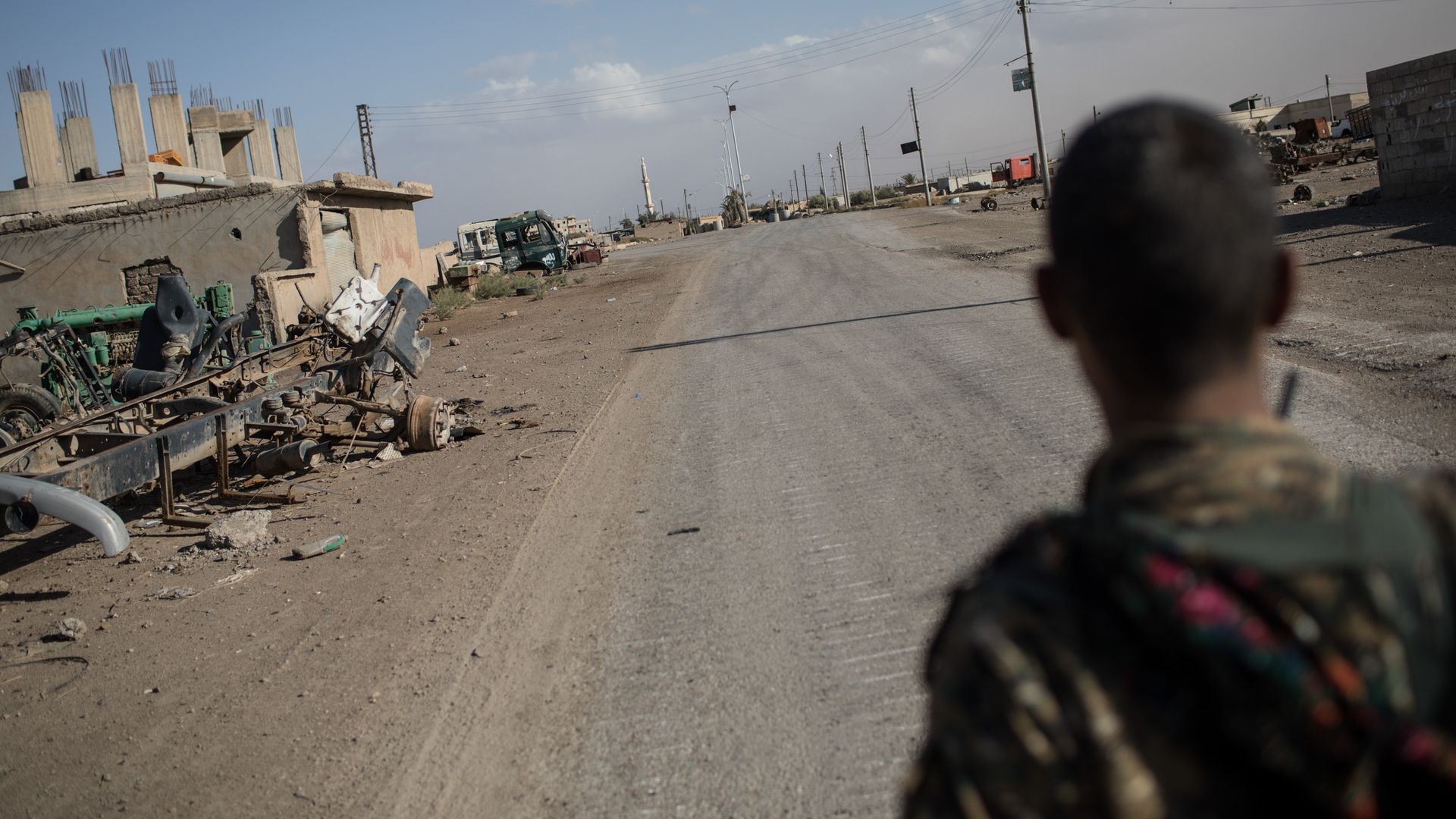 The United States and Syrian Democratic Forces coalition engaged in "a combination of air and artillery strikes" against pro-regime forces in Syria late Wednesday night, after an "unprovoked" attack, Col. Thomas F. Veale, CJTF-OIR Public Affairs Officer, told Axios.
The bottom line: This is a rare response from the U.S. in a conflict zone that has seen escalation in recent months. The Washington Post reported that the beginning of 2018 has been "one of the bloodiest periods of the conflict yet."
"We suspect Syrian pro-regime forces were attempting to seize terrain SDF had liberated from Daesh in September 2017...The Syrian Democratic Forces have been instrumental in accelerated successes against Daesh, and continue to demonstrate the ethics and capabilities of a professional fighting force."
— Col. Thomas F. Veale told Axios
Hussein Ibish, senior resident scholar at the Gulf States Institute, told Axios: "The US airstrike on pro-regime forces indicates that Washington is being drawn more deeply into the Syrian conflict, despite a continued reticence in much of the government and policy-making circles about the wisdom of that."
What happened: Veale said in an email that pro-regime forces attacked SDF around "8 kilometers east of the Euphrates River deconfliction line in Khusham." The U.S. and Russia agreed in August that the Euphrates River would stand as a deconfliction line; Russia and pro-regime forces would operate on the west side, while the U.S.-led coalition would operate on the east. To cross the river, both sides must agree.
But, but, but: Veale said "Coalition officials were in regular communication with Russian counterparts before, during and after the thwarted PRF attack. Russian officials assured Coalition officials they would not engage Coalition forces in the vicinity."
Chief Pentagon Spokesperson Dana White said at a briefing on Thursday that the deconfliction line worked but would not speculate on the composition of the attacking force.
The response:
The Russian Defense Ministry said the strike demonstrated the U.S. wasn't interested in fighting ISIS, but seeking to "seize and hold Syrian economic assets," the AP reports.
ABC reports that Syria's foreign ministry said the strikes reveal "dirty U.S. intentions against Syria's sovereignty and territorial unity."
Go deeper