The troubling string of Amtrak crashes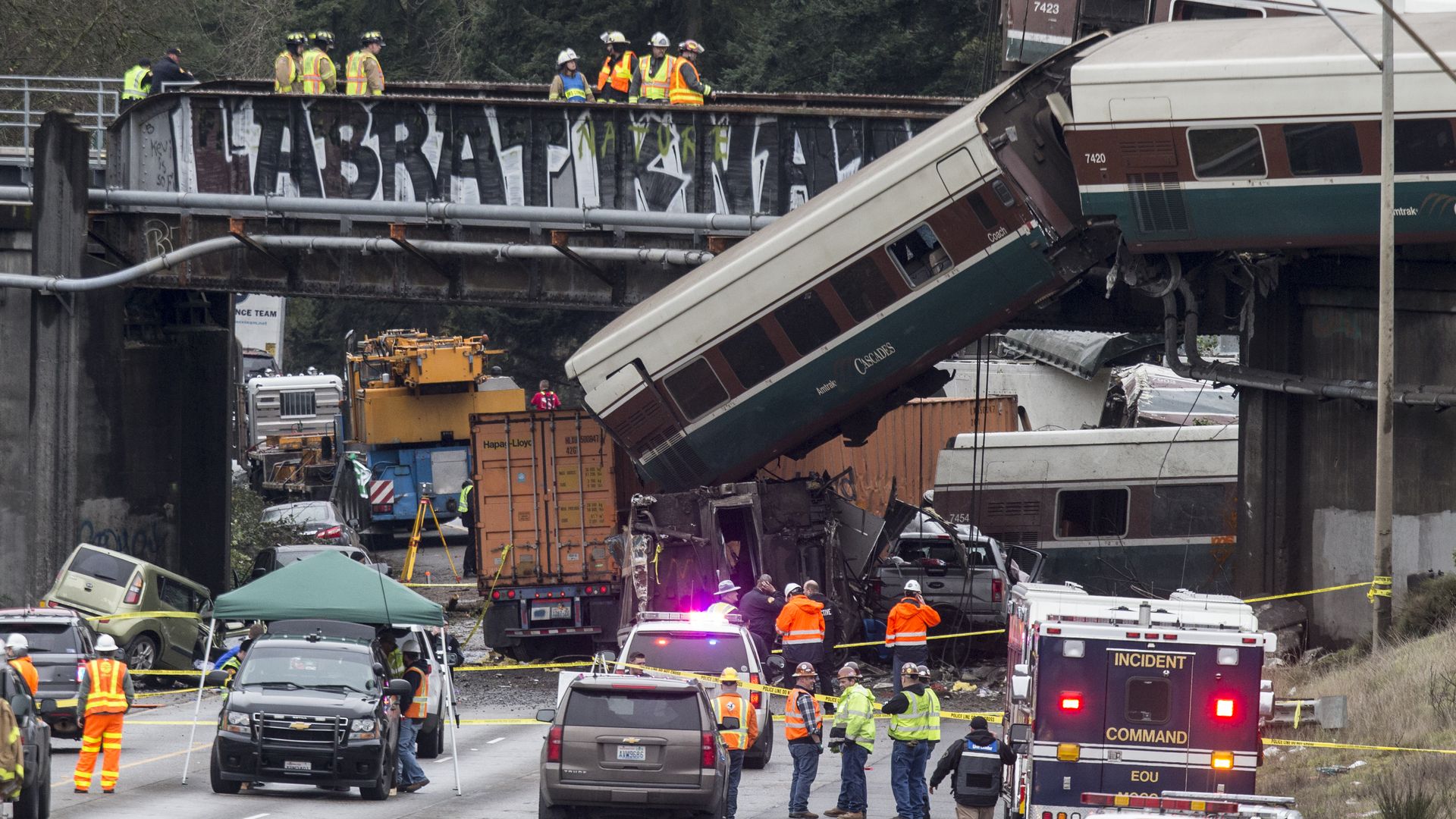 An Amtrak train en route to Miami from New York collided with a freight train early Sunday morning in South Carolina, killing two individuals and adding another tragic entry to the list of recent Amtrak derailments and crashes, per the AP.
The list, per the AP:
Jan. 31, 2018: "A chartered Amtrak train carrying GOP members of Congress to a strategy retreat crashed into a garbage truck at a crossing in rural Virginia, killing 1 person in the truck and injuring 2 others. The cause is under investigation."
Dec. 18, 2017: "3 people were killed and dozens of others were hurt when an Amtrak train derailed as it made its inaugural run along a new 15-mile bypass route in Washington state, en route from Tacoma to Portland, Oregon."
April 3, 2016: "2 maintenance workers were struck and killed by an Amtrak train going more than 100 mph in Chester, Pennsylvania. The lead engine of the train derailed."
March 14, 2016: "An Amtrak train traveling from Los Angeles to Chicago derailed in southwest Kansas, sending 5 cars off the tracks and injuring at least 32 people."
Oct. 5, 2015: "A passenger train headed from Vermont to Washington, D.C., derailed when it hit rocks that had fallen onto the track from a ledge. 7 people were injured."
May 12, 2015: "An Amtrak train traveling at twice the 50 mph speed limit as it entered a sharp curve in Philadelphia and derailed. 8 people were killed and more than 200 injured."
March 9, 2015: "At least 55 people were injured when an Amtrak train bound from North Carolina to New Jersey derailed after colliding with an oversized tractor-trailer that was stuck on the tracks in Halifax, North Carolina."
June 23, 2014: "An Amtrak train hit a vehicle that was apparently driving on train tracks in Massachusetts, killing 3 people in the vehicle. The train derailed in a remote area."
Oct. 21, 2012: "About 12 passengers and crew members on an Amtrak train from Chicago to Pontiac, Michigan, were injured when 2 locomotives and 1 or more coaches derailed after the train lost contact with the track near Niles, Michigan."
Oct. 2, 2012: "2 cars and the locomotive of an Amtrak train carrying about 169 passengers derailed after colliding with a semitrailer in California's Central Valley. At least 20 passengers suffered minor to moderate injuries."
June 24, 2011: "A truck slammed into the side of an Amtrak California Zephyr train at a rural crossing 70 miles east of Reno, Nevada, killing 6 people and injuring dozens."
Go deeper