U.S. announces arms embargo on South Sudan to bolster ceasefire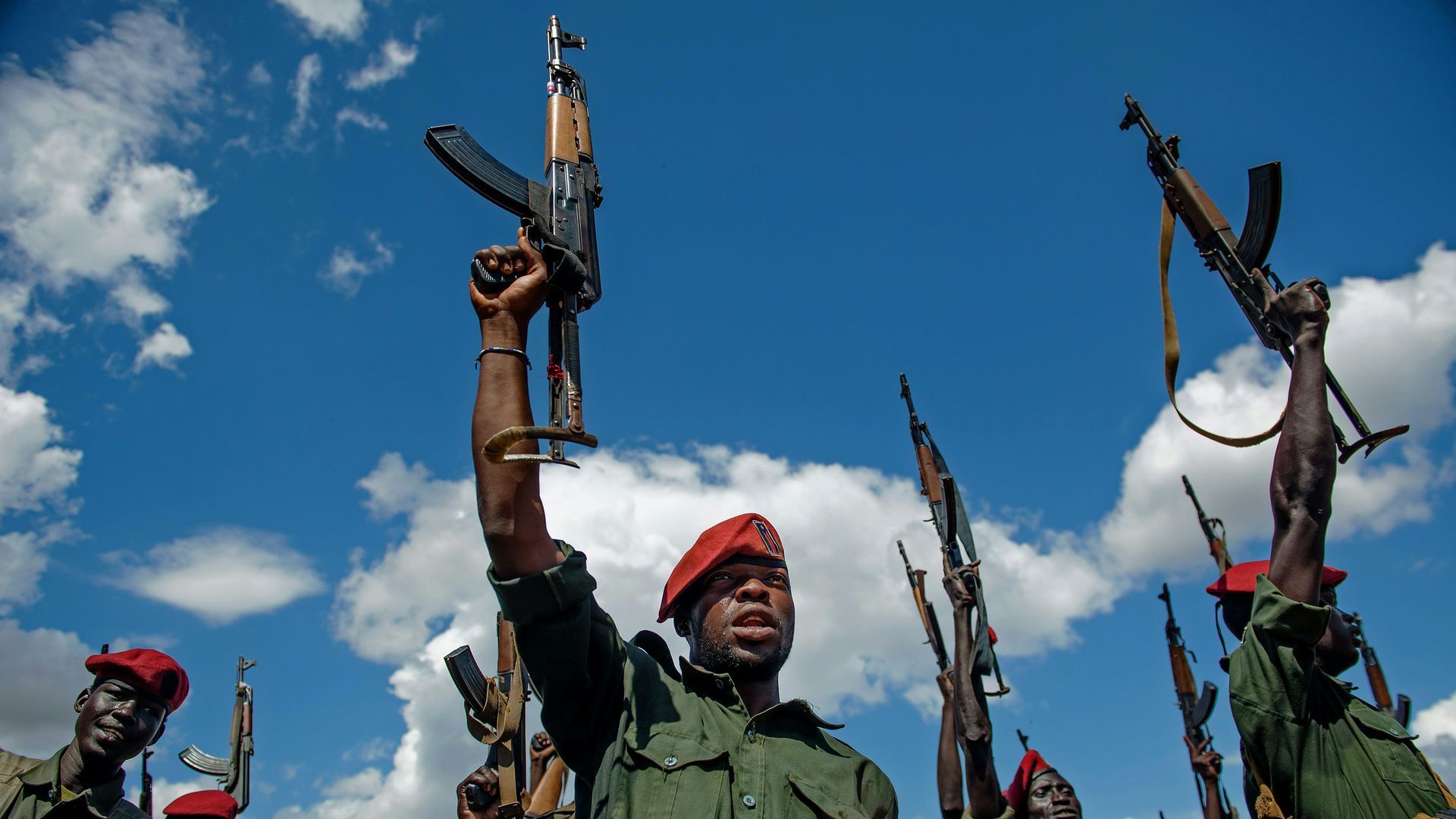 The State Department announced an arms embargo against South Sudan today in an effort to "stem the violence and to exert pressure on" both the South Sudanese government and rebels to abide by a ceasefire signed last December in the country's ongoing civil war, a State Department official told Axios.
Why it matters, per Reuters' Lesley Wroughton, who exclusively reported on State's move in advance of the announcement: "The unilateral move would signal that the Trump administration has lost patience with South Sudan's warring sides after ceasefires have been repeatedly violated."
The background: The conflict began in 2013 when troops linked with President Salva Kiir Mayardit fought against troops linked with then-Vice President Riek Machar. Diplomats have said ethnic and political tensions led to the clashes. It's worth reading The Washington Post's on-the-ground reporting from Juba in December 2013.
South Sudan and rebel groups signed the ceasefire on December 21, which would have revived a peace deal from 2015 that ultimately broke down after continued clashes. After signing the agreement, both sides claimed to be victims of attacks, per Relief Web.
Why an arms embargo could be key: U.N. experts have pointed out that while South Sudan has spent millions of dollars on weapons, the country's economic situation has continued to crumble.
By the numbers:
Famine threatens to affect 1.5 million people in the country, per the U.N.
Nearly 2 million South Sudanese are internally displaced and over 2 million have fled to neighboring countries, according to the UNHCR.
At least 95 humanitarian workers have been killed since the start of the conflict, per State Department stats.
What's next: The U.S. has a three-pronged strategy: seeking a U.N. Security Council embargo on all arms flow to South Sudan, encouraging the African Union to consider issuing sanctions, and urging all countries to implement similar arms embargoes.
Where major players stand:
Russia is likely to resist moves against South Sudan in the U.N. Security Council, per Reuters.
The African Union announced Monday it would be open to sanctioning leaders who were violating ceasefires.
The U.S. has already sanctioned some top officials close to President Salva Kiir.
The U.N. Security Council has sanctioned leaders in South Sudan in 2015.
The E.U. began an arms embargo on South Sudan in 2011 when South Sudan gained independence from Sudan.
Go deeper